It's Day 241 of "365 Things to do in Cincinnati" and today we're featuring a wonderful bakery and cafe, Skirtz and Johnston.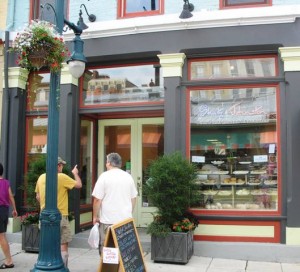 Skirtz and Johnston bakes the best homemade bread!  Their breads are baked strictly from scratch right there in the shop.  Let me tell ya' – if you ever dare to read the ingredients on a bag of "store bought" bread you will be running to Skirtz and Johnston to get some bread baked from scratch.  My favorite is their salt rye… Yum!  And if you're not sure what kinds you'd like to have, they always have samples out on the counter for you.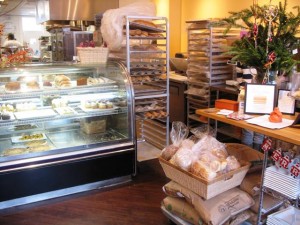 I was there last Sunday for lunch with some friends and they have "fall" desserts at this time of year – pumpkin bread pudding and spice cake. It all looked so incredibly good!  In the summertime they have a berry cake that is a must have!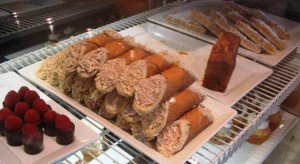 But we actually went to Skirtz and Johnston for lunch.  They offer a variety of lunch items, everything from salads to soups to sandwiches.  Most of my cohorts had soup or chili in a bread bowl.  I had the Farmers Market Sandwich which included LOADS of fresh grilled Amish chicken with feta and cucumbers and an olive tapenade…. all on their homemade bread.  The sandwich comes with your choice of chips or a side salad.  I opted for the salad with Cilantro-Pepita dressing and I would HIGHLY recommend it.  Amazing!  All that for just $6.75 and I actually had enough food that I brought home half of my sandwich for supper!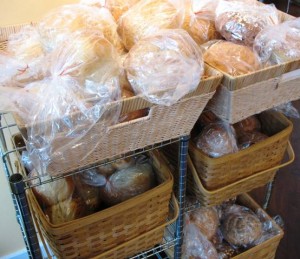 I hate to admit that I was so hungry and so chatty that I forgot to take pictures of my food!  The shame!  Trust me when I say you won't be sorry if you order the bread bowl or the sandwich.  We were all very pleased. Skirtz and Johnston has their own indoor dining area.  So enjoy your pastry or lunch while you sit inside at their cafe. Skirtz and Johnston is no longer open (edited 2014).