It's Day 261 of "365 Things to do in Cincinnati" and today we're featuring Shake It Records.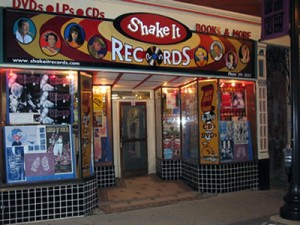 What started out in 1978 as a way to issue records from local groups, this business is now a thriving recording studio with an active storefront in Northside.  The 3200+ square foot store sells all kinds of music with over 30,000 titles on compact disc and approximately 8000 titles on vinyl.  Shake It Records carries mainstream music but their true passion is independent labels.   Their stock includes "Chicago post-punk art-rock to Ethiopian boog-a-loo and all stops in between – rockabilly, vintage soul, r&b & blues, punk/hardcore, classic country & the best of the new breed, 60's garage & psych, reggae/dub/rocksteady & vintage ska, krautrock, creative hip-hop & electronica, tons of straight ahead rock n' roll & "alternative", plus vintage bop, cool & avant garde jazz, cult soundtracks, Afrobeat/funk, "difficult listening" and much more.
In addition to the new CD's and vinyl (located on the first floor), the store also has a vast array of used CD's and LP's in the "vinyl basement".  Shake It Records is a favorite among locals looking for used vinyl titles.  Just look at what this fan of Shake It had to say on Yelp:
My new prized possession is the Rosanne Cash album Seven Year Ache, with "Goodbye John" (mentioning Lennon) etched into the record. Only about 10,000 were made, and I found one in the 99 cent bin! HOLLA! (taken from review of Shake It Records by John D. on Yelp).
Looking for a record that's tough to find?  Shake It has you covered.  They say: "It would be physically impossible for us to carry every title we would like, so we offer a special order program that gives us access to over 400,000 domestic & import titles at any one time in all genres and on all available formats. Many show up in a couple of days while others, like some imports & microscopic indies, are a bit trickier and take more time." And if that's not enough for you, they also sell books, DVD's and random novelties.  Combine all that music with a great atmosphere and a hyper informed staff and you've got a real music gem in Cincinnati – Shake It Records. Shake It Records is located at 4156 Hamilton Avenue Connect with Shake It Records on Facebook pics courtesy of the Shake It Records site