It's Day 259 of "365 Things to do in Cincinnati" and today we're featuring the fine folks and yummy food at Pit to Plate BBQ.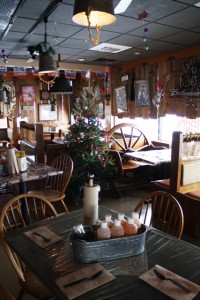 Put on your Texas cowboy gear and come on over to Pit to Plate BBQ.   You know you're in for a fun experience when the front door handle is a horseshoe!  From the minute you walk in you'll realize the only thing serious here is the BBQ.  The atmosphere is casual and fun, complete with lots of western style influence.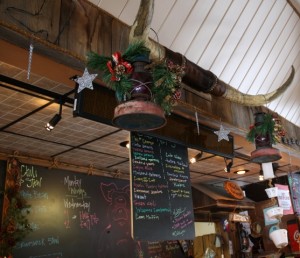 They have big wagon wheel seats and steer horns for hooks.   The light fixtures are galvanized buckets.  Pigs adorn walls and big barrels get used for just about anything.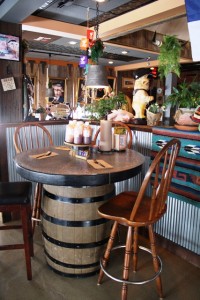 Pit to Plate BBQ offers all kinds of great bbq options for both lunch and dinner.  They offer a variety hickory smoked meats including pulled pork and briscuit.  Of course they also offer many other popular BBQ dishes too such as beef and pork ribs, turkey ribs, pulled or half chicken, turkey breast, etc.  They even serve up a variety of fish entrees.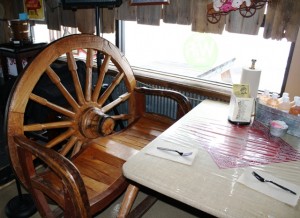 We stopped in to pick up dinner to go.  You can buy their bbq and smoked meats by the pound if you'd like to take it home and that's exactly what we did.  We ordered up a pound of smoked briscuit with sauce on the side (as seen below).  Owner Dianne Creech gave us samples of their bbq sauces (9 in all) on little spoons.  We decided to take some horsey sauce for the briscuit but couldn't leave without a full bottle of their North Carolina sauce too.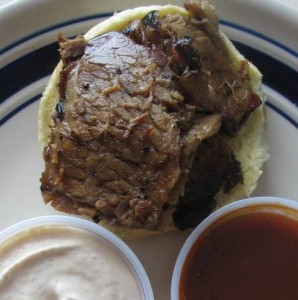 The briscuit was phenomenal.  I love briscuit and just can't seem to cook it long enough to get it really tender.  Pit to Plate does not have that problem.  The briscuit was very tender and had a nice smoky flavor.  I opted for the horsey sauce on my sandwich and it was a great blend – not too hot at all.  Dianne also through in a few corn muffins for us… which were very moist and tasty….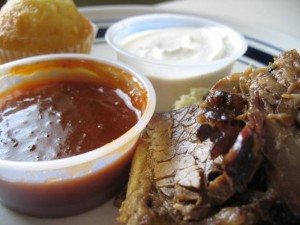 Pit to Plate BBQ will serve you from their restaurant AND they will also cater any event.  In addition to offering catering, they also do pig roasts.  And they will also smoke your thawed or fresh turkey and add a dry rub for just a buck a pound plus $2 for the rub (all year round).  I think I might just be doing that next Thanksgiving!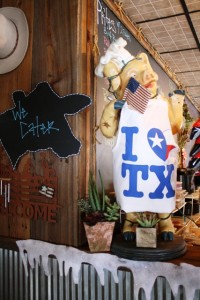 Pit to Plate BBQ is located at 8021 Hamilton Avenue.