It's Day 202 of "365 Things to do in Cincinnati" and today I visited Park and Vine, an eco friendly little shop in Over the Rhine.
You might not recognize the venue… that's because they just moved to their new location on Main Street.  Actually, their move just occurred a few weeks ago and tomorrow night is their Grand Opening Party (Friday, Oct. 29, 2010; 6-10 pm).  The party is complete with a Halloween Costume Swap, visits from guest baristas, food from local vegan-friendly spots and live music from Josh Eagle.
Never heard of Park and Vine?  It's a great little shop full of eco-friendly cleaning products, vegan foods, canning supplies, loads of cool baby necessities (including cloth diapers) , bike gear, super cool lunch "boxes", many other reusable food and water carriers, apparel, footwear and more!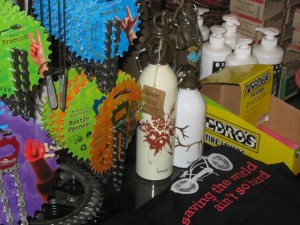 One side of the new store is a nice cafe area, complete with wi-fi and table space.  They also have some counter space right at the window which will probably be a great place to enjoy some sunshine in a few months!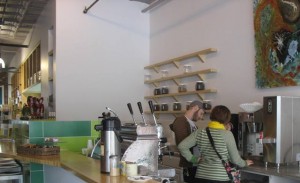 Enjoy a hot cup of Joe, espresso, or a nice blend of hot tea.  While we were there today we ran into Jean-Francois Flechet from Taste of Belgium Waffles who is introducing a Vegan Waffle at Park and Vine.
Park and Vine is now located at 1202 Main Street
Connect with Park and Vine on Facebook