Here we are with another installment of 365 Things to do in Cincinnati and today we're featuring a recent stop at Packhouse Meats.
Now don't let the name fool you – it's not a butcher shop. They do deal with meats but it's not in the form of steaks and roasts. Nope, it's all about meatballs here.
Located in Newport, this place offers a great alternative to the traditional lunch and dinner menus.  At Packhouse Meats it is all about the meatball combo of your choosing.
When you sit down you'll notice a menu at your place along with a cup of grease pencils.  Grab a pencil and get started putting your own unique meatball combo together!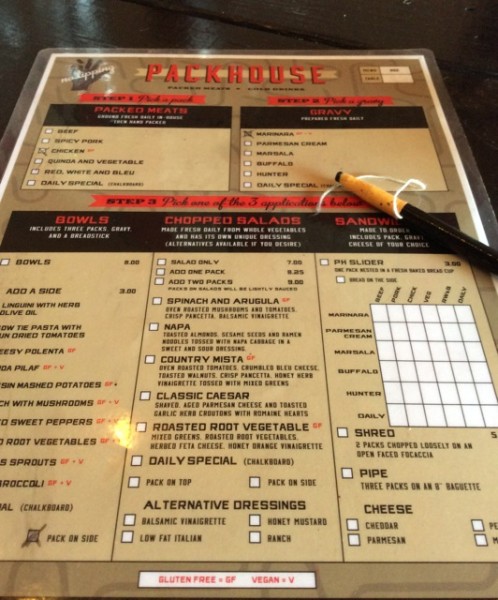 Start off by choosing your "Pack" (the meatball) – beef, spicy pork, chicken, quinoa and vegetables, their signature "red, white, and bleu", or the special (from the chalkboard). You then get to choose your "gravy", which is the sauce.  Then you'll tell them how you want it served – in a bowl, with a side, as a salad, or as a sandwich.  In addition to the salad and sides they also offer a variety of soups.
I went with the chicken meatballs with marinara and a side of polenta (which are all gluten-free by the way). And, in case you're wondering, they do have pasta on the menu- I just didn't order it.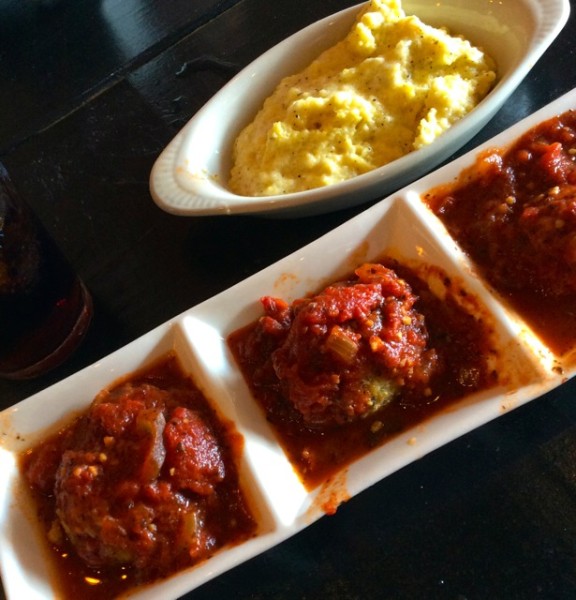 I don't know if I was totally impressed with my meatball and sauce selection options or what but I totally missed the bottom of the menu where you can choose the makings of your own ice cream sandwich. I am returning just for that!
The vibe of the restaurant is really cool. The entire street side opens up, making it feel as though you're enjoying a meal outside.
The long wall is exposed brick and chalkboards cover the rest of the place. Tell me that doesn't make you want to find the chalk and have some fun!
And Packhouse Meats does have a full service bar from which they serve craft beers, cocktails, and wines by the bottle.
AND when you're ready to pay, be aware that they have a "no tipping policy". Yep, that's right. Don't tip your server. Packhouse Meats takes care of that for you.
Packhouse Meats is located at 1004 Monmouth Street in Newport, Ky
Connect with Packhouse Meats on Facebook