Looking for something to do in Cincinnati during the month of October? We have a great list of October events for you!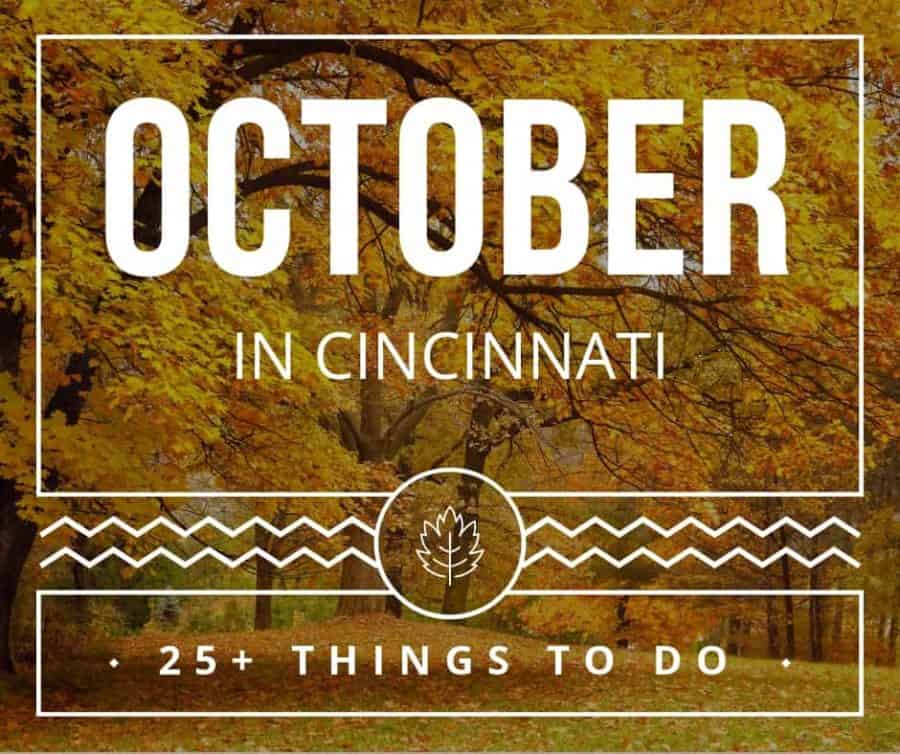 October 5: Dollar Movie Night at Coney featuring Hocus Pocus
October 5-7: Kentucky Wool Festival
October 6 and 7: Sunflower Festival at Gorman Heritage Farm
October 6: Apple Cider and Pumpkin Celebration Weekend at Hidden Valley Orchards (Lebabon)
October 6: Royal Tea Party at Carol Ann's Carousel (at the Banks), 11am-1pm
October 6: Luminary Night Hike at Glenwood Gardens
October 12: Blue Stone Ivory Halloween Dance Party at Moonlite Gardens
October 12-14: Operation Pumpkin in Hamilton; live music, food, activities, crafts, and more
October 13: The Great Pumpkin Fest at Keener Park, West Chester
October 13 and 14: Black Walnut Weekend at Farbach-Werner Nature Preserve (Great Parks of Hamilton County)
October 13 and 14: Ohio Sauerkraut Festival in Waynesville
October 13 and 14: Celtic Festival at Summit Park
October 17: An Early All Hallows Eve at Krohn Conservatory (adults only)
October 20: Trunk 'R Treat Fall Festival at Beech Acres, 2;30-5pm; A classic car show, kids in costumes, music, games, prizes and candy combine for this annual event. Families and car enthusiasts stroll around the oval at Beech Acres Park while kids "trunk 'r treat." Pets are not permitted. Festival Activities – tickets sold at the event 2:30-4:30 p.m.: $5 per child (age 10 and under)
October 19 and 20: Magic Forest Halloween Hikes: Caldwell Nature Preserve, reservations required
October 20: Zombie Ball, The 4th Annual Dance of the UnDead on Pyramid Hill
October 20: City Flea at Washington Park, 10am – 4pm
October 20: Harvest Hootenanny at Story Woods Park, Noon – 9pm. Join in for a day filled with family-friendly fun! Interact with 20 animals at Honey Hill Farm's petting zoo, enter a Jack o' Lantern contest, shop at booths from local crafters and artists, play games, pick a pumpkin from their patch, listen to live music, and eat great food! End your day by roasting marshmallows and enjoying a special outdoor screening of "Hocus Pocus"! Admission is FREE, so bring the whole family.
October 20 and 21: Weber Family Pumpkin Festival
October 21: Art on Vine at Washington Park, 12-6pm.
October 21: Howl-O-Ween in the Woods: Dress up in awesome costumes and sniff up some fun with your canine companion! Take a walk on our trail filled with over 100 carved pumpkins and along the way meet local pet specialists that will fill your goody bag plus provide guidance on any questions you might have. Cost is $10 per dog.
October 21:  "Lights Up Night" at Mt. Healthy Haunted Hall, 6-6:45pm
October 24: Taft Museum of Art Halloween Bash
October 26: Halloween Party at Rhinegeist, 8pm – 2am. Adults only.
October 26: Art After Dark at the Cincinnati Art Museum, 5-9pm.
October 27: Halloween Walk in the Woods, 12-3pm at the Blue Ash Nature Park
October 27: Nature at Night Pumpkin Hike at Farbach-Werner Nature Preserve/Ellenwood Nature Barn, 6:30-7:30pm
October 27 and 28: Tricks or Treats Weekend at the Ohio Renanissance Festival
October 27 and 28: Enjoy Fall Fest Weekend at Washington Park
October 28: USS Nightmare "Lights On" Matinee (for younger audiences per their site), 4-6pm
October 29: Creatures of the Night Halloween Party at 21C Museum Hotel
October 31: Carol Ann's Carousel Trick or Treat Event, 11am – 3:30pm
All events were accurate at the time of this posting but things do happen and events do occasionally get canceled or postponed. You should always double check with the event source before you head out the door. Links for each event are provided so that you can be sure the date is still accurate before you head out.