It's Day 353 of "365 Things to do in Cincinnati" and today we're featuring the wonderful MJ's on Main, a restaurant in historic Milford.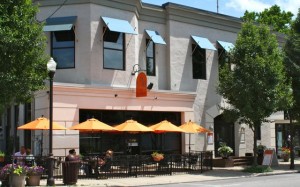 We visited The Promont House Museum yesterday and after our tour there we decided to take a walk down Main Street in downtown Milford.  We love Milford.  It's full of GREAT eateries and charming little shops.  We'd heard great things about MJ's on Main so we decided to stop in for an appetizer and a drink.  And we're so glad we did!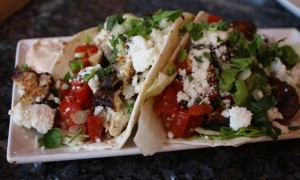 Let's talk about this food!  Amazing.  We asked our server (hi Keia!) what to have and she recommended the blackened fish tacos.  That sounded good to both of us so we ordered that up with a few locally brewed beers (on tap).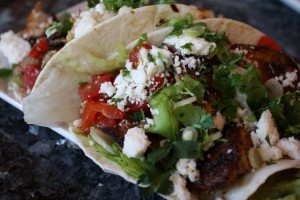 As you can see, MJ's on Main serves up some mighty fine grub!  This was on the "small plate" menu and was the perfect size for sharing (or an entire meal if it's just you).  The small plate came with two fish tacos which were full of fresh ingredients.  We had to actually dive in with a fork to eat some before we could even pick the thing up!  The fish is blackened tilpia and was mild as far as fish goes (as you'd expect for tilapia) but it had plenty of blackened seasoning for just the right amount of kick.  The fish was surrounded by loads of fresh grape tomatoes, chopped cilantro, Mexican cheese and lettuce – all tossed with a seasoned oil maybe?  It was a light and refreshing mid-afternoon snack that kept us full well beyond dinner time.  It comes with guac on the side as well as a chipotle cream sauce for dipping.  I highly recommend this dish and will definitely be having it again when we go back.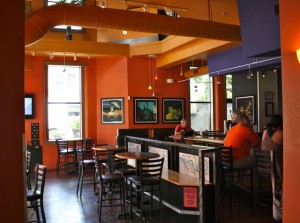 MJ's has a variety of seating options.  We chose to sit in the entry level dining area near the bar.  They have a fully stocked bar with lots of beer on tap.  We actually ordered our food from the bar and just sat there for the afternoon…very nice.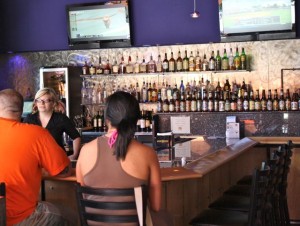 You can also sit outside on their umbrella-shaded patio tables (see top pic).  And they have a second floor with a more formal feel.  The second floor can be rented for private gatherings.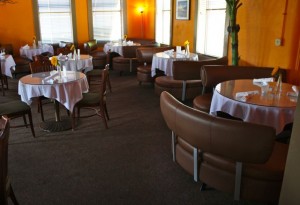 The owner and head chef for MJ's on Main is Margie Potts.  You might recognize Margie – she's been a local cooking instructor for more than 20 years and often does cooking segments on Channel 9 (WCPO).  She also works with The Food Network as well as Jungle Jim's.   In addition to all that, she is currently writing her first cookbook in a series of "Hurry Home" cookbooks. When you do visit MJ's on Main, be sure to leave some time to wander around Milford.  There are lots of little adjoining shops and the bike trail is right there as well.  AND if you're into water sports, get a load of this…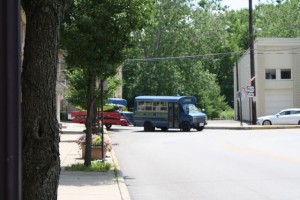 MJ's on Main is located at 18 Main Street in Milford, Ohio Connect with MJ's on Main on Facebook