Ohio Governor Mike Dewine just made masks a requirement for both Hamilton County and Butler County. The governor states this is a public health crisis / emergency of unprecedented duration and seriousness and that he is obligated to keep the people of Ohio safe in this extraordinary time.
Hamilton and Butler counties are two of the seven "red / Level 3" counties where masks are now required. Governor Dewine stated this is a matter of life and death and we need to work together to fight back.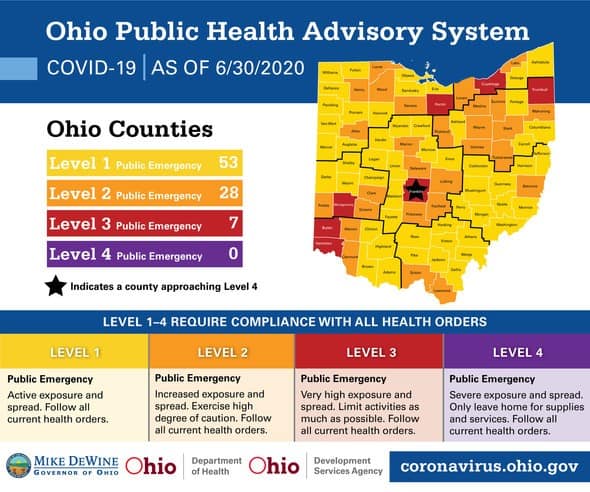 The mask requirement / order will begin at 6pm on Wednesday, July 8, 2020. The mask order will stay in effect until the Level 3 counties are downgraded to a Level 2 / orange status.
---
Where Will a Mask Be Required? (this will be updated when the order is posted)
any indoor location in a hot spot / red county (Hamilton and Butler are our closest)
any time you are outdoors but can't follow a 6′ social distancing rule
---
Who Is NOT Required to Wear a Mask? (this will be updated when the order is posted)
children under 10
if you are alone inside in an office or workspace
those who have been advised by his/her doctor to not wear masks
athletes at practice or in games are not required to wear masks (more details to come)
those who can not safely wear a mask at work
---
Is There a Penalty for Not Wearing a Mask? Who will enforce the rule?
The governor does not want us to focus on the penalty. He wants us to focus on the safety. Businesses are encouraged to inform their customers (that masks are required) but they are not expected to enforce the rules. He did specify that it is a misdemeanor and will be handled on the local level.
---
Similar to the City of Cincinnati requirement to wear masks, enforcement will fall on the local Health Departments.
---
The governor suggests that all Ohio residents do what they can to avoid getting to the red level. He suggests that everyone wear a mask and keep his/her distance in order to keep the spread under control.