It's Day 245 of "365 Things to do in Cincinnati" and today I stopped by the Little Dutch Bakery.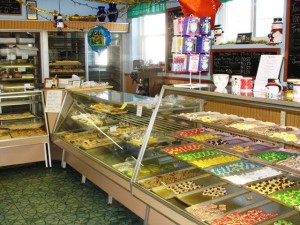 A few weeks ago I did a post about my visit to the North College Hill Bakery and a number of people told me I had to go try something at the Little Dutch Bakery.  And I'm so glad I listened to you all!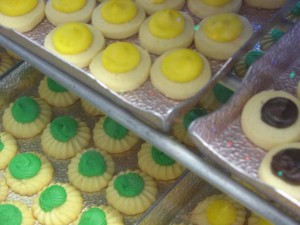 Little Dutch Bakery is a family owned and operated bakery.  It's actually a third generation business.  The same family has owned the bakery since it opened its doors back in the 1920's.  They bake all of their goods in house and everything is made from scratch.  They sell all of the typical baked goods such as breads, pastries and donuts, cookies and cakes.  They do birthday and wedding cakes as well.
And have you ever seen so many varieties of tea cookies?
I asked Mary (wife to the third generation son) what was popular for Christmas.  She said their Springerle cookies are very popular (more about those in a minute) as well as their tea cookies.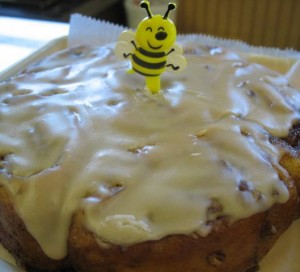 When she took the Beehive Cake out I think I drooled down the front of the case.  Can you even believe how good that looks?!  They sell this in two sizes, this one being the smaller size.  My husband's family used to have a Beehive Cake every year for Christmas breakfast.  Maybe it's time to resurrect that tradition!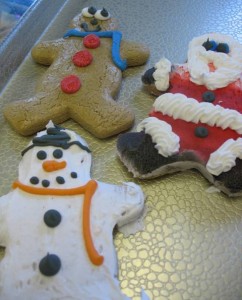 They also sell decorated gingerbread cookies (as seen above) and iced sugar cookies.  AND if you want to decorate your own, they also sell gingerbread and sugar cookies that are without icing.  How easy would that be for a fun day with the kids?  You could buy your plain cookies here and decorate them at home.
When Mary told me Springerle cookies are one of their best sellers at Christmas I was surprised as I have never had these cookies … until today.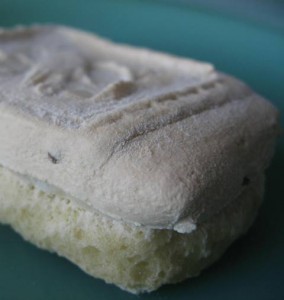 Springerle cookies, I have come to find out, are anise-flavored molded cookies.  Anise, if you're not aware, tastes like black licorice.  Although these cookies look a lot like shortbread while they're in the bag, you can see that they are actually a softer cookie with a harder top coating – almost like a meringue on top.  They are very soft with just the tiniest bit of crunch on top.  And they taste sooo good.  Three are gone already… and I'm on a diet!!!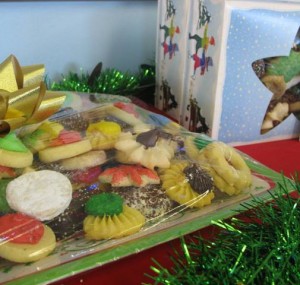 I can say that I will definitely return to the Little Dutch Bakery and would highly recommend you pay them a visit as well!
The Little Dutch Bakery is located at 7611 Hamilton Avenue in downtown Mt. Healthy