It's Day 16 (Year 2) of "365 Things to do in Cincinnati" and today we're featuring a new exhibit (and accompanying book club) at the National Underground Railroad Freedom Center – "Liberty on the Border – The Civil War and the Ohio River Valley".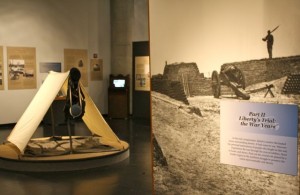 The National Underground Railroad Freedom Center is a gorgeous museum right on the Ohio River.  Like most museums, they have rotating exhibits and this is one of them.  This exhibit portrays the life of Ohioans and Kentuckians in the Civil War (and beyond).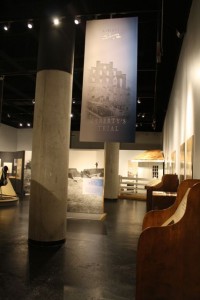 This particular exhibit was designed by the Cincinnati Museum Center staff and historians.  The exhibit examines the Ohio and Kentucky border relationship between our soldiers and citizens and slaves (Ky).     The exhibit contains all kinds of different items – text to read (lots of it), interactive "quiz" areas, cases with Civil War era items, and more.  There's a case with a Union soldier uniform, period books, and weapon "memorabilia".   They even have a replica of a Civil War era tent set up in the middle… which really makes you appreciate the soldiers' tough conditions (very small, lightweight, sparse "furnishings", etc.).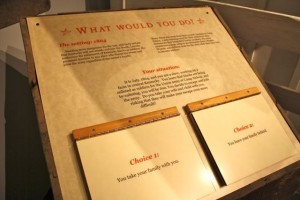 I am going to be honest here and say that we felt the exhibit was very heavy on literature/text.  After the first few parts we were just tired of reading (there's a LOT to read).  To break it up, the exhibit does have numerous hands-on interactive displays.  The display pictured above poses a question and asks you to choose and answer.  Lifting the lid on your answer gives of information regarding what might happen if you choose that answer.  The "What Would you Do?" displays were thought provoking and really made your realize the terrible decisions these people were faced with.  You can find these (and other interactive displays) throughout the exhibit.
What is particularly appealing to ME about this exhibit is the Civil War bookgroup that will be on-going for some time.  It starts on Thursday, Sept. 22, 2011 (7-9pm).  The first book is pictured above – "Confederates in the Attic".  The bookgroup is free to attend.  Each month will feature a different Civil War book.  The museum staff is working to get some of the authors to be present via Skype.  That should make for a very interesting evening!  Here's a list of books and dates for the next few months:
A World on Fire: Britain's Crucial Role in the American Civil War,  October 20, 7:00 p.m. to 9:00 p.m.
The Longest Raid of the American Civil War,  November 17, 7:00 p.m. to 9:00 p.m.
The Negro's Civil War: How American Black's Felt and Acted During the War for the Union, January 26, 7:00 p.m. to 9:00 p.m.