It's Day 271 0f "365 Things to do in Cincinnati" and today we're featuring a local gem – The Kentucky Haus Artisan Center.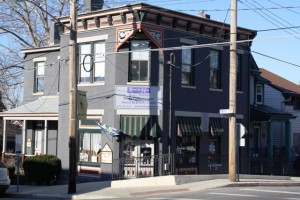 Calling  Newport home, this is a family owned and operated craft and gift shop.  The Artisan Center is located in a converted house, this place has room after room full of Kentucky made arts and crafts.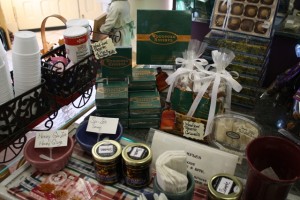 I met Bev Holiday, the shop owner, as soon as I entered the shop.  She owns the KY Artisan Haus and her sister, Peggy, helps by managing it.  You couldn't meet two nicer ladies! The shop has all kinds of Kentucky crafts and gifts.  They have a large selection of Bybee Pottery.  KY Haus' site says, "Bybee Pottery is the oldest working pottery west of the Alleghenies. Dating back to 1809, the Bybee Pottery has been a Kentucky tradition for over 150 years."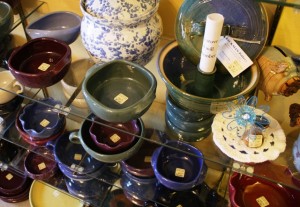 They have loads of handcrafted items.  They have candles and soaps, pottery and baskets.  They sell a number of Kentucky related items too such as books and artwork.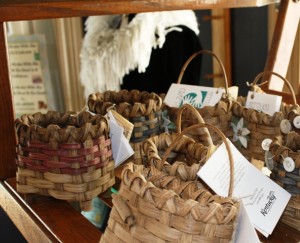 They have a variety of iron work as well as some carved wooden items such as these gorgeous (and very affordable) hand crafted wooden utensils.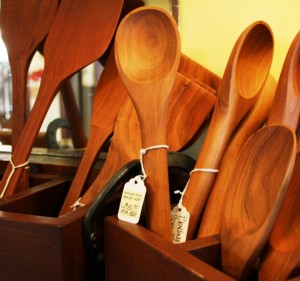 The  shop has all kinds of special days, such as their upcoming Elmwood Inn Tea Tastings in celebration of National Tea Month (see link below for details).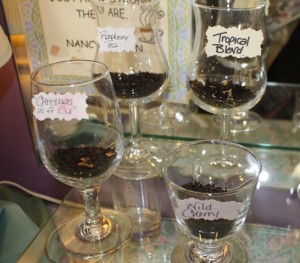 They also have lots of great and unusual food stuffs.  I took home a few things – Makers Mark cherries and Bourbon Barrel Aged Vanilla.  That probably makes me seem like I have a problem…. drinking or eating too much!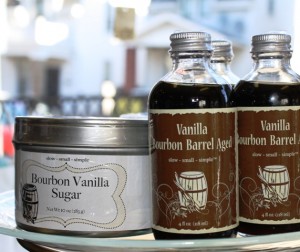 Be sure to stop by the Kentucky Haus Artisan Center soon.  And don't forget to check out their site for a list of fun events happening all month long. Edited in 2014 – no longer in business.