It's Day 359 of "365 Things to do in Cincinnati" and today we're featuring one of my new favorite spots…Jean-Robert's Table.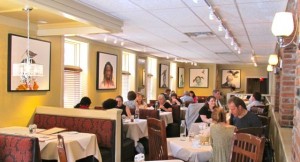 Jean-Robert's Table is a gorgeous and delicious spot to have lunch or dinner.  Located in the heart of downtown Cincinnati, Jean-Robert's Table is centrally located on Vine Street, just a few blocks north of Fountain Square.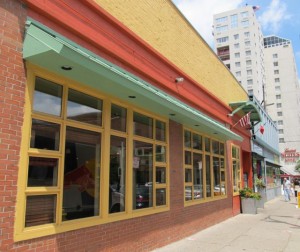 You may have heard of Jean-Robert de Cavel.  Jean-Robert moved here from France in 1993 to take over as chef of The Maisonette.  Over the years Jean-Robert has worked hard, both in the kitchen and out.  Jean Robert has been part owner of restaurants here in Cincinnati with Jean-Robert's Table being the first restaurant he's owned on his own.  Even after all the years of working in the restaurant business, his favorite spot is still in the kitchen and that's where he was when I visited.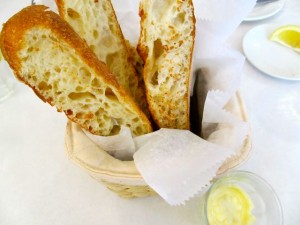 We sat in the dining room (picture above) and started off with bread and butter… but not just your standard roll and pats of butter.  We were presented with sliced and toasted bagette pieces with fresh butter with a flower pressed into it.  Soooo good.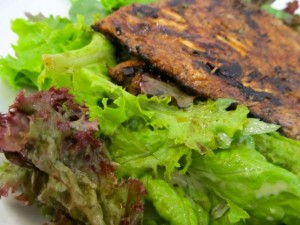 For lunch I had "Paillarde of Chicken" which was a boneless chicken breast, pounded thin, seasoned perfectly and grilled.  The chicken sat upon fresh field greens and marinated roasted vegetables.  It was all topped with a light balsamic dressing.  My picture does not do this dish justice.  It was fabulous and I will have trouble picking something different next time as this was really good.  I would highly recommend this dish (it's on the lunch menu).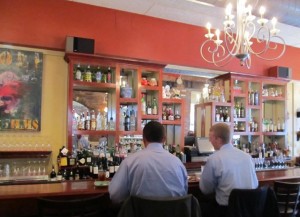 If you'd like to sit at the bar, you can enjoy the "French Lunch Tray" which is a 4 course lunch.  The four courses change each week so you're always going to find something new. On the dinner menu you'll find a wonderful assortment of French dishes with an American twist such as: Salmon Wrapped in Bacon, the French Chateau Burger, Rack of Lamb, Scallops, Sole and much more. There's a long list of appetizers as well as some scrumptious dessert choices. Jean-Robert's Table is open for lunch  Monday-Friday (1130-2) and dinner Monday-Saturday (hours vary by day, click here for details). Keep up with the menu and more when you "Like" Jean-Robert's Table on Facebook