It's Day 205 of "365 Things to do in Cincinnati" and today we're featuring the 2010 Kelly Cup Champions, the Cincinnati Cyclones!
Last night we headed down to US Bank Arena to see the Cyclones play the Wheeling Nailers in their season opener.
We arrived kind of early and it was good that we did because they had a ceremony before the game in which they raised the 2010 Kelly Champions flag and had the team out on the ice with the trophy – cool stuff!  It's exciting to see a Cincinnati team with a championship, huh?!
The Arena was pretty crowded and the crowd was ready for some hockey action!  We were treated to a fight at the goal early on.  That's why you come to see hockey, right?  Well, that and to live dangerously… at least according to the announcer who repeatedly tells you to watch for flying sticks and wayward pucks.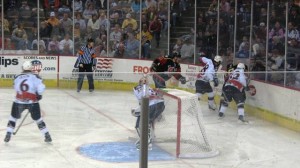 One thing I noticed about the Cyclones is that they play amazingly well as a team.  I' will say up front that I'm not a huge fan of hockey (gasp!) but I do love soccer and you have to admit that the two games are a lot alike, especially from a team play standpoint.  These guys could anticipate where to pass the puck and where to expect another player to be.  They're a TEAM – that was very evident.
In between periods they have some "on ice" entertainment, like this Musical Chairs on Ice game….
And of course US Bank Arena wants you to arrive hungry and thirsty as they have Skyline, City Barbeque, beer, soda, nachos, etc.  for your dining enjoyment.  But their site does say that you're allowed to bring ONE sealed bottle of water with you to the game and you can bring "individually wrapped" snacks for your kids.
I would highly recommend that you take the family and head down to see our Cyclones play.  Most of their games have a special promotional give-away or a special deal (11-3-10 is $1 PBR and Miller High life, 11-19-2010 is Silly Bands night, and 12-10-10 is Santa Bobblehead night – just to name a few).  Fun for the adults and the kids!
The Cincinnati Cyclones play at the US Bank Arena
Connect with the Cyclones on Facebook