It's Day 135 of "365 Things to do in Cincinnati" and today we were out at Hopewell Meadows Park in Symmes Township.  Super easy to access from 275, this park was a great find!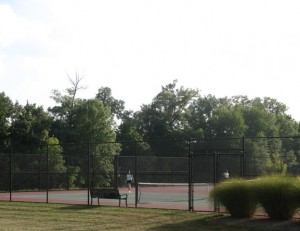 Hopewell Meadows Park is a 14 acre park which was put into use in 2001.  The park is incredibly well maintained.  I am surprised it's almost 10 years old.  It look like it's brand new. The park itself has a paved walking trail (about a 2/3 mile loop) that is great for a child just learning to ride her new bike.  It is an easy trail – all paved and flat.  It would be great for strollers or a wheelchair as well.  A sign on the trail says you can ride bikes, strollers, skates, etc. as long as you are using them in "a safe manner".  And dogs are permitted on a leash.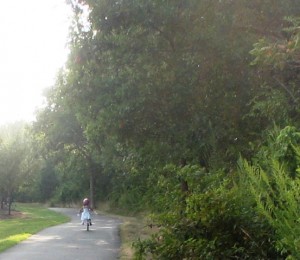 The park has two very well maintained tennis courts (see pic above) as well as a very nice basketball court.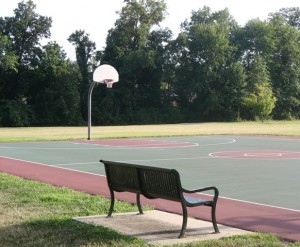 And right next to that is a baseball field which is then bordered by a rather large, level field.  All of this is in the middle of the walking trail loop.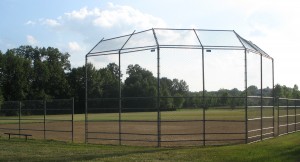 Hopewell Meadows has two separate covered picnic area.  One is right next to the parking lot and the other one is at the end of the walking loop.  Both areas have nice clean picnic tables and grills too.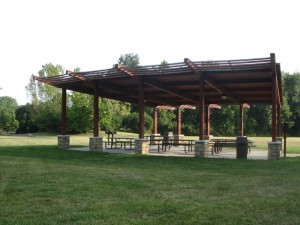 Right in the middle of the park is a huge playset area for the little ones.  The ground is surfaced with a rubberized covering. The play equipment has everything from swings to slides to climbing "stuff".  They even have a few of the old school horses on a huge spring.  You don't see those around much anymore.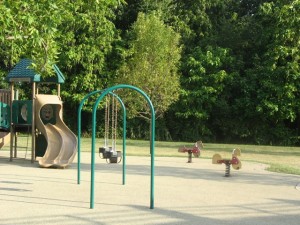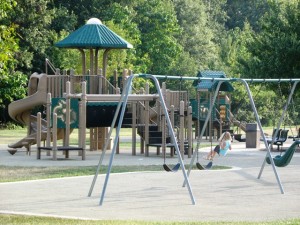 Hopewell Meadows Park is just a minute or two from 275.  Take the Loveland exit and head north on Loveland Madiera.  The first light is Hopewell -take a left.  The park is about a mile up on the left (pass the sign to get to the entrance).  If you're out and about and looking for a nice place to stop for an outdoor lunch, this is the perfect spot. Hopewell Meadows Park is located at 9131 Hopewell Road