It's Day 27 (Year 2) of "365 Things to do in Cincinnati" and today we're featuring the super-sized Holiday Train exhibit at The Cincinnati Museum Center.
In case you haven't heard, the old CG&E train display (lately known as the Duke Holiday Trains) has been permanently relocated to the Cincinnati Museum Center.  The downtown holiday train exhibit has been in the CG&E lobby on 4th Street downtown since 1946.  Personally, it makes me sad to see that it won't be downtown anymore.
Here's what Johnna Reeder, Duke Energy's Vice President of Community Relations, stated:  "Our employees and our company take a lot of pride in this annual tradition. We simply ran out of space in our lobby and finding volunteers and skilled employees to build and run the trains has been challenging. We wanted to make sure the display would live on in Greater Cincinnati forever." (quote taken from the Cincinnati Museum Center's FAQ page found here).
If it HAD to be moved,  I am very glad to see The Cincinnati Museum Center as its new home.  This train display is a part of Cincinnati's history… making the Museum Center the perfect place to keep it.  They will be good guardians for the display as well as the storage and integrity of the pieces.
The Duke Energy train display is now part of The Cincinnati Museum Center's Holiday Junction.  Holiday Junction has the old Duke train display set up in one room.  It looks exactly like it always has. The ramps go around the display so that kids can get up to see it.  The intricate towns and rails are all still there.  The trains are bustling and the engineers are still monitoring…
The old train display that we've all come to love and enjoy is every bit as beautiful in its new home.
Surrounding the train display is all kinds of history on the train display.  You'll also be able to enjoy "The Pennsylvania Railroad Calendar Series", a series of train paintings from 1928-1958.  You can also admire the "Toys Through Time" exhibit in this same area.  BUT what I think you'll love is that the Cincinnati Museum Center's own train exhibit is also part of this "train extravaganza"…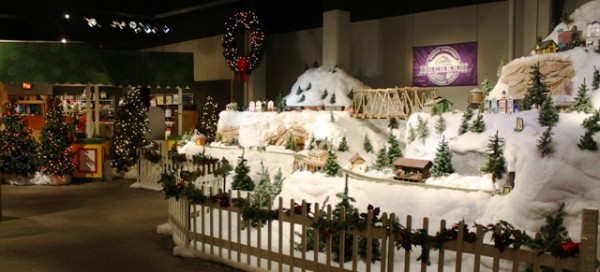 Head to the room that's adjacent to the Duke Energy Train exhibit and you'll find even more trains and train-related activities.  Here you'll find lots of interactive displays…
and lots of things for the kids to enjoy.
And the train displays in this part of the exhibit are pretty fabulous as well.  The scenery is gorgeous and the trains are varied and fun.
And for those of you who still long for a downtown Christmas of old, stop by to see the old Pogue's reindeer.  They now watch over Santa's chair at the Cincinnati Museum Center's train display.  They're no longer interactive (they're pretty old and a bit fragile) but it's so fun to get to see them again!
The Cincinnati Museum Center is hosting a number of Christmas events for families (click here for the event schedule).
And you can also see "Rocky Mountain Express" at the OmniMax theatre while you're there (additional charge).  I watched this show while I was there and the scenery is just incredible.  In  my opinion, it's a documentary-style presentation on the age of the steam locomotive and includes some fabulous scenery.  And of course you can always head over to the Children's Museum or any one of the other museums that you'll find in our old Union Terminal.
Tickets may be purchased at the Museum Center's Box Office (just inside their doors). You can purchase an All Museums Pass ($12.50 Adult, $8.50 Child) or admission to the Cincinnati History Museum ($8.50 Adult, $6.50 Child), for entry into Holiday Junction Featuring the Duke Energy Holiday Trains.
Cincinnati Museum Center Members receive free admission to all 3 museums, free parking and discounts on OMNIMAX tickets, food and shopping.  They're currently running a membership special (thru Jan 1, 2012) = buy one membership and get a 2nd and 3rd at half off!  Click here for details.
The Cincinnati Museum Center is located at 1301 Western Avenue
Connect with the Cincinnati Museum Center on Facebook