It's Day 249 of "365 Things to do in Cincinnati" and today I was out admiring the wonderful Holiday Train Display at Duke Energy downtown.
The Duke Energy Holiday Train Display is in its 65th year.  You'll find the display in the Duke Energy building (formerly CG&E for you now-out-of-towners) downtown.  I'm sure that any native Cincinnatian can tell you exactly where to find it – just ask him/her where to find the train display at Christmas time.  It's a Cincinnati tradition.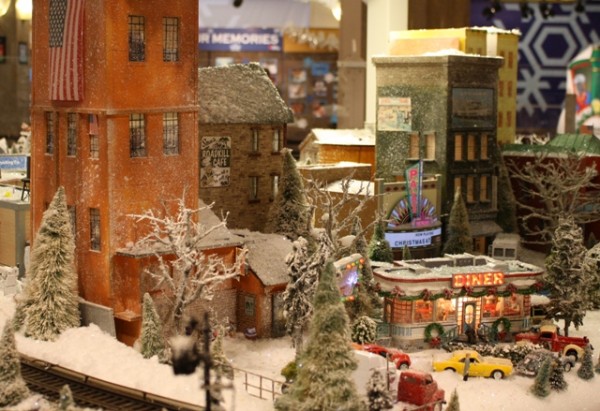 The Duke Train exhibit theme this year is After 65 Years of Memories, It's Still a Dream. And what a dream it is! This is a winter fantasy land full of tiny houses, miniature trains, sugarplums and snowflakes.
Did you know that the very first Holiday Train Display (CG&E at that time) was in 1946 and was part of The Baltimore and Ohio Railroad's (B&O) traveling display?  Over the next few decades the display grew steadily.  In the 1980's, CG&E decided to renovate and expand the wonderful Holiday Train Display.  It is estimated that over 9 million visitors have been in to see the train display over the years.
The Holiday Train Display is home to 50 locomotives, 45 color-position light signals, and approximately 300 train cars.   Pair that up with 1000 feet of track to cover this huge display.  Duke says during the holiday season the trains will run over 100,000 scale miles!  All of this combines to make the display one of the world's largest portable model train layouts.
The Holiday Train Display is in the lobby of the Duke Energy building, located at 139 East 4th Street downtown
The exhibit is free and is open until December 31, 2010 (closed Christmas Day)
Hours of operation are: Mon-Sat. 10-6 and Sunday noon-5pm