It's Day 257 of "365 Things to do in Cincinnati" and today we are featuring a number of local holiday light displays.  Whether it's a fun night out to get into the Holiday spirit or simply a way to get everyone out of the house so Mom has a few minutes to herself, these light displays allow everyone to enjoy themselves from the comfort of a warm car.
Holiday in Lights is a drive-thru light display at Sharon Woods.  In its 19th year, this light display covers more than a mile of Sharon Woods' forested roads.  The trees are decorated with lights.  They also have more than 120 moving and standing holiday fixtures as well.  Sharon Woods' Holiday in Lights opens each evening (including holidays) at 6pm and goes through January 1, 2011.   There is an admission charge of $12 per car or $45 for 15 passenger vans and buses.  Get your $2 off coupon on their site – Holiday in Lights.
---
Holiday Lights on the Hill is the light show at Pyramid Hill Sculpture Park.  They were actually hanging lights way back in October when I visited Pyramid Hill to see the sculptures (our Day 187).   And I can see why they start in October – they hang more than 2 million lights!  Skaters and swans glide along the park's lakes and tunnels of lights grace the park's paths.  Now in its 12th year, this is also a drive thru light display.   The show is open every night (including holidays) until January 2, 2011.  They open at 6pm.  There is an admission charge – see this page for details (scroll down to see the Holiday Lights part).
---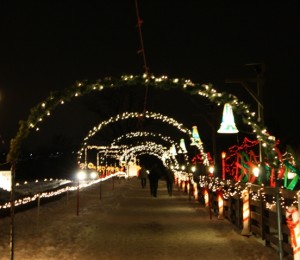 And then of course there's Niederman Family Farm.  This is a great FREE walk through display that we featured a few days ago.  You can read all about it at Day 254 – Niederman Family Farm.
---
Another recent holiday lights post (in case you missed it) is the great light show outside at Newport on the Levee.  See our Day 253 post – Holiday Light Show at Newport on the Levee.
---