Hello, Dolly! It's a classic Broadway musical that's full of BIG songs and even BIGGER dance numbers and it's currently at The Aronoff Center (December 3-15, 2019). This beloved musical, brought to us by Broadway in Cincinnati, is one you don't want to miss!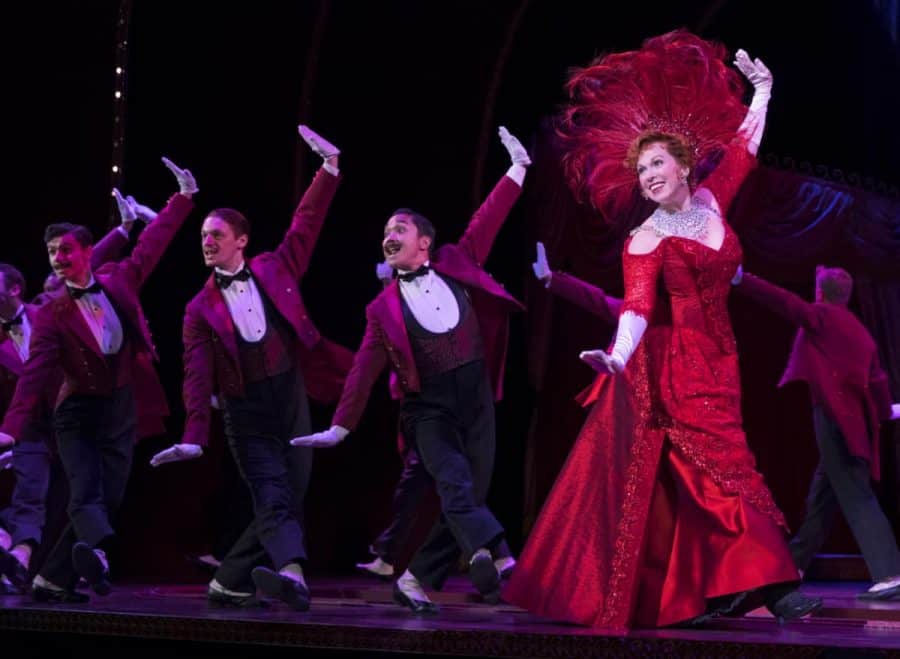 I saw the show last night and I'm here to tell you – this is a GREAT show! It has everything you want in a Broadway musical. The dancing is superb. The cast is talented and polished. Voices are on point. It's a classic AND a must-see!
What Did I Love?
The story is set in the 1800s, making it what some would call a "period piece". What made me think of this as a period piece, however, is the golden era of Broadway in which this show first appeared – a time of BIG Broadway musicals, full of elegant costumes and mesmerizing dance scenes. That's exactly where the "period piece" magic comes in for this show!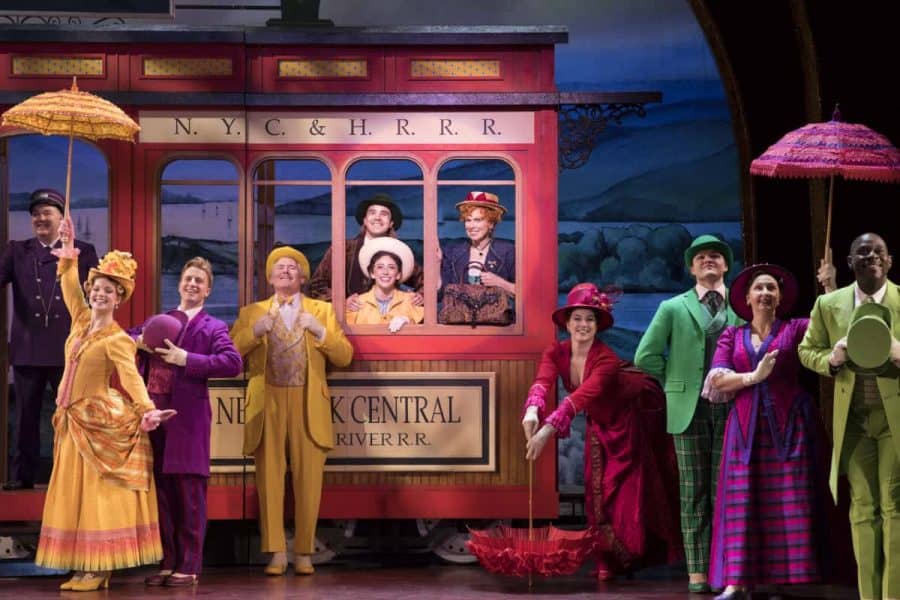 I love a show with great choreography and this show does not disappoint! Nearly every scene has some sort of dance element and there are lots of BIG ensemble dance numbers throughout the show. You will be amazed by the talent. In fact, the audience applauded the dance numbers all throughout the show!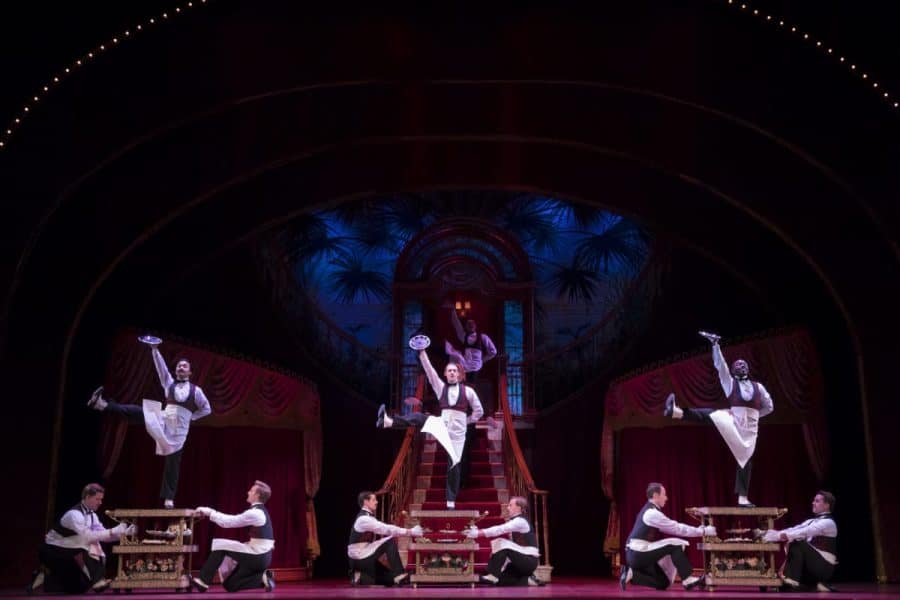 The cast itself is superb. Carolee Carmello, a veteran Broadway star who plays Dolly, has amazing talent and great comedic timing. She is a fabulous Dolly and I feel like it's a character she was born to play. She pulls you into Dolly's world from the very first scene. Her vocals are spectacular. Her poise on stage will leave you cheering for Dolly. And the comedy displayed on this stage! I seriously thought I was watching a live version of The Carol Burnett Show during the millinery shop scene.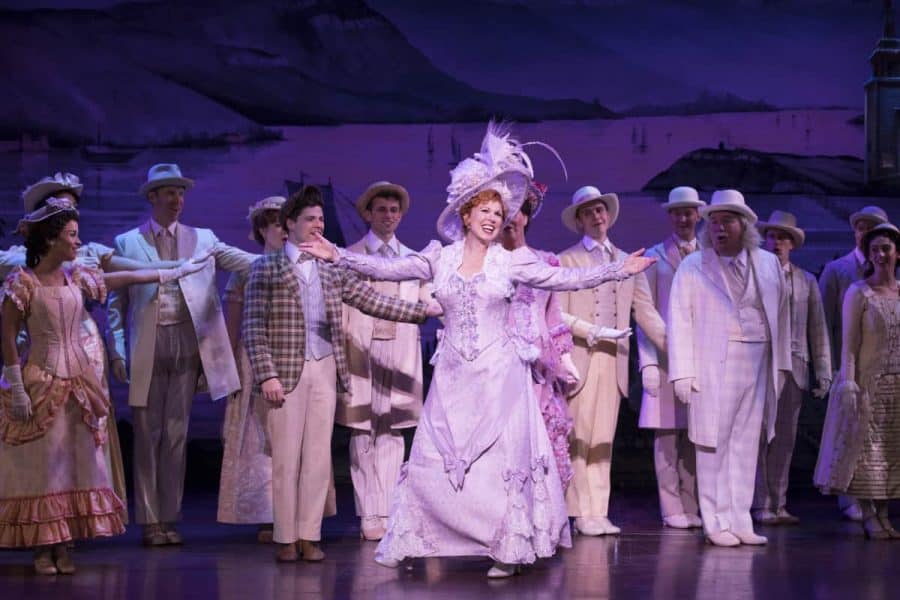 John Bolton (who is no stranger to Broadway himself) takes on the character of Horace Vandergelder, a wealthy shop owner who's looking for a wife. Bolton manages to take you on a trip that goes from despising the miserly "half-a-millionaire" who shows little respect for his shopkeepers… to warming up to him as a lonely man… to actually rooting for him to fall in love with Dolly.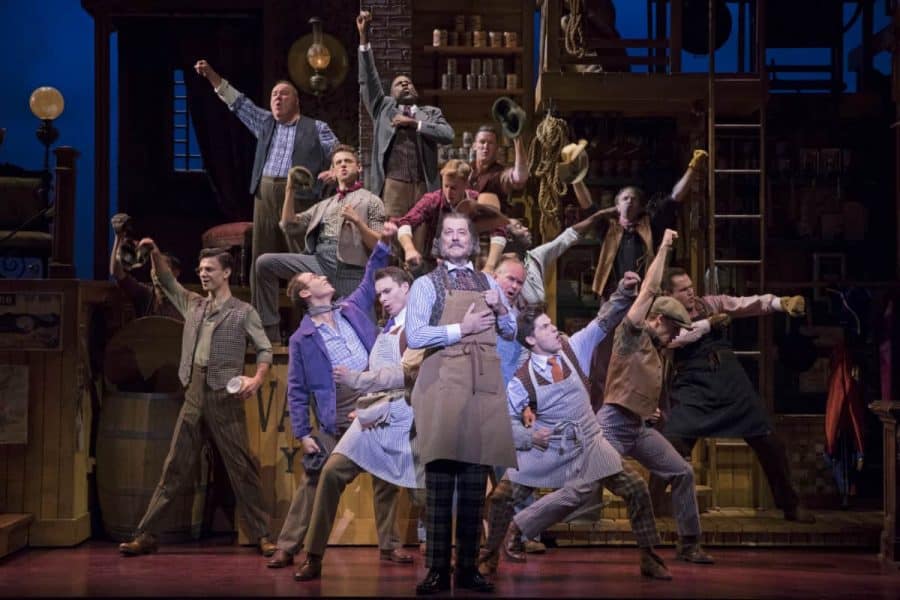 You know it's a great show when you want to see the characters succeed. I was definitely rooting for Dolly, feeling the pain of Horace, and enjoying the adventures (pudding!) of the young shopkeepers. And a show with a happy ending is always a winner in my book. 🙂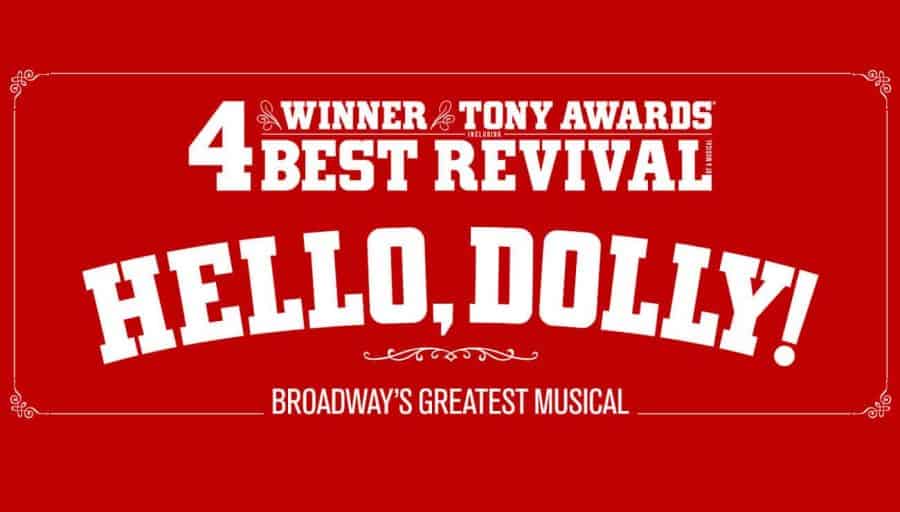 The Story:
Based on a book, The Matchmaker (1955), "Hello, Dolly!" takes place in the late 1800s. Dolly Gallagher Levi, a well-known matchmaker, has been assigned to find a match for miserly Horace Vandergelder, "the well-known half-a-millionaire" from Yonkers, New York.
Dolly, who appears to be a successful matchmaker in New York, actually struggles to make ends meet. You quickly realize she leads a solitary life as a widow. To make her life a bit easier, she decides SHE needs to be the match for Mr. Vandergelder (and goes about convincing Horace of the same).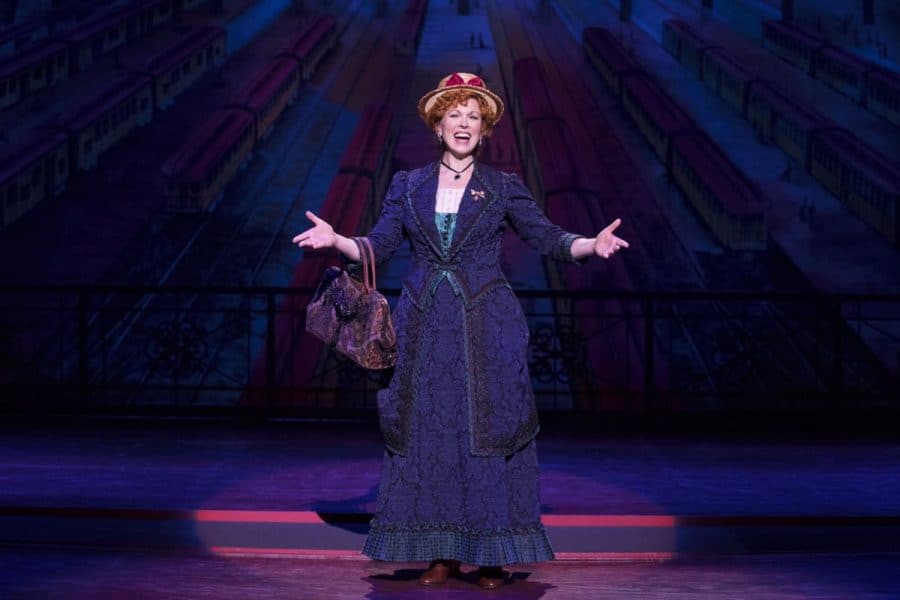 Hilarity ensues when, based on Dolly's suggestions, Horace decides to travel to New York City to see the parade and meet his potential new wife. His first potential match is Mrs. Irene Molloy, a widow who owns a millinery shop in NYC. Horace makes his way from Yonkers to her millinery shop but, little did he know, two of Horace's shopkeepers (who escapted to NYC, looking for an adventure of their own) introduce themselves to that hat shop first.
That scene! It was at this part of the show that I knew I was going to love this musical. It's comedy on stage at its finest!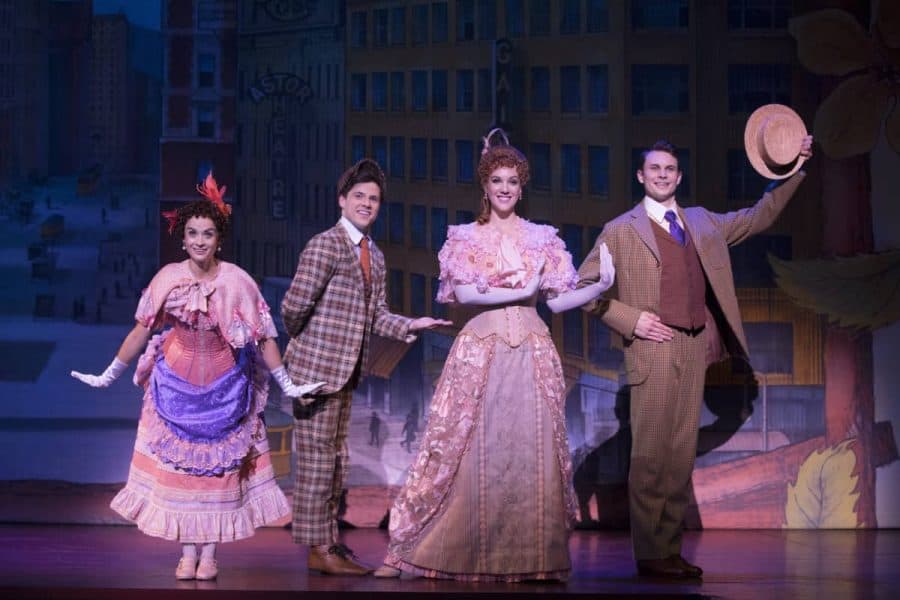 By the end of the millinery shop scene the audience knows Dolly is on an adventure all her own – to convince Horace Vandergelder that SHE'S the woman for him. And you begin to root for that to happen!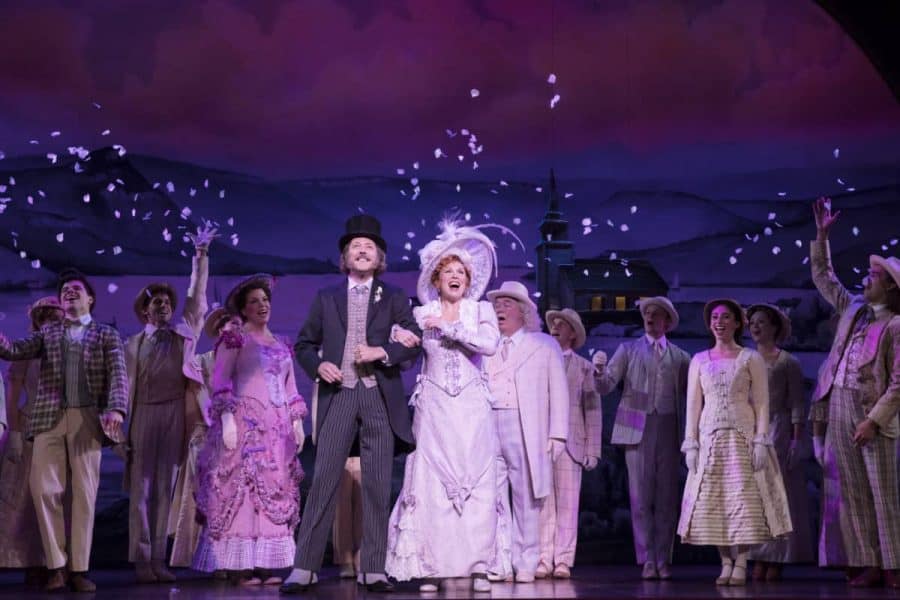 This classic musical will take you from Yonkers to the streets of New York City, on a parade, into shops, and seats you at The Harmonia Gardens (where you'll hear "Hello, Dolly!" and see the iconic red dress). From period scenery and costumes, to big ensemble dance scenes, and fantastic musical numbers… this is a show you will really enjoy!
Hello, Dolly! is at the Aronoff Center from Dec. 3-15, 2019
Ticket information can be found here.
All Photos: credit to Julieta Cervantes
---
Disclosure: Broadway in Cincinnati provided us with tickets to see this show and is a 365Cincinnati website sponsor.