I was on Cooking with Caitlin's radio show today ("What's Hot", Sundays at 3pm on 55KRC).  I talked about loads of things to do in Cincinnati during the winter months.  I was terribly OVER prepared for the show and only got through about half my list!
I promised to post the list of things to do up on our site so here you go – the radio show list PLUS all the things I couldn't fit in…
---
Visit any one of our wonderful parks to take part in Maple Sugaring demonstrations.  Hamilton County Parks, Cincinnati Parks, and The Cincinnati Nature Center all offer these demos starting in February.
And watch for Clough Valley Maple Syrup's Open House (coming soon).  We went to that last year (see our Day 294) and were amazed by all that goes into the production of maple syrup.
---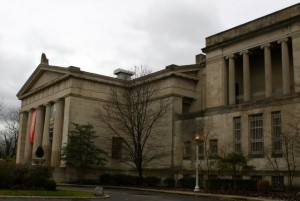 There are lots of opportunities to get into many of the art museums without paying admission.  The Taft Museum of Art is free every Sunday (look for Family Fun Day on Jan. 15, 2012).   The Contemporary Arts Center is free on Monday evenings from 5-9pm.  The Cincinnati Art Museum is free every day.  Just be sure to check their respective websites as I know they are not open every day of the week.
---
And while we're talking about museums, you can't overlook The Cincinnati Museum Center.  Not only do they have some great museums all under one roof, they also offer lots of free programming. Not to be missed is the Rotunda Tour which takes place every Saturday and Sunday at 1,2, and 3 pm.  You can also take the stairs up to Tower A on Saturdays and Sundays from noon-4pm.  This is the top level of Union Terminal and used to be the control tower for the trains back in the day.
---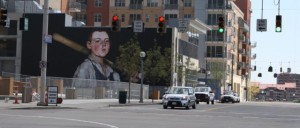 Hop in the car and drive around town to see the amazing murals from the folks at ArtWorks.  Before you go, plan out your destinations by picking some murals out on the mural map at the ArtWorks site.  Not to be missed: The WCET building and the mural down at the Banks (inspired by "The Cobbler's Apprentice", a painting at nearby Taft Museum of Art).
---
The Cincinnati Observatory is an amazing place to visit.  Enjoy one of their many offerings including Astronomy Thursdays and Astronomy Fridays.  They have presentations, Q&A, tours and telescope viewing. The topics of discussion change each week so it's worth a repeat visit.  Check their site for details (including costs).  Watch for a viewing of Venus, offered there on Jan. 27, 2012.
---
Did you know that The Esquire, The Mariemont, and The Kenwood Theaters are all locally owned?  Enjoy a show at any one of these hometown spots.  The Esquire offers "The Rocky Horror Picture Show" every other Saturday.  And if you're an Academy Awards fan, be sure to go to the Esquire on Feb. 25, 2012 to see it on the big screen!  Both the Esquire and the Kenwood locations serve drinks from the bar and the Kenwood location has wonderful sweets from "Freida's".
---
Coming soon is the ArtsWave Sampler Weekends.  Every weekend for three weeks (starting February 11, 2012), you'll have a chance to see MULTIPLE free art samplers.  These include all kinds of performances and behind the scenes looks at tons of art related activities here in town.  Last year we got to go on a tour of the Playhouse in the Park's set department (phenomenal and highly recommended).  We look forward to these weekends all year long!
---
Wolff Planetarium is located in Burnet Woods (part of the Cincinnati Park District).  You can see "Winter Constellations" there on Jan. 20, 2012 plus many other shows.  See the Burnett Woods page for directions and see the event calendar for show details.
---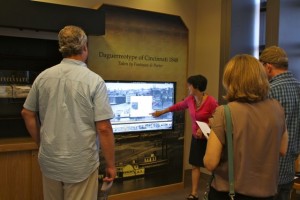 Edit (2014): this display has been downsized over the last few years. The Cincinnati Public Library has a spectacular exhibit set up – The Cincinnati Panorama of 1848 Daguerrotype Display.  This is an 1848 photo of the riverfront that has been blown up to show amazing details of what the riverfront looked like in the early settlement days.  They have a huge touchscreen interactive area where you can zoom in and out on all parts of the panorama.  The exhibit also features many artifacts and history related to the photo.
Also at the Main Library – a Christian Moerlein Brewery Panel Discussion featuring a panel of beer historians (including Greg Hardman) who will discuss the Queen City's rich brewing history.  This class will be held in the Reading Garden Lounge on January 21, 2012 at 2pm.  For more info, call (513) 369-6905.
---
Be happy it's wintertime when you venture downtown to enjoy the outdoor ice skating rink at Fountain Square.  The rink is open every day (weather permitting).  Saturdays nights they have a live DJ.  Sundays are Family Skates where kids 12 and under can skate free from noon-6.  Check the Fountain Square site for hours, costs and conditions.
The Mascot Broomball game takes place (on the Fountain Square ice rink) on January 14, 2012, noon-2pm.  Watch mascots from local sports teams and businesses take on one another on the ice.  Mascots will be available before and after the game for a meet and greet.
---
Findlay Market is open all year round, six days a week (closed on Mondays). Enjoy shopping with over  two dozen indoor merchants who sell everything from fish to cheese to homemade sausages.  Many merchants sell ready made dishes too – just take them home and reheat!  Parking is available right at the market lot.
Head to Findlay Market on January 15 to enjoy the Gold Star Chili Cookoff, starting at noon.  The biergarten will be open and they'll also have live music.
---
Entertrainment Junction was one of our favorites over the Christmas holiday break.  They house the world's largest indoor train display.  Within the train display section you'll also find a kid's play area and a train museum.  The lobby has a great gift shop (huge) with lots of hobby-related items.  Our favorite part was the Amazen' Funhouse which consists of four different circus-like mazes.  Among them you'll find a maze of mirrors and a maze made entirely of circus tent!  Conveniently located just off the Tylersville exit of 75, this is a must do in my opinion.
---
Paint by the Glass is a fun way to spend the evening with some friends (and some wine!).  You'll sit down in their artist's studio shop and follow along as the teacher shows you how to create your own work of art.  You'll leave that night with your finished creation.  They also have kids parties (without the wine… or maybe with the whine!).
---
Speaking of wine, there are a ton of places to enjoy a nice wine tasting.  Some of my favorites include: The Party Source EQ (amazing evening, look for classes with Danny Gold), Market Wines, and City Cellars.
Newport on the Levee is hosting its 6th Annual Wine Walk on Wednesday, Feb. 8, 2012 from 6 to 9pm.  Enjoy wine and heart healthy snacks as you sample many of the Levee restaurants and attractions.  $35 per person and it benefits the American Heart Association.  Reservations required – see the event site for full details.