This post is sponsored by Broadway in Cincinnati
Inspired by the upcoming Broadway in Cincinnati show Charlie and the Chocolate Factory, we ventured out to find the best chocolate in Cincinnati. 

Broadway in Cincinnati's Charlie and the Chocolate Factory  
will be at the Aronoff Center October 23 – November 4, 2018.

Ticket information can be found here.
Roald Dahl's amazing tale is now your golden ticket! It's the perfect recipe for a delectable treat: songs from the original film, including 'Pure Imagination', 'The Candy Man' and 'I've Got a Golden Ticket', alongside a toe-tapping and ear-tickling new score from the songwriters of Hairspray.
Now's your chance to experience the wonders of Wonka like never before—get ready for Oompa-Loompas, incredible inventions, the great glass elevator, and more, more, more at this everlasting showstopper!
---
Grab a friend and hit the Cincinnati Chocolate Trail!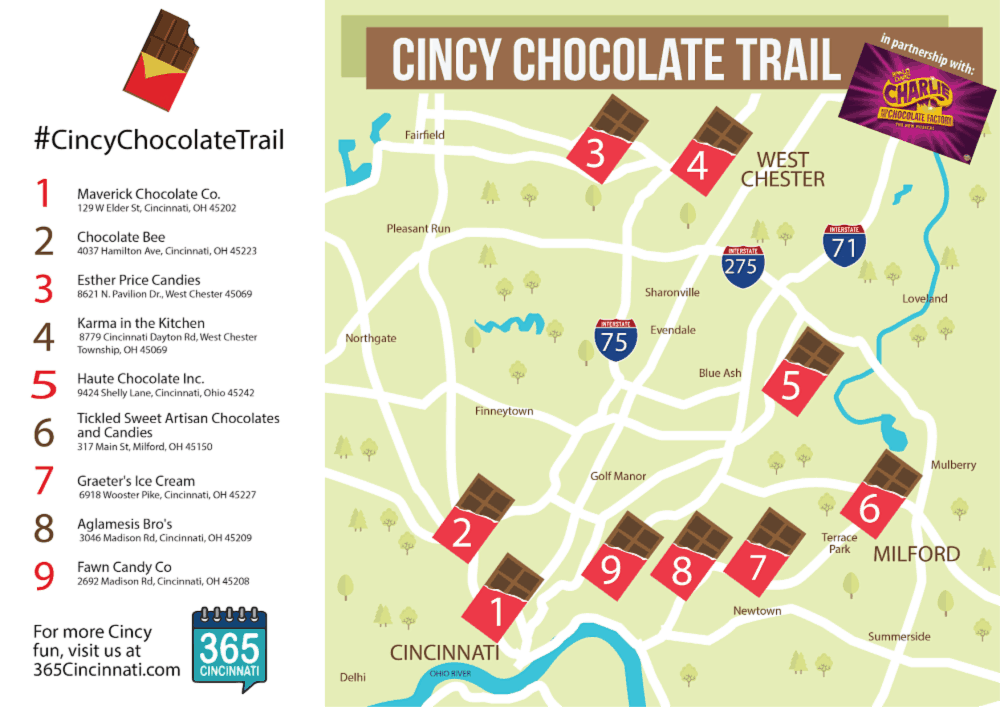 Share your favorites! #CincyChocolateTrail 
Please note: All the chocolate shops on the trail have different hours of operation and some may be closed on certain days. Be sure to check each one individually before you head out the door!
Maverick Chocolate (at Findlay Market)
129 Elder Street
Cincinnati, Ohio 45202

The Chocolate Bee
4037 Hamilton Avenue
Cincinnati, Ohio 45223
Esther Price Candies
8621 N. Pavilion Drive
West Chester, Ohio 45069
Karma in the Kitchen
8779 Cincinnati Dayton Road
West Chester, Ohio 45069

Haute Chocolate (Montgomery)
9424 Shelly Lane
Cincinnati, Ohio 45242
Tickled Sweet Artisan Chocolates and Candies
317 Main Street
Milford, Ohio 45150
Graeter's Ice Cream
6918 Wooster Pike
Cincinnati, Ohio 45227
Aglamesis Brothers
3046 Madison Road
Cincinnati, Ohio 45209
Fawn Candy Co. (Rookwood)
2692 Madison Road
Cincinnati, Ohio 45211