Jurassic Quest is rolling into Cincinnati this weekend and we have tickets to give away!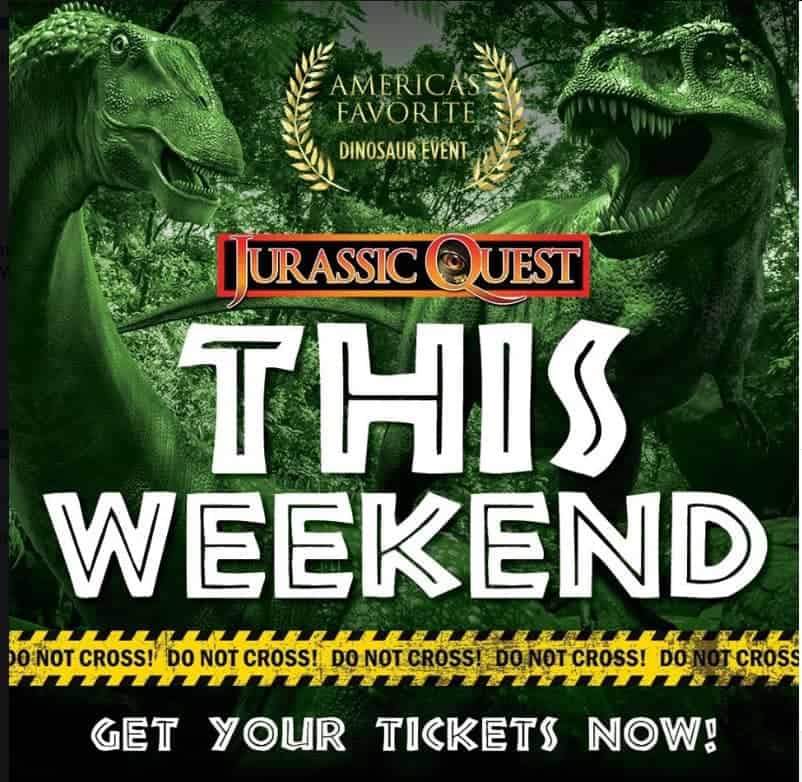 What is Jurassic Quest?
Jurassic Quest is an interactive dinosaur event that is traveling around North America. Jurassic Quest features over 100 dinosaurs, including some sky scraping classics, the Spinosaurus, Giganotosaurus, and Tyrannosaurus Rex.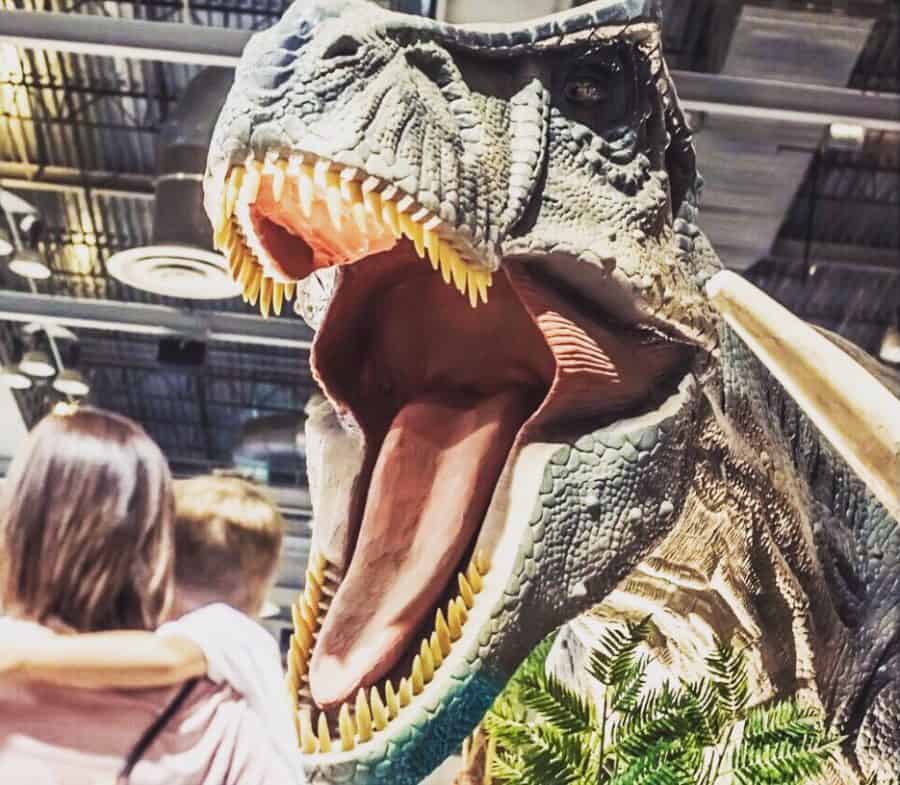 Dive deep beneath the ocean's surface into the darkest depths of prehistory. Discover one of the largest marine apex predators that ever existed, a COLOSSAL 50 – foot – long prehistoric shark exclusive to our event, the MEGALODON. Encounter the TYLOSAURUS, a type of Mosasaur that can reach lengths of up to 45 feet, with rows of hidden teeth deep in its jaws. See the bizarrely long-necked ELASMOSAURUS, the dolphin-like ICHTHYOSAURUS, the largest known sea turtle, the ARCHELON, and many more prehistoric marine creatures as part of our new Ancient Oceans exhibit. Experience the thrill of being submersed among some of the most enormous, and vicious, ancient sea creatures to ever lurk our ocean's depths that can only be seen at Jurassic Quest.
Jurassic Quest attractions include:
Ancient Oceans: The newest addition to the exhibit, Ancient Oceans, includes some of the largest prehistoric marine creatures such as a 50 foot – long Megalodon that you can't see anywhere else!
Walking Dinosaurs: see their adolescent Dilophosaurus and Herrerasaurus run around and play with the audience. Take photos, touch and hang out with the dinos during scheduled appearances.
Baby Dinos: Meet a baby Triceratops, Camarasaurus, and more! Amazing life-like little animals are a Jurassic Quest exclusive and a fan favorite for sure. Trainers bring them out several times a day for about 30 minutes each time (see schedules for more info).
Activites such as Dinosaur Rides, Dinosaur Bounce Houses, Face Painting, Bungee Pull, and more: Children can ride an the back of their special animatronic dinosaurs. The VIP Kids Ticket is geared towards ages 2-10, and it includes unlimited turns on activities, inflatables, and dinosaur rides. Note: socks needed for the Bounce Houses!
Tours and Educational Activities: Young Paleontologists can uncover huge triceratops fossils, T-Rex fossils and more at the Fossil Digs. Make your own plaster fossil memento to take home at the Science Stations. Sit down and enjoy the free crafts table. Take an interactive tour of the Jurassic Quest exhibit with one of their dinosaur experts. Learn about various dinosaurs, time periods, fun facts and more!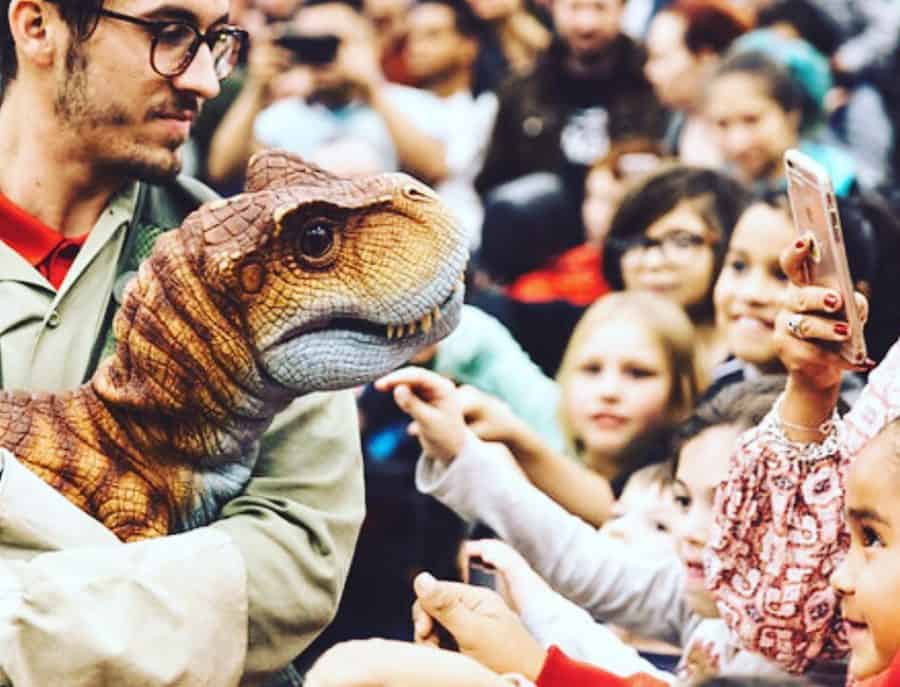 Take a stroll through the dinosaur exhibit, partake in an endless amount of prehistoric activities, and experience their walking dinosaurs and baby dinosaurs that love to play and nibble on our guests!
You can experience Jurassic Quest at the Duke Energy Center, Friday, March 13 through Sunday, March 15, 2020.

Hours are:
Friday: 3-8pm
Saturday: 9am-8pm
Sunday: 9am-7pm

Tickets are required. They strongly recommend purchasing online ahead of time to guarantee entry.
Learn more about Jurassic Quest here
---
Congrats to our winner, Amanda. Amanda, check your email inbox for a timely message from me!
We have a FLASH Giveaway for Jurassic Quest tickets!
Enter to win a family four pack of tickets, good for one day of admission to Jurassic Quest in Cincinnati (March 13-15, 2020). The four pack of tickets includes 2 adult passes plus 2 Kids VIP passes!
Here's how to Enter:
Simply leave a comment below and let us know your favorite dinosaur!
Watch your email! We will notify the winner on Wednesday afternoon (via email) and I will need to have the winner's name by Wednesday at 9pm!
Giveaway Details: Tickets were donated by Jurassic Quest. Contest ends on Wednesday, March 11, 2020 at 4:00 pm. No purchase is necessary. One entry per person. Winner will be contacted via email. Winner have until until March 11 at 9pm to claim the prize and respond to the email. Winner will be randomly chosen via Random.org. No purchase necessary. This giveaway originates in Ohio. We opened the giveaway on Tues., March 10 at 3pm. Odds of winning depend upon the number of entries received. One winner will receive 4 tickets for Jurassic Quest in Cincinnati, as detailed above.