It's Day 64 of 365 Things to do in Cincinnati and today we're out enjoying the warm weather at Woodland Mound Park.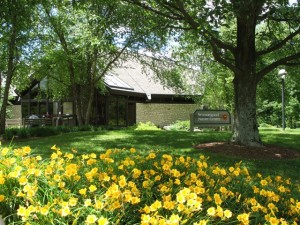 One of the many parks in the Hamilton County Park District, this gorgeous park is located in Anderson Township.  With just over 1000 acres, this park has everything you can think of to keep your family entertained.  There's an 18 hole golf course adjacent (The Vineyard), a Banquet Center, the Seasongood Nature Center (above) and many other amentities such as: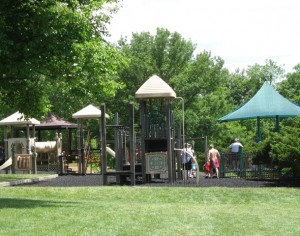 a gorgeous playground,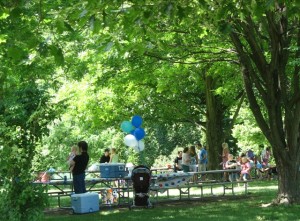 reservable picnic shelters and spacious picnic sites,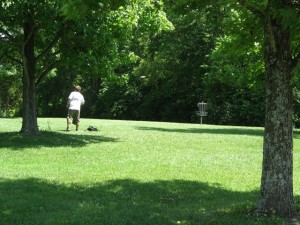 and Frisbee golf.
They also have a campground (Steamboat Bend) for RV's and self-contained trailers.  And if you're a boat enthusiast, they have a boat launcing ramp into the Ohio River (may need to buy a daily permit).  Yep, the Ohio River runs right down the hill from Woodland Mound Park.  Get a load of this view from the Nature Center…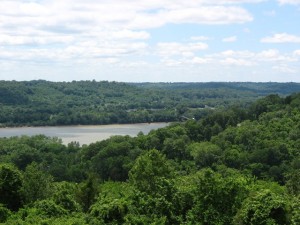 And of course there are hiking trails as well as paved trails.  They also have a water park for the kids ($2 per child or $5 for 3 children) and a full service snack bar.
Woodland Mound is located at 8250 Old Kellogg Road in Anderson Twp.
You do need a Hamilton County Park sticker to get in but it's just $5 per year per car.   And that sticker gets you into all of the Hamilton County parks all year.  It's the best bargain in town!
Have you been to Woodland Mound?  What's your favorite Hamilton County Park?
Be sure to check out the other Hamilton County Parks we've visited too…
Glenwood Gardens
Sharon Woods
Miami Whitewater
Winton Woods (campground)