It's day 128 of "365 Things to do in Cincinnati" and today we're recounting an event we attended last night – the Wiener Dog Races at River Downs.  I have to say that this one really surprised me!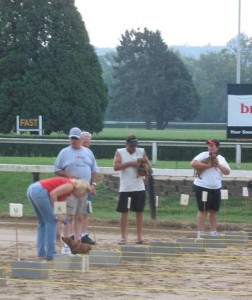 Held once a year at River Downs, the Wiener Dog Races event is put on and sponsored by Marjon Kennels.  The dogs race after the horses are done for the day (and there's no betting on the dogs 🙂 ).  Last night there were ten races.  Each race's winner goes on to a final race, after which one dog is crowned "King of the Wiener Dogs".  Last night's event got started at about 6pm.  The event is free and parking is free.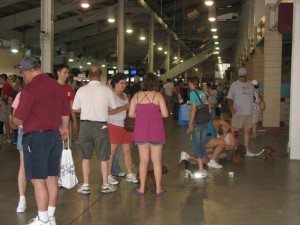 You can bring your pooch with you to the race, even if it's not a wiener dog.   I couldn't get over how many people came to this event!  The place had already cleared out from the horse races.  The photo above shows the crowd for the wiener dog races!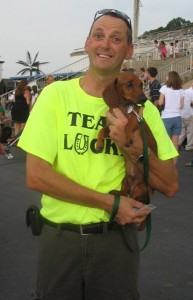 Here's Lucky and his owner – proudly representing "Team Lucky".  Lucky came with his fan club, all donning their shirts.  He's loved :).  I talked with Lucky's owner and he said Lucky was a rescue dog… so he's Lucky in more ways than one.

Here's the start of one of the races.  Each dog was held by its owner at the start.  Once the "M.C." said "Go" the dogs were released and allowed to run to their respective "catchers" at the end.  Team Lucky can be seen in the green shirt above in Lucky Lane #7.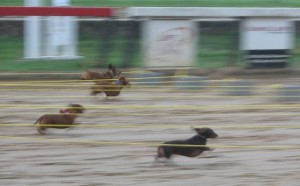 I do have to say that this was one of the funniest things I've seen in a while.  Really – look at those little pups run!  Many were racing towards the end with a balloon or a favorite ball waiting for them.  One balloon got away and two dogs chased it out into the middle of the race track… too funny!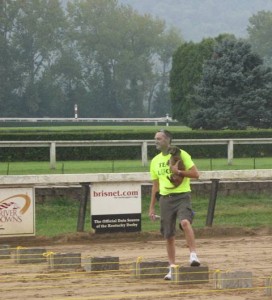 Here's Team Lucky after the race.  Lucky didn't win the race but I think he's still well loved :).
I would highly recommend attending this next year.  It's great fun (and free!).
AND if you're wishing you could have seen the races,  Cincinnati's Oktoberfest has its own wiener dog races on September 17, 2010 (noon on Fountain Square).