Here's one that may surprise you…. Bring your nose plug and join us (virtually of course) as we re-live our tour of the Rumpke Landfill  – because that's our Day 131 of "365 Things to do in Cincinnati"!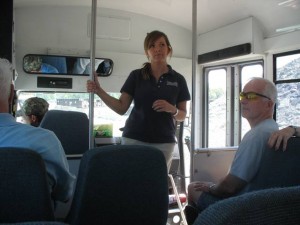 Believe it or not, Rumpke actually gives tours of their landfill located on Struble Road (Colerain area).  Not only do they give tours… they give LOTS of tours.  Tours are offered on Wednesday and they had a tour before us and a tour after us.  Our tour guide said they actually did eight tours last Wednesday.  Who knew?!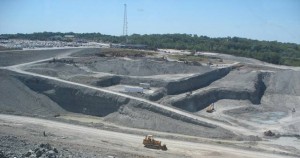 The landfill tour (about 45 minutes long) is done by a Rumpke tour guide and it all takes place on the Rumpke bus.  You don't get out of the bus and there is no walking involved (other than to and from the bus of course).
The first spot we drove by was the location of the newest dumping area.  It is still under construction and will be for some time.  Our guide explained how the land is excavated and then extensively prepared before they start to fill it.  The land will get packed by a thick layer of compacted clay followed by multiple levels of recycled plastic covering used as a sealer.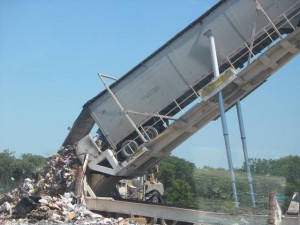 Our bus then drove us up to the active dumping site.  And I am here to tell you RECYCLE PEOPLE!  You won't believe how much garbage was up there!  We watched as residential trucks emptied their loads.  Totally shocking!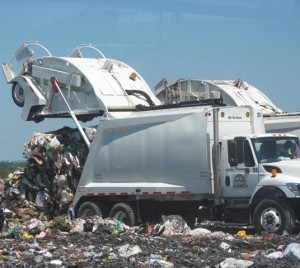 We generate a LOT of trash.  It was amazing to see a garbage truck expel its contents.  I can't believe how much trash came out of that one truck.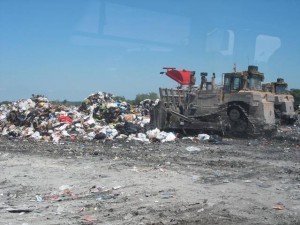 Trucks come and go, dumping their contents here.  Garbage movers drive over it and move it around.  I couldn't help but think of how a little boy would love to watch this process!  Those haulers and movers were BIG!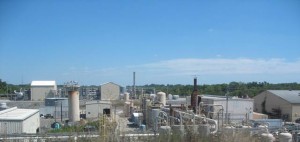 We then drove past the area where Rumpke captures and stores the methane gas that is produced as a natural result of the landfill.  Rumpke chooses to capture this gas (rather than burning it off) as it produces energy from the waste.  Rumpke sends that gas to Duke – and it's enough to power more than 20,000 area homes!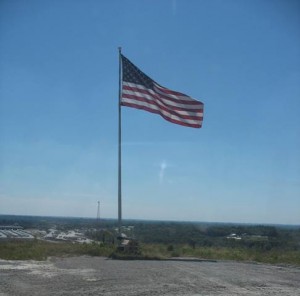 Our last stop was the very top of the landfill (better known as Rumpke Mountain).  If you're local to the area you'll recognize the flag in the picture above.  The views from the top of the landfill are amazing.  It was a very clear day and we could see the Mt. Airy Water Tower and some folks said they could see the Great American Tower (the new tallest building downtown) but I never made the connection.
Rumpke Landfill Tours are only offered on Wednesdays.  They do group tours and it's all by bus.  If you'd like to go but don't have a group, call the office to see if they have a group you could tag along with.  The tour is free and incredibly informative.