It's Day 83 of 365 Things to do in Cincinnati and today we visited the Ohio Valley Antique Mall.  Whether you're a fan of antiques or not, this is a fun place to go just to see what you can find.  This place is HUGE and there is something there for everyone!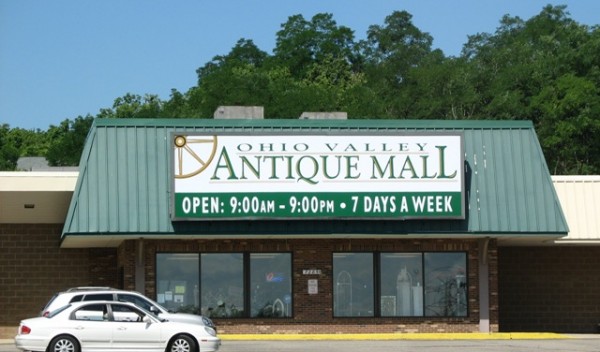 This antique mall is Cincinnati's largest, spanning over 65,000 square feet of space.  They have aisle upon aisle of individual booths with over 600 dealers displaying their wares here.
The picture above shows just one of the many, many aisles of booths.  You could spend hours in this place (trust me, I know 🙂 ).
You can find all sorts of great stuff here – from iron work that could be transformed into a great wall grouping to old wooden architectural pieces.
Above you'll see just one booth that has stained glass pieces, iron gates, and gorgeous statuary.  Below is another booth full of old windows.  These are more primitive but would make great table tops or wall hangings.
While I was walking around I happened upon two women who were buying pieces to use in an upcoming photo shoot.  They snagged an old wooden ladder, a huge old cheerleader's horn, and some cool old suitcases.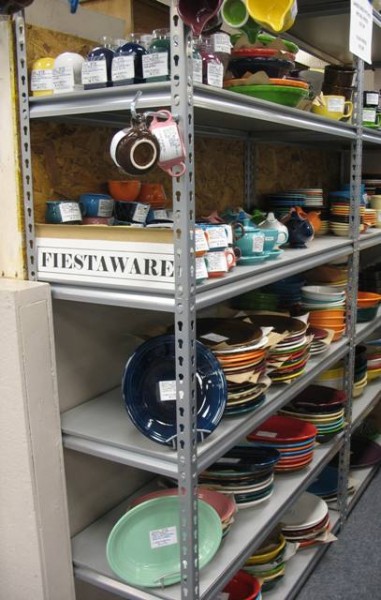 If you're a Fiestaware fan, they have an entire booth of Fiesta pieces.  Gorgeous!
And of course there's booth after booth of "smalls" – little items like those on the tray above.  How glamorous is that candlestick with the crystal beads?
And you'll occasionally stumbled across something odd and unusual like this old wall mount (?) game above.  And take a look at this booth's selection of old license plates…
Those would be so cool arranged on a wall or made into a purse (that's for all you crafty folk out there!).
The Ohio Valley Antique Mall is located at 7285 Dixie Hwy (Rt. 4)
Also nearby: Jungle Jim's International Market is just up the street (5440 Dixie Hwy.)