It's Day 127 of "365 Things to do in Cincinnati" and today we're featuring the Milford "Cruise-In" car show.  This was our very first outdoor car show and WOW were we ever impressed!
This particular car show is FREE and happens every Friday evening  (May to October) starting at about 6pm (give or take).  This Cruise-In (I hope I'm spelling that right!) was in Milford within the Mulberry Square's Kroger parking lot.  It is a free event and is sponsored by Milford's Steak and Shake.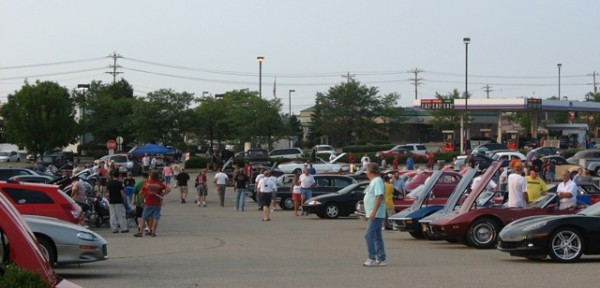 It was a much larger show than I anticipated.  They have several hundred cars to see – row after row of cars.  We talked with one of the organizers who told us that this was actually a lighter crowd than normal (it was over 90 degrees still at almost 7pm).  I was very impressed.
The cars and their owners are parked and open for browsing.  Most had their hoods popped and windows rolled down.  The car pictured above and below was my favorite of the show – a 1957 Bel Air.  Keep in mind that I know absolutely nothing about cars and am just basing my "favorite" designation on looks.  But this was one spectacular specimen!
I got to talk to this car's owner and he told me he bought it from a collector who had stored it in a garage for nearly 20 years.  All of the parts, both interior and exterior, were original.  And it was in pristine condition.  Even the upholstery was like brand new.  What really caught my eye was the fire-engine red interior (shown above).  And don't miss the white wall tires.  This car was spectacular in every way!
I don't know if there was an inordinate number of red cars or if I just happened to be drawn to them – but almost every picture I took was of a red car.  This one (above) is an old Impala convertible.  How cool would it be to cruise around in that?!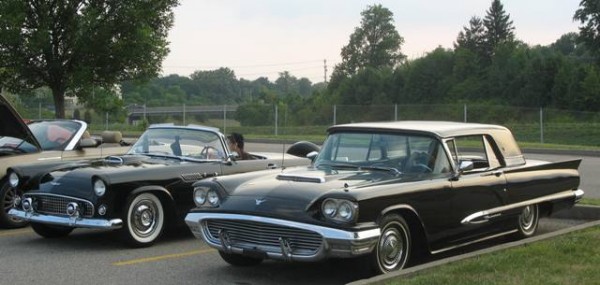 Above you'll see black Thunderbirds, young and old.  I'd hate to see what that old Thunderbird could do in a collission!
They had a variety of "newer" cars. And some very old ones…
So if you're looking for something to do on a Friday evening, "cruise" on over to the Milford Krogers (Mulberry Square location) for a while.  It's free, the people are very friendly, and the cars are incredible.