It's Day 361 of "365 Things to do in Cincinnati" and today we're featuring something that combines the modern with the classic – admiring the artistic displays currently in the windows at the old Shillito's Department Store on Race Street.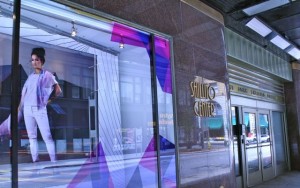 Have you walked past the Shillito building lately?  If so, you may have noticed the graphic designs on the windows.  The windows on what was once a thriving department store are now full of fashion once again.  This display is the work of the Landor Associates,  whose offices are in the Shillito building.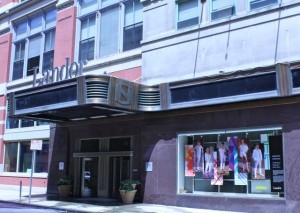 The windows dressings were presented to the public back in May during Fashion Week.  In the windows you will see a model in today's fashions and then on the actual window itself you'll see graphic design that is inspired by and compliments the photo.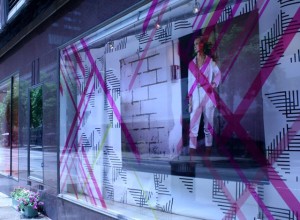 I am going to be honest here and say – don't make a special trip downtown just to see these windows.  BUT if you are downtown, take a walk up Race Street and admire this gorgeous old building and the Landor Associates window display.  Together they make a pretty good team!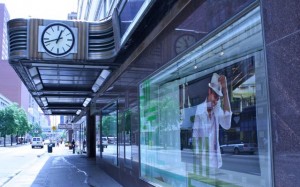 Landor and Associates put these displays together for all of us to enjoy.  Their offices are in the historic Shillito building downtown which can be found at 675 Race Street.