It's Day 43 of "365 Things to do in Cincinnati" and today we are featuring our city's most recognized symbol – Fountain Square and the many, many events that take place there.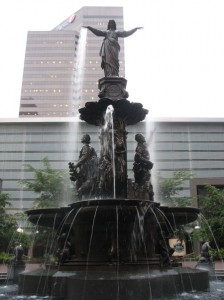 Over the years the city has really done a great job of welcoming people to Fountain Square.  Tables abound at this central downtown location and all summer long you will find great events going on there.  There are many restaurants within a block's radius and you'll find cheap (for downtown anyway) parking right in the garage adjacent to the Square.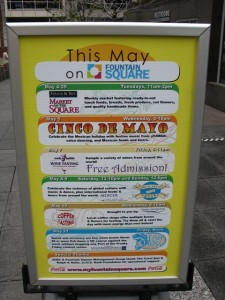 Earlier this week we went to Fountain Square for the Coffee Tasting.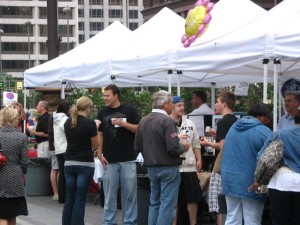 Coffee vendors and baristas were set up all along the square to sell really cheap samples of their coffees.  Many local coffee houses were in attendance as well as a few chains.  Servatii's was on hand with breakfast baked goods and their monster pretzels (one of the best buys in town by the way!).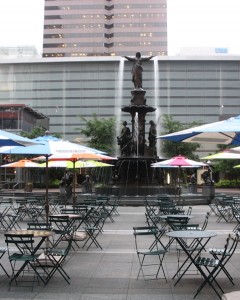 You will, no doubt, notice there are very few people in my pictures.  It was raining on and off all morning and it was actually very dreary.  Events on Fountain Square are very well attended so don't let my pictures lead you to believe that our downtown is a ghost town :).  The lack of a crowd did make it easy to get a few great pics though!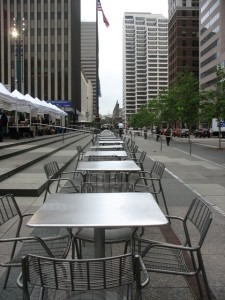 Tons of seating is available.  This is just one row of tables on Fountain Square.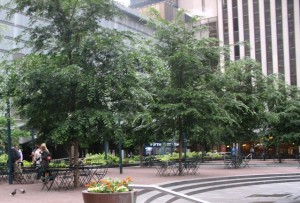 There's more seating above the fountain (closer to the restaurants right on the Square).  I actually saw a business having a meeting there while I was snapping pictures.
Cincinnati's Fountain Square actually has its own website to promote its events.  They have a Summer Series Announcement coming up at lunchtime on May 26 at which they will announce the summer event plans.  Watch for posts later in the summer on some of the great Fountain Square events such as the Strauss and Troy Market on the Square,  movie nights and the Freaky Friday contest series.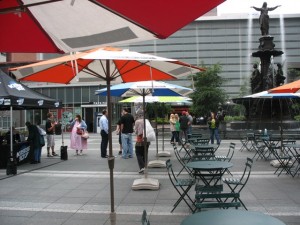 Have you been to any events on Fountain Square?  What are your favorites?