It's Day 220 of "365 Things to do in Cincinnati" and today we are featuring the wonderful Sugar N Spice Restaurant.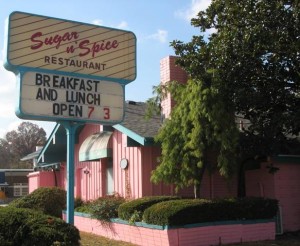 Don't let that funky exterior fool you, what lies within those pink walls is pretty darn yummy!  This was our first visit to Sugar N Spice (but it won't be our last!).  Located on Reading Road, just south of the Norwood Lateral, we've probably driven by it a hundred times and never noticed it.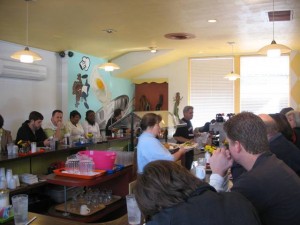 Sugar N Spice is open for breakfast and lunch every day and I think they have dinner on Thursday-Sunday (it was listed on the menu but it's not on the website so check before you go).  We arrived at lunchtime but after seeing everyone at the counter with some scrumptious looking breakfast dishes, we decided to have breakfast for lunch!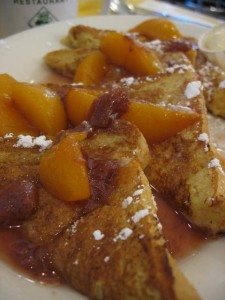 My hubby had the peach french toast with a side of grits and some coffee.  I tried the french toast and it was incredible.  He even commented that the coffee was good (maybe the best coffee in the world, "Elf" fans!).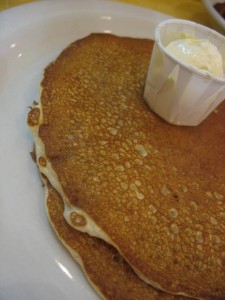 I was thrilled to see they offer half portions of many menu items.  I had a half order of banana pancakes with a side of bacon.  I am still talking about the bacon.  Seriously, we talked about it at dinner tonight.  The pancakes were light and airy and the syrup was incredible.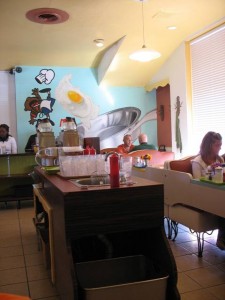 The place is not huge but they manage to utilize every square inch.   There are plenty of seats at the counter (see pic at the top) and a number of booths as well.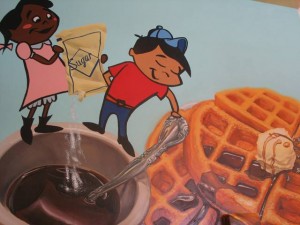 The decor is funky and fun.  The walls have hand painted murals on them and the tables have a retro vibe with red vinyl and swirly formica.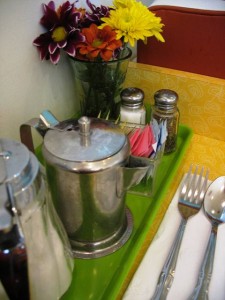 The food was REALLY good and we will definitely go back.  Not only was it good, it was reasonable as well.  We both ate for under $15.  Not bad at all…
Sugar N Spice Restaurant is located at 4381 Reading Road, just south of the Norwood Lateral