For Day 74 of 365 Things to do in Cincinnati we visited a Cincinnati classic: LaRosa's Pizza!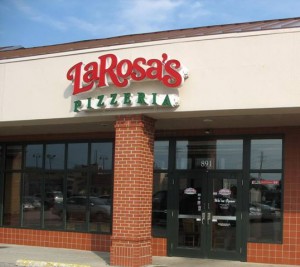 Armed with a few hundred dollars and his aunt's pizza recipe, Buddy LaRosa opened his first restaurant in 1954. Over the years, LaRosa's pizza has expanded to locations all over the tri-state, and continues to be some of Cincinnati's favorite hometown food.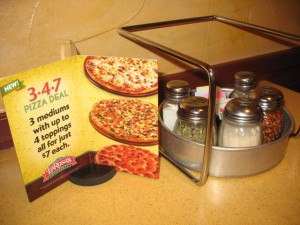 The pizza menu offers such a variety of toppings and styles that it can be hard to decide just what to choose! Besides pizza, LaRosa's also offers entrees such as hoagys, salads, pasta.  They are currently running a great special – all based upon their phone number (347-1111) : 3 pizzas with 4 toppings at just $7 each.  They're also offering a large pizza with up to four toppings for just $11.11! (limited time pricing)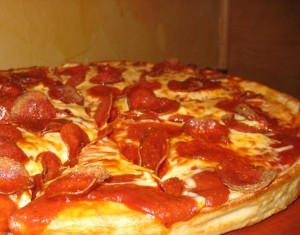 While LaRosa's thin crust pizza is tasty and well-known, we chose to have the pan crust Double Pepperoni Topper.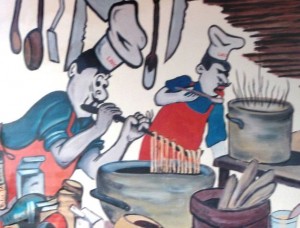 Most locations have some kind of artwork or pieces about the restaurant's history showcased on their walls. This mural gives customers a little peek into what LaRosa's must be like behind the scenes.
Best of all, it does not cost a fortune to get the great food and service found at LaRosa's. Most single entrees run for less than $10, and even the large pizzas don't run more than $12.49 without additional toppings. Here is a link to their online menu.
Like always, we left with full stomachs after devouring our delicious hometown pizza. Surely someone cannot call themselves a Cincinnatian without trying out LaRosa's Pizza!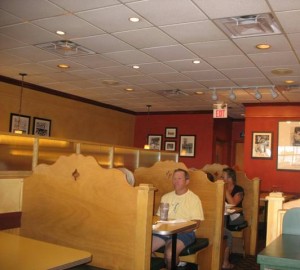 Today we ate at the LaRosa's in Finneytown (at the corner of Galbraith and Winton Roads).
Which LaRosa's is your favorite location?