It's Day 163 of "365 Things to do in Cincinnati" and today we're featuring an old downtown favorite – Arnold's Bar and Grill.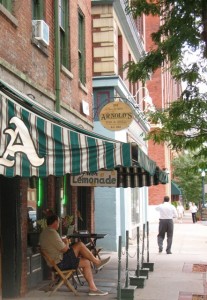 Established in 1861, Arnold's is Cincinnati's oldest tavern.  The bar that is at Arnold's today is in the same room as the original Arnold's Bar in 1861.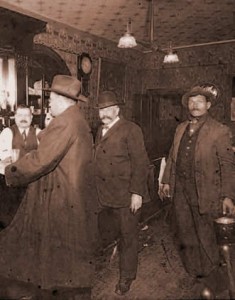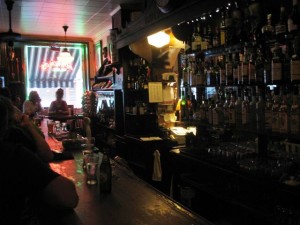 They had better cameras in 1861 evidently! 🙂
Of course the bar has changed hands since then.  Over the years Arnold's was a daytime tavern and restaurant.  Arnold's previous owner, Jim Tarbell, added on a dinner menu and the wonderful courtyard space seen below. Today's owners (Ronda and Bret Androski) continue serving great food and drink and just could not be any nicer.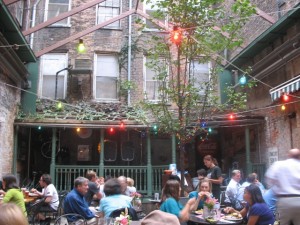 I've been to Arnold's a number of times lately. We caught the bus back to the Christian Moerlein Brewery here after Oktoberfest.  And I met up with my friend Shannon Boyer (from Family Friendly Cincinnati) for lunch a few days ago.
And I went a few weeks ago to meet up with Alex Shebar and friends.  Alex is the new Cincinnati community manager for Yelp, an online guide that helps you find cool places to eat or fun things to do.  It's basically a review site where you can either read a review or leave a review for a local venue.  Yelp is really trying to grow here in Cincy and Alex could use your help.  Be sure to check Yelp out today!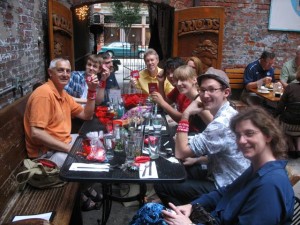 Arnold's has an incredible menu.  They serve just about everything you can think of.  It's seriously the longest menu I think I've ever seen.
Arnold's is one of those places you just return to over and over. If I had to pick out a "Cheers" bar here in Cincinnati it would be Arnold's.  It's a place where the owners and staff remember you, you feel right at home, and aren't hurried out of your seat.  The owners are incredibly friendly and down-to-earth.  This is the kind of family-run business that you WANT to support.
Arnold's Bar and Grill is located at 210 East 8th Street downtown.
Connect with Arnold's on Facebook
Follow Arnold's on Twitter