Groupon is currently offering a deal for the Fire Museum which will save you 50%+ on admission. Click here to check out the deal. It's Day 151 of "365 Things to do in Cincinnati" and today we are featuring the Fire Museum of Greater Cincinnati.  Housed in what used to be Engine Company #45 right downtown, this is "the only museum in Cincinnati that saves lives" and one you don't want to miss!
The Fire Museum is an amazing place for people of all ages.  You will see all kinds of fire memorabilia – from trucks to ladders to hats and uniforms.  The museum has display after display of firetrucks including hand drawn trucks, horse-drawn trucks, boiler trucks and some great examples of more modern fire engines.
Not only do they have a number of great fire equipment displays, they also have incredible snippets of Cincinnati history included within those displays.  So while children may be more enthralled with the fire engines, adults can take in the  history of both the fire departments AND the city of Cincinnati as well.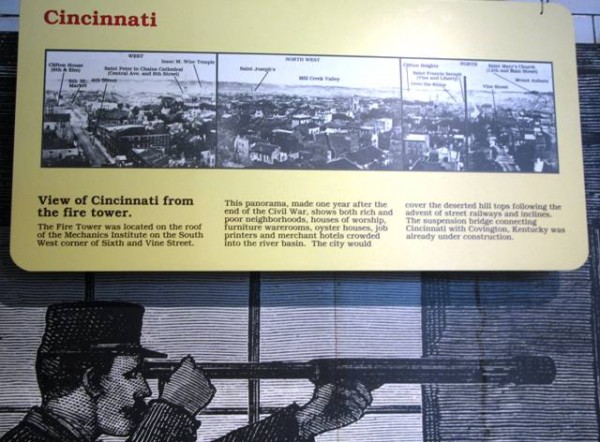 The museum really makes you think about the difficulty that must have been involved years ago when horses had to pull water up to a burning building.  Or when you needed this bell to sound the alarm…
That 6500 pound bell used to sit within a tower at the Mechanics' Institute which sat at the corner of four adjoining fire districts.  When a fire broke out the bell would ring and someone would raise flannel-covered balls above the tower.  The number of balls that were raised would tell the firefighters which ward contained the fire.
There are many diplays to look at – some that are just for display and some that are more interactive.  They have a firetruck that you can get right into (below) as well as a number of interactive stations for kids (located downstairs).
The Fire Museum will take you on a guided tour (see site for times and details – info on the right of their site) or you can explore on your own.  They also welcome group tours.  The Fire Museum does have an admission (click here for admission prices) and they do offer discounts. The Fire Museum of Greater Cincinnati is located at 315 West Court Street Connect with the Fire Museum on Facebook Have you been to the Fire Museum???