I recently attended a Writer's Workshop in Traverse City. It's the first time I've been that far north. But it won't be the last!
While lots of people visit the Traverse City area in the summer (it's a hot vacation spot), I want to show you why you should consider visiting in the fall.
See Lake Michigan from nearby Sleeping Bear Dunes
Let's start with the star of the show – Sleeping Bear Dunes in the fall!
We had limited time to explore (I was there for a workshop after all!) but we really wanted to see nearby Sleeping Bear Dunes. We managed to escape for an afternoon and headed off to see it all from a wonderful "drive through" experience, Pierce Stocking Scenic Drive.
We drove a bit, hopped out for a bit, drove some more, stopped some more. It was a great way to see Lake Michigan and to experience Sleeping Bear Dunes.
The 7.4 mile driving trail has parking lots along the way, making it easy to stop and experience the beauty of the area. The driving loop made it easy to hop out and wander without having to climb the dunes. And that's pretty important because they're massive!
Traverse City – aka the Cherry Capital
Did you know Michigan grows 70% of the supply of tart cherries in the United States? They harvest over 90,000 TONS of cherries each year. Most of Michigan's sweet cherry production is concentrated in the Traverse City area so it's only natural that you'll stumble upon a "cherry" thing to two when you visit.
Our trip to the Cherry Capital wouldn't be complete without a stop at Cherry Republic. This place is the mecca of all things cherry!
We visited the flagship store and restaurant in Glen Arbor (they also have a Traverse City store front as well as a few others in neighboring cities).
I am a cherry lover. In fact, if you have to put fruit in my dessert it HAS to be cherries. They have everything cherry you can imagine… canned cherries, cherry jams and jellies, cherry candy, cherry salsa, cherry wine…. the list goes on and on!
After Sleeping Bear Dunes and Cherry Republic, we "traversed" downtown Traverse City. We stopped at the outdoor farmer's market which was BRIMMING with bushels of apples.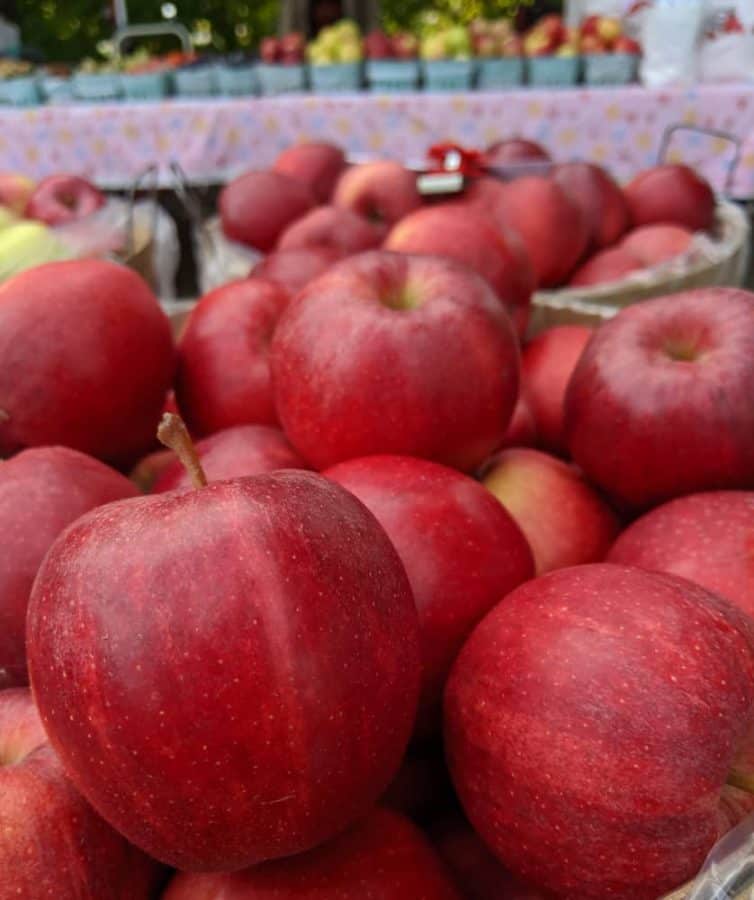 The downtown strip has a number of independently owned book stores. That made my heart happy! Our group was full of readers (imagine that at a Writer's Workshop!) so it's not surprising that we stopped at each one.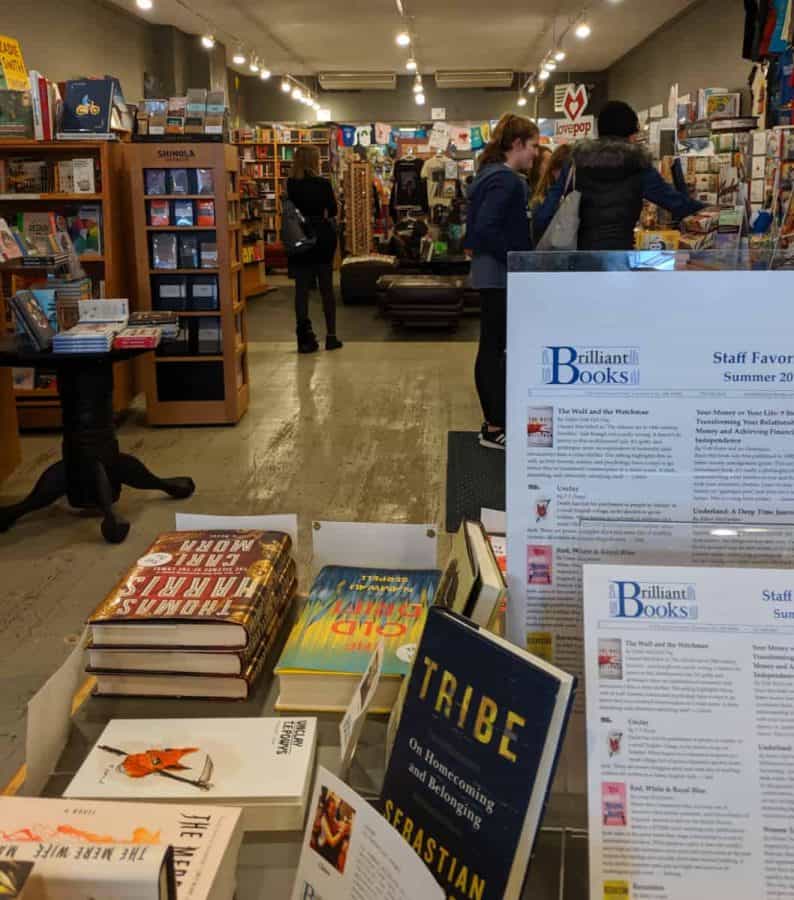 We also stopped in to see M22 (a shop branded around the local highway), a few clothing shops, and had a wonderful lunch there as well.
Traverse City Wine Tours
Because Traverse City is known for their wine production and is known as The Wine Coast, we just HAD to make a stop at a winery!
We visited Mawby Sparkling. If you love a little bubbly, this is your place! They ferment all of their sparkling wines and ciders twice – and everything has bubbles.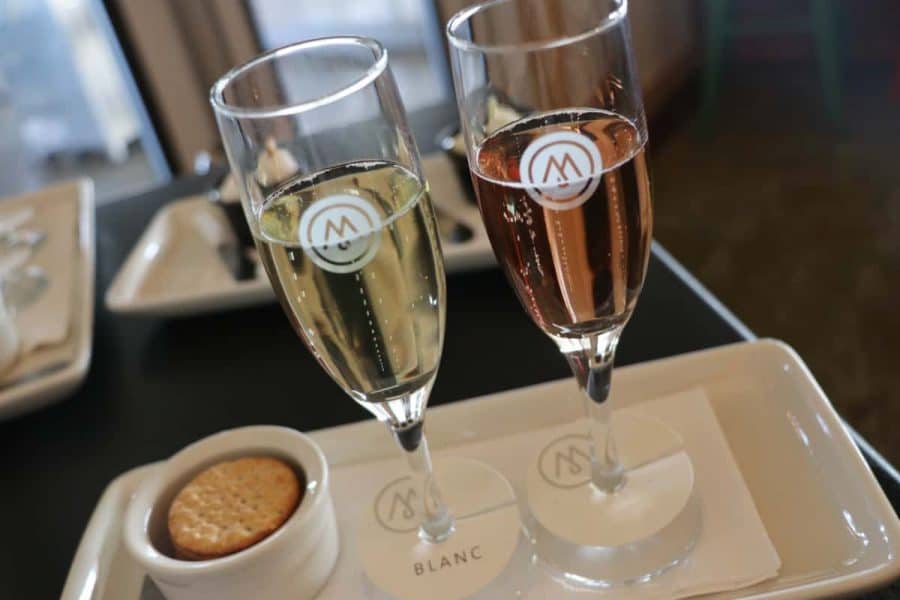 As you can probably tell, I had a wonderful visit to Traverse City. I can highly recommend that you put this 8 hour-ish trip (from Cincinnati) onto your calendar for next fall!
I want to send out a special note of thanks to Grand Traverse Resort and Spa for hosting us, feeding us, providing a great Writer's Workshop, and totally treating us all like royalty. My room was comfortable, very clean, and had an amazing view… all the things this hotel snob loves!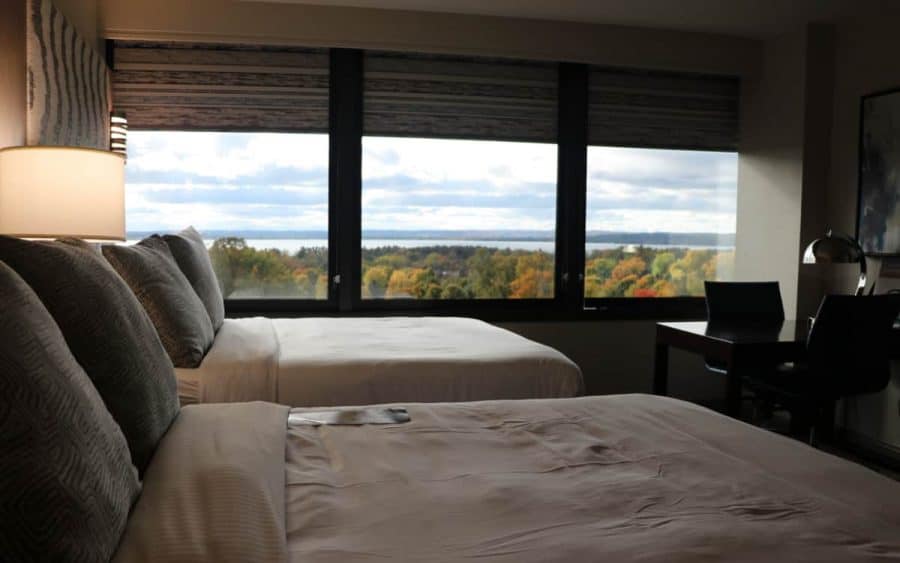 Don't even get me started on the food! The hotel's restaurant (Aerie Restaurant and Lounge) served up some of the best food I've had in ages! And what a view!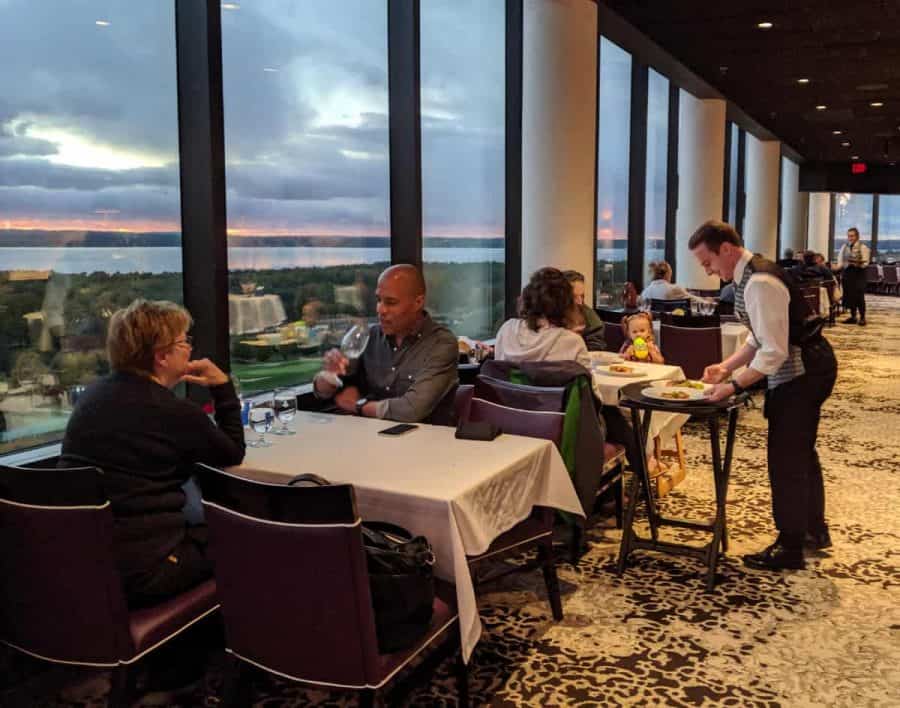 Be sure to save room for dessert! The masterpiece below is Aerie's Chocolate Tower, a flourless chocolate cake layered with white and dark chocolate mousse.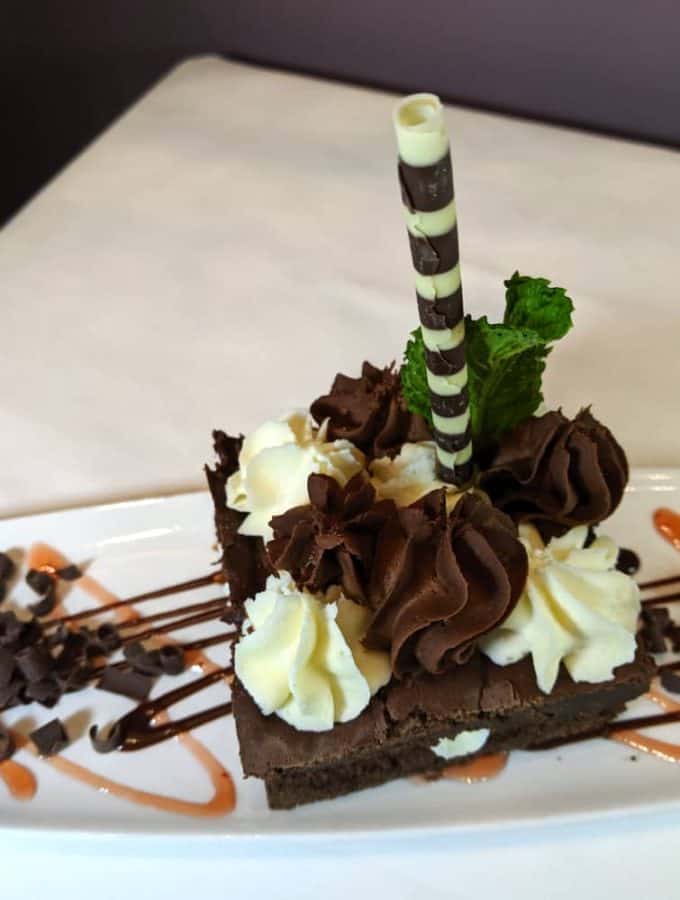 To learn more about Traverse City and the surrounding area visit:
Grand Traverse Resort and Spa
Traverse City
National Park Service / Sleeping Bear Dunes
---
Disclosure: I attended a Writers Workshop at Grand Traverse Resort and Spa. I did receive complimentary lodging and meals while there, sponsored by Grand Traverse Resort and Spa. All opinions are my own, however. I'd never recommend something I did not believe in!