The City of Cincinnati now requires face masks in public indoor spaces. This emergency ordinance has a starting date of July 9, 2020.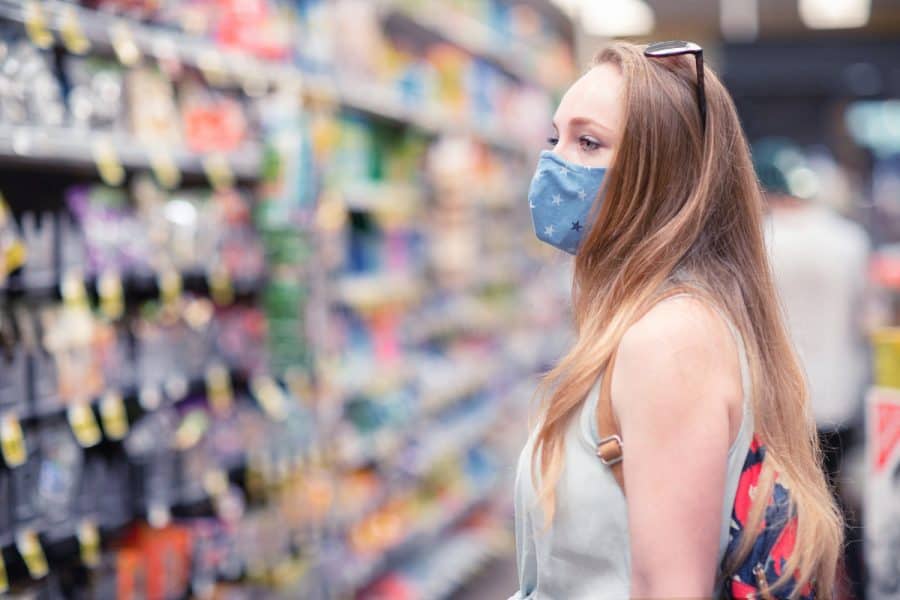 On Friday, July 3, 2020, Cincinnati's City Council voted on the ordinance to require face masks in INDOOR public places within the city of Cincinnati. This will include (but is not limited to) wearing masks in the following areas: restaurants, bars, public transportation, retail stores, hotels, and in lines.
This ordinance does not require you to wear a mask outside.
Edited to add: the information provided below was from the discussion during the Budget and Finance Committee meeting on the ordinance's inclusions. The official document is not yet posted on the city's site.
How will this be enforced?
Compliance is the goal. Increasing the use of masks is the goal. Punitive damages is NOT the goal.
You can contact the Health Department with violations that need to be reported. Public health experts can assist with improving the percentage of people wearing masks. You can reach the Health Department at (513) 357-7200 if you have an issue.
The Cincinnati Health Department is empowered to enforce this legislation and has been tasked with developing a plan to implement, respond, monitor, and report on outcomes related to actions. They are also given the ability to issue tickets.
The ordinance includes the ability to assess a civil fine of $25 for not wearing a mask.
The ordinance does empower businesses to ask people to put on masks. It does not, however, require businesses to enforce this ordinance.
What if I can't wear a mask?
If you have a pre-existing condition that keeps you from wearing a mask, you are exempt.

Updated 7-3-20 to add: The ordinance itself further explains that the following individuals are exempt – those who cannot wear a facial covering due to a medical condition, mental health condition, or developmental disability. Also exempt are those who are unable to remove the facial covering without assistance and those who should not wear facial coverings under current CDC guidance. In addition, children under 6 are not required to wear a mask. Restaurant and bar patrons who are seated outdoors are not required (indoor does apply). Schools will follow the regulations and guidelines from their governing bodies and the Ohio Dept. of Education.
What is considered as a mask?
Updated 7-3-2020 to add: The ordinance includes a "facial covering" as a piece of cloth, fabric, or other material that fully covers the mouth and nose and that is secured with ear straps or otherwise tied so as to prevent slipping.
---
If you'd like to read the entire ordinance, you can find that here (link to be added when text is posted).
---
The new Ohio Public Health Advisory System lists Hamilton County as Level 3
Hamilton County has been designated as a "Level 3 Health Emergency" on the scale recently released by the State of Ohio. The Ohio Public Health Advisory System is a county-level alert system that ranges from 1 (baseline level) to 4 (severe exposure). Level 3 Public Emergency means the county has very high exposure and spread. More info on the new Ohio Public Health Advisory System can be found here.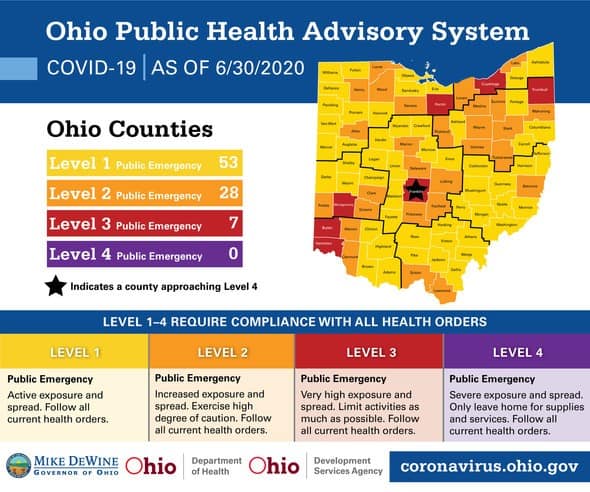 ---
Dayton and Columbus now require masks as well
Dayton, Ohio's City Commission voted earlier this week to make it mandatory for people to wear masks in public spaces. This emergency ordinance requires the people of Dayton to wear a mask in enclosed spaces such as (but not limited to) the grocery store, retail shops, restaurants, bars, libraries, health care facilities, pharmacies, and public transportation. Dayton's ordinance does NOT require masks to be worn outside UNLESS you can not maintain 6′ distance from others who do not reside in your household. Read more on Dayton's ordinance here.
The Mayor of Columbus, Andrew Ginther, just signed an executive order requiring face masks in Columbus. That order will go into effect on July 3, 2020.
---
For information on how to protect yourself and others, familiarize yourself with the information from the Center for Disease Control (CDC). You can get information on symptoms, testing, what to do if you are sick, and at risk groups on their site here.