It's Day 221 of "365 Things to do in Cincinnati" and today we went to have some goodies at Donna's Gourmet Cookies.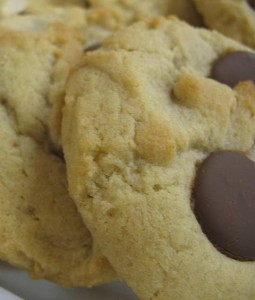 We recently got to sample Donna's incredible brownies at Cincinnati Magazine's recent Bakery Blast Party (to celebrate their bakery issue, on stands now).  When I arrived at the party I ran into Amy Cribbs from Family Friendly Cincinnati and she could not stop raving about the brownies from Donna's Gourmet Cookies.  In the words of Amy, "They are life changing."  Who could pass that up?!  We went over to talk to Donna and not only does she do some incredible magic with her baked goods, she's as nice as could be.  We knew right then that we had to pay her a visit.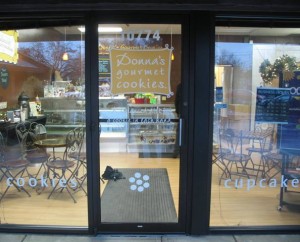 Donna's Gourmet Cookies makes and sells cookies, bars, brownies, cupcakes and even organic baked donuts!  They make all of their goodies in the shop.  Everything is made in small batches, hand scooped and baked fresh daily.  They use no preservatives and no artificial flavors.  Perhaps that's the secret in making "life changing brownies"!  🙂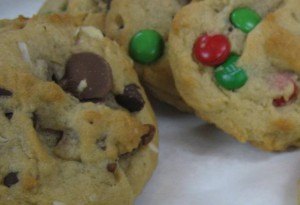 You can buy just a single cookie or you can buy them by the tin.  The shop has a few tables if you'd like to stay and eat your treats.  They serve up coffee by the cup as well as offering Coffee Emporium ground coffee for sale by the bag.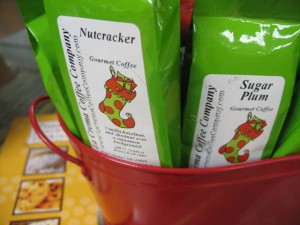 Need a dessert tray or a couple dozen cookies for Christmas?  How about a package of goodies for gift giving?  Donna's will help you create the perfect package full of baked goodies.  You can call in your order or place an order online.  Items can be picked up all the way up to (and including) Christmas Eve.
This Thursday (November 18, 2010) Donna's Gourmet Cookies is hosting a Holiday Open House.  Stop by the shop and have a free treat at any time from 11am to 5pm.  They will be serving up miniatures of their baked goods.  They will also be serving sandwiches, coffee and tea for the Open House.  And when you place your Holiday order on Thursday (in the shop or by phone)  you'll receive 10% off!
Donna's Gourmet Cookies is located at 10774 Montgomery Road.
Here are a few tips about how to find them:
The address says Montgomery Road but they are actually located in a strip center that sits behind McDonald's on Montgomery Rd. (right next to the 275 ramp).  It's really easy to get in and out if you turn onto Weller, which is at a light.  The parking lot for the strip center is actually off Weller.  I have no idea why it's a Montgomery Road address.  Just take Montgomery to Weller and you'll see it on the left.
You can also connect with Donna's Gourmet Cookies on Facebook