It's Day 340 of "365 Things to do in Cincinnati" and today we're featuring the wonderful Dojo Gelato!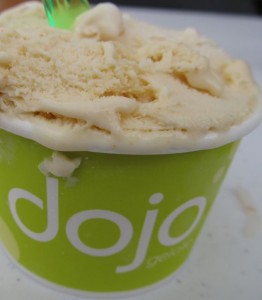 Looking for some frozen creamy goodness?  Look no further than Dojo Gelato! Made from scratch in small batches, Dojo Gelato is super creamy and oh so good!  The flavors at Dojo Gelato vary with many flavors being seasonal.  That's because they work with only the freshest ingredients from local farmers whenever possible.  In addition, they work with growth hormone free milk from Ohio.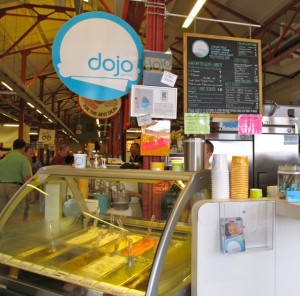 We enjoyed our Dojo Gelato after some fun shopping at Findlay Market.  I had a small cup and with a small cup you can have two flavors.  I had – don't laugh – Captain Crunch and Salted Caramel.  No, they don't go together at all but it's what I wanted to try.  And WOW were they both delicious!  The Captain Crunch was amazingly good and tasted just like the cereal.  And the Salted Caramel was outstanding.  I would order both again in a heartbeat.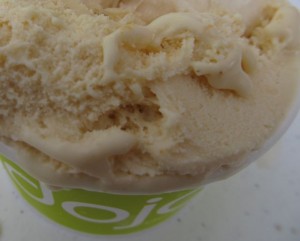 And just in case you need a Gelato Primer (like I did), here's the difference between gelato and traditional American ice cream (info taken from Dojo's site):
Gelato is Italian-style ice cream (in Italian, gelato means "frozen"). Compared to American-style ice cream, gelato uses more milk and less cream. As a result, gelato is lower in fat than other premium ice creams. Typically, ice creams have between 16%-30% fat, while gelato has around 2%-10% (depending on the flavor). Although gelato has less cream than other premium ice creams, it is denser and creamier. This is because gelato contains less air, or "overrun." Overrun is a measure of the volume of air churned into ice cream as it mixes. The overrun in gelato is low, around 20%. Premium-style ice cream can be as high as 50% overrun.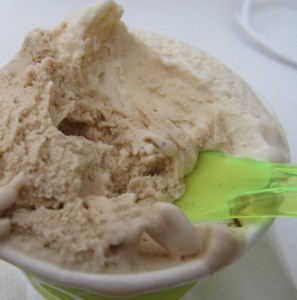 I can highly recommend Dojo Gelato!  They will definitely be added to my Findlay Market "must stops" from now on! Dojo Gelato is located within Findlay Market (inside the Market House) – 137 Elder Street