It's Day 67 of 365 Things to do in Cincinnati and today we were pleased to be in attendance for the opening reception of the Textural Rhythms Exhibit at Cincinnati's National Underground Railroad Freedom Center.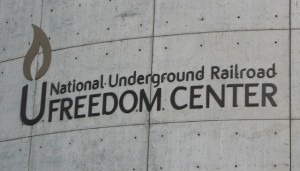 The Freedom Center sits very close to the Ohio River, right between the Great American Ballpark and Paul Brown Stadium.  The Freedom Center is a relatively new museum having just opened in 2004.   The architecture of this building is enough of a reason to visit – just look at these shots…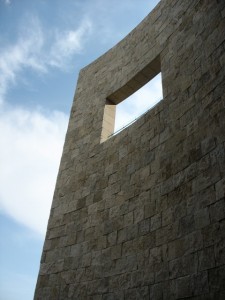 Huge stone walls with a massive amount of texture…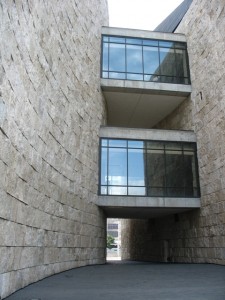 Curving and bending along the sides…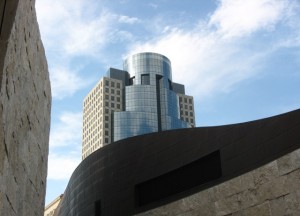 with incredible views of the city skyline, the Ohio River and the surrounding banks.  When you go, be sure to go out onto the balcony on the third floor.  The views are spectacular. But I really went to the Museum to see the quilting exhibit – Textural Rhythms.  The exhibit was curated by Carolyn Mazloomi, an avid quilter.  55 different artists have work on display and 5 of those are Cincinnati area residents.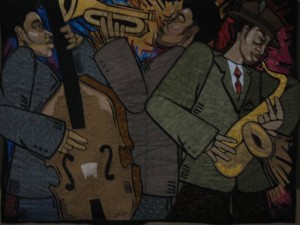 All of the quilts have a jazz theme.  Some of the quilts are more literal (like the one above) and some are more abstract.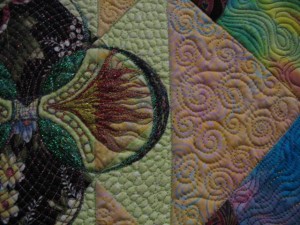 The Freedom Center's site sums it up best:
Textural Rhythms explores the weaving together of two unique and popular artistic forms of African American culture – jazz and quilt-making – which come together to capture masterpieces of imagination and creativity through the complex bonding of rhythms and moods.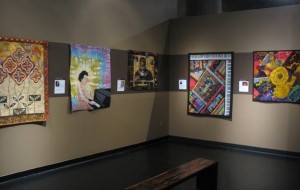 The Underground Railroad Freedom Center will host the Textural Rhythms Exhibit from June 15- August 14, 2010.  You can follow all of the special events and learn more about The Freedom Center on their Facebook Fanpage.