Day 36 of "365 Things to do in Cincinnati" has been the most surprising day for me!  I went to the Contemporary Arts Center downtown and I will admit I was not expecting to be thrilled.  I do love art and I do love art museums but I must admit I am not a huge fan of contemporary art… or so I thought!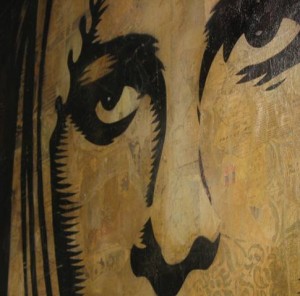 Two different events led me to the Shepard Fairey exhibit at the Contemporary Arts Center – our recent Architrek Walking Tour of Cincinnati started at the Contemporary Arts Center and a recent Sunday Brunch at Take the Cake in Northside led me to see this gorgeous piece of art painted right on the side of a building…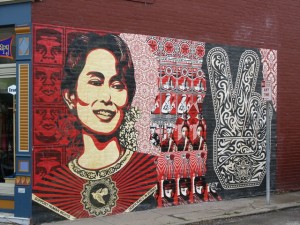 After I returned home and found out who painted that mural in Northside (thanks to some great Twitter friends!), I knew the Shepard Fairey Exhibit was an event I couldn't miss.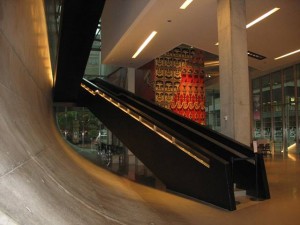 The Contemporary Arts Center is right downtown (corner of Walnut and E. 6th Streets) and is within walking distance of the Fountain Square parking garage (cheap garage parking).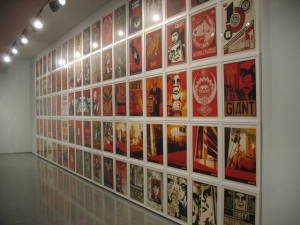 The Shepard Fairey Exhibit takes up floors 4 through 6.  Some of the prints are smaller (like the ones above) and some are HUGE…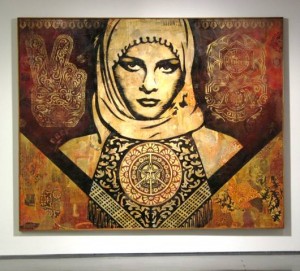 Shepard Fairey (just 39 years old) is a mixed media artist.  He started out doing street art – punk prints and skateboards – and is known for his sticker art of Andre the Giant.  More recently, Fairey's "Hope" image became seen by people all over the world…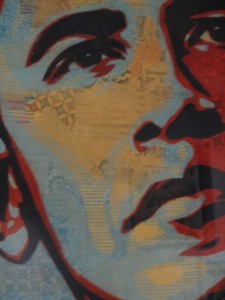 The size of the collection is astounding, especially when you consider some of Fairey's works are floor to ceiling.  One of the attendants at the Contemporary Arts Center told me that Shepard Fairey is said to create one new print EVERY WEEK.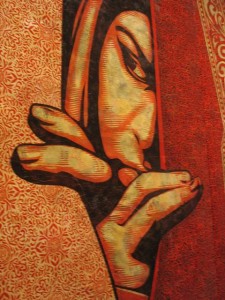 The collection contains some works of Fairey that represent his early "street art" vibe – Rock and Rollers like Jim Morrison and Bob Marley.  The exhibit has a wall of skateboard art as well.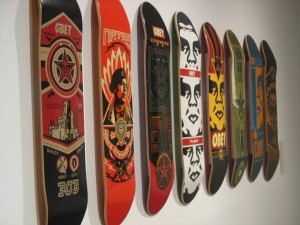 The Shepard Fairey Exhibit will be at the Contemporary Arts Center until August 22, 2010. Join the Contemporary Arts Center for their Annual Benefit Bash on May 22 where Shepard Fairey will be DJ'ing at the party.  See the Contemporary Arts Center site for more details.