It's Day 252 of "365 Things to do in Cincinnati" and today we stopped by at the Fawn Candy Company shop in Rookwood Pavilion.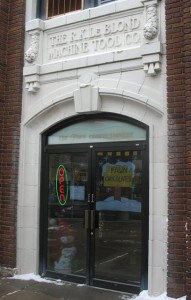 The Fawn Candy Company is a family owned Cincinnati company.  The business started in 1946 when founder Paul Guenther, a WWII Navy vet, bought the Fawn Fountain on Harrison Avenue.  He planned to add candy as a side business at his new ice cream parlor.  He knew little about making candy when he bought Fawn Fountain but by 1970 the shop quit selling ice cream to concentrate solely on candy.  Retiring in the 1980's, Paul passed the business on to his four daughters.  Today I spoke with a third generation Guenther candy man – Sebastian Beiser – who is the manager of the Rookwood Store.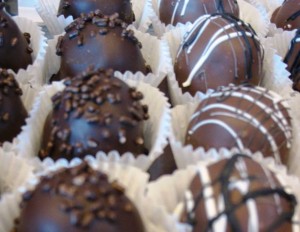 The candy at the Fawn Candy Company was amazing.  They sell all kinds of hand dipped chocolates.  Some of their more popular items are the truffles (seen above and below) and the opera creams.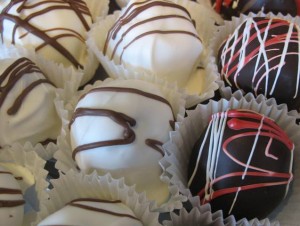 All the candy is made right here in Cincinnati.  They have everything you can think of in the way of chocolates.  We took home some sea salt chocolate covered caramels and a huge handmade Buckeye.  What a great way to get through the afternoon full of Christmas shopping today!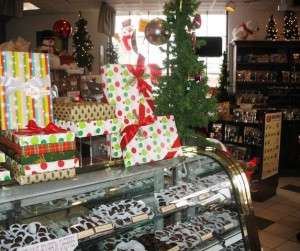 They will, of course, package up candies for your gift giving pleasure.  They also offer a large assortment of prepackaged candies all ready to go.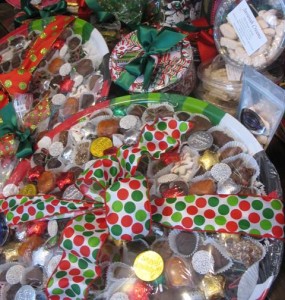 In addition to all their wonderful homemade candies, they also sell a variety of popcorn – Cheddar, caramel, Chicago Mix and freshly popped Kettle Corn.  They have lots of other sweet snacks too such as "Reindeer Food" (their version of Puppy Chow), chocolate dipped pretzels, packaged nuts, etc.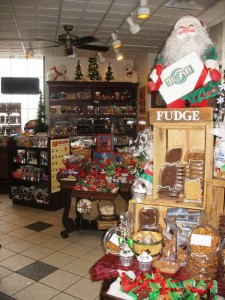 We loved our sweet treats and would highly recommend that you support our local Fawn Candy Company Shops.  They have a shop in Rookwood Pavilion (right by BW3's) and the original store is located at 4271 Harrison Avenue.