It's Day 22 (Year 2) of "365 Things to do in Cincinnati" and today we're featuring our recent dinner at The Cricket.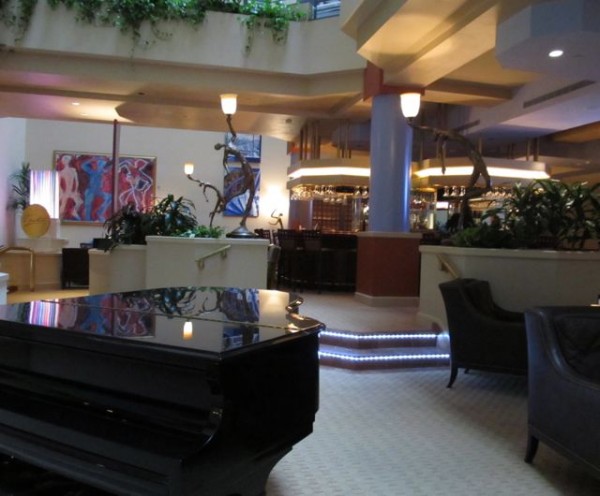 The Cricket is a great little hotel bar and casual restaurant at the Cincinnatian Hotel (downtown).  I met my husband there for dinner before we went to see Beauty and the Beast at the Aronoff.
My pictures make the Cricket look so formal but it really is an incredibly comfortable and welcoming place.  The Cricket has an luxurious feel to it – sitting under the atrium for hotel and sporting individual leather chairs at the tables.  It's hard not to want to just curl up with a book and order hot tea.
The Cricket's menu features more "bar type" food and it's all cooked by The Palace's kitchen (which is the Cincinnatian's fine dining restaurant).  After we were seated our waitress told us about their Happy Hour menu.  It turns out that they have a fantastic Happy Hour deal every day of the week from 4-7pm.  The menu includes a few dinner items as well as an appetizer and half price glasses of house wine, $2.50 domestic beers, and more (click here for the current Happy Hour offerings).  We started the evening off with an appetizer (Insalata Caprese) which was made with local tomatoes… incredible.  Then we moved onto our entrees…
I had the sirloin burger from the Happy Hour menu.  You can add whatever cheese you want so I requested bleu cheese.  It makes for an ugly picture but I'm here to tell you this was one great burger.  As you can tell, they didn't skimp on the cheese and that burger was HUGE.  Add in saratoga chips, a big pickle spear and cole slaw.  Wow, it was good!
My husband had the pulled pork sandwich, also from the Happy Hour menu.  He loved his meal as well.  When he did take a few minutes between bites to comment, he said that the sandwich was "wet" and that was how he likes it.  So both our meals were true winners.
We really enjoyed our evening.  From the leather chairs to the candle light to the pleasant surroundings…. this is a special place.  And if you go at Happy Hour (which I highly recommend), two people can enjoy a great meal with a drink for about $25 (including tip).  Where else will you get that kind of ambiance and great food for that price downtown? Edited in 2014: keep in mind that prices and menus do change. Be sure to check their current menu out here. The Cricket is located in The Cincinnatian, 601 Vine Street