It's Day 310 of "365 Things to do in Cincinnati" and today we went downtown for The Opening Day Parade!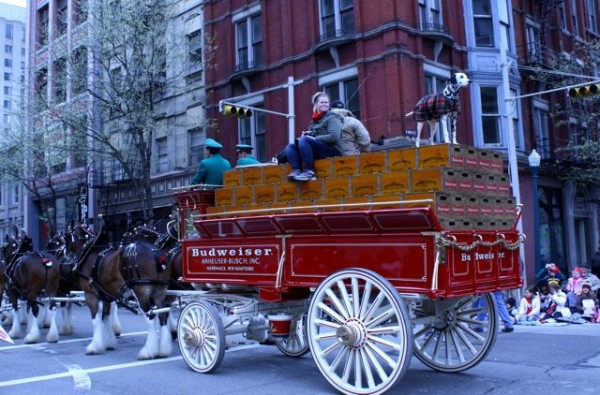 It was certainly a cold one today but at least we were dry!  I positioned myself at the corner of Race and 9th.  People lined the streets in both directions for as far as I could see.  The cold weather didn't keep the Reds fans from coming out!
Want to know more about the Opening Day Parade?  Here's a snippet of the history behind the big day, courtesy of Findlay Market Parade website: "…in the late 1880s, motivated in part by the formation of a second major league, teams began to compete more aggressively for attention and fans. And opening day became the first salvo in the promotion wars of the baseball season. Over time, Cincinnati became the King of Opening Day in baseball. By 1900 most of the traditions we associate with Opening Day, were in place: capacity crowd at the ballpark, dignitaries and festivities, and the pre-game parade.
No doubt part of the reason the opener was so celebrated in Cincinnati was a quirk of the schedule: The Reds are scheduled to open every season at home. It has been this way every year—with one exception—since the Reds first joined the National League in 1876. No other team is granted this privilege." (the article does go on to explain that the Reds no longer hold that privilege).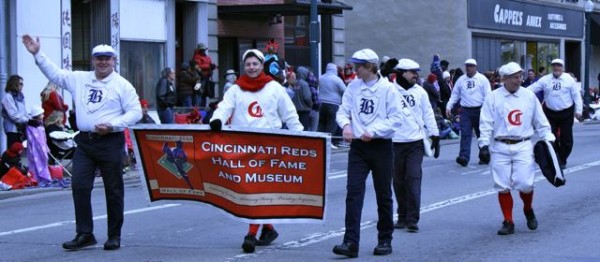 The 2011 Opening Day Parade was the 92nd parade!  The Grand Marshal was the Big Red Machine's Joe Morgan.  He was smiling from ear to ear.
MY personal favorite in the parade had to be the Budweiser Clydesdales.  They are some incredibly regal for a team of horses.
The parade lasted a LONG time and it was a great one.  I didn't look at my watch when I left but I believe it was nearly 90 minutes long.  The parade started at Findlay Market.  The Findlay Market Association is the proud sponsor of the Opening Day Parade.
It was great to see so many schools represented in the parade.  Among many, UC was there as was St. Catharine and this young team who just won "State" in basketball – the winning team from Taft High School.  Way to go gentlemen!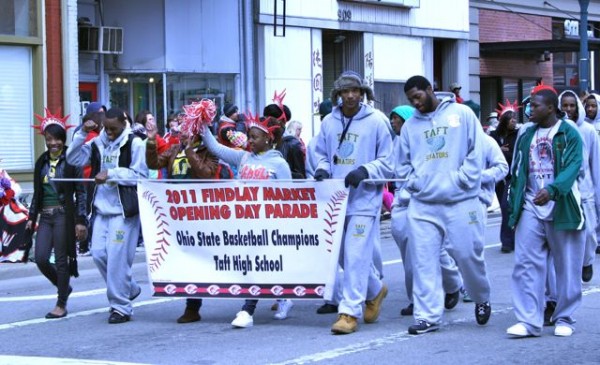 One of the stars of "the show" were these full sized remote control cars from State Farm.  Amazing!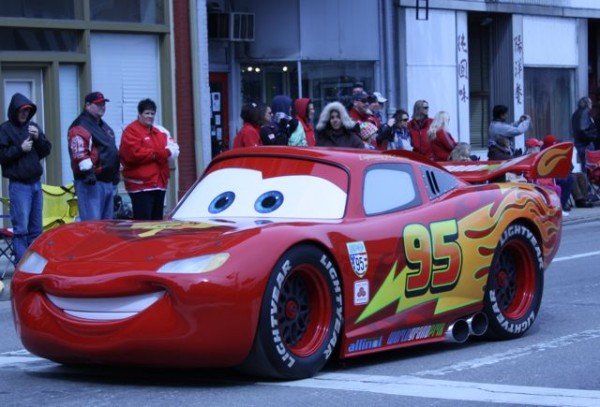 I could go on and on and on… but I'll bet you'd be happy to just see the rest of my pics, huh?  Here you go…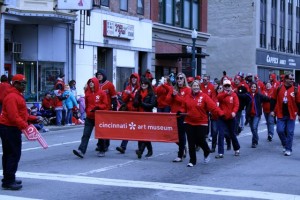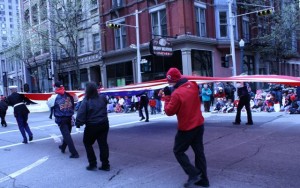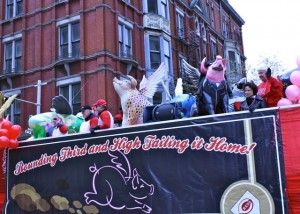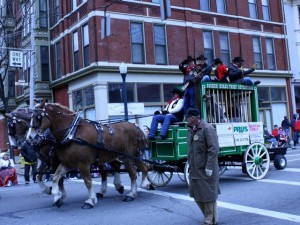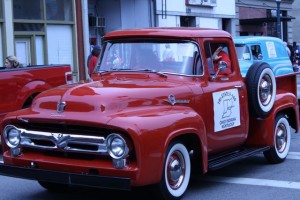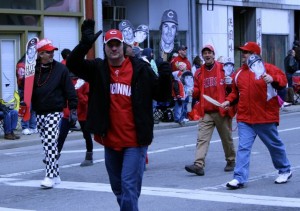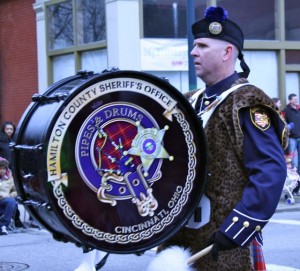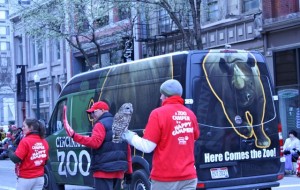 That's about it!  I wish I could say I had tickets to the game afterwards but I didn't :(.  I settled for a BBQ Bacon sandwich at Tom and Chee instead. 🙂