It's Day 309 of "365 Things to do in Cincinnati" and today we're featuring the amazing Cincinnati Reds Hall of Fame Museum.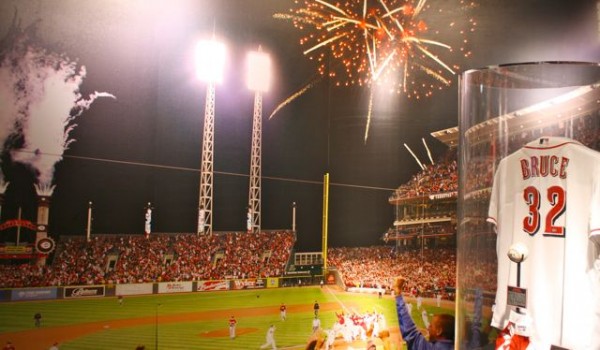 I am going to start this off by saying I can't believe I've waited so long to go to the Reds Hall of Fame Museum!  It is spectacular!  Read on…
The Cincinnati Reds Hall of Fame Museum is located on the west side of Great American Ballpark (along the Joe Nuxall Way side).  The museum spans 15,000 square feet and has two levels (they do have an elevator).  It's a museum with exhibits and activities that will entertain fans of all ages.  The ground level has the Hall of Fame Museum theater which shows short movies about the Reds.  The first floor also houses their changing exhibits.  And this year's exhibit features everyone's favorite Reds catcher – Johnny Bench.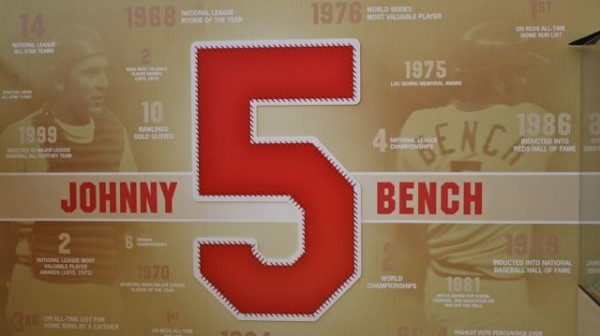 The Johnny Bench exhibit takes up the entire first floor.  You'll see case after case of Johnny Bench memorabilia including baseballs, mitts, cards, caps, etc.  And of course they have lots of #5 uniforms.
Did you know that Johnny Bench was not #5 for his entire career?  Above you'll see Johnny's first year's uniform – #53.  It's hard to see in my picture but you might notice that his coach is actually wearing #5.  And Johnny looks like a BABY in his first year pictures.  That was very cool to see.
The Johnny Bench exhibit will be there all year (2011) and the feature film in the theater is all about Johnny Bench too.
As you climb the steps to the upper level (you can also take an elevator) be sure to admire the fantastic view of the Ohio River and Great American Ballpark.  You can also see The Rose Garden right outside the wall of windows.  The Rose Garden is full of red roses in the summer.  You will notice one white rose bush in the middle which marks the spot where Pete Rose's 4192 hit would have landed at the old Riverfront Stadium.
And on the other side of the stairs you'll see the Wall of Balls – 4192 in all!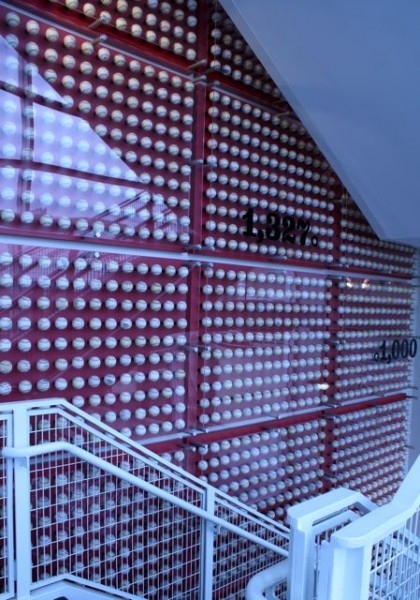 The upper level has all kinds of displays, informative and interactive.  You'll find a tribute to Sparky…
lots of fun stuff for the kids to enjoy, displays commemorating Reds through the years, broadcasting legends, etc.  Enjoy the "Great Teams" room, the interactive "Strike Zone", the "Crosley Field" exhibit, and many, many more areas.
The Reds Hall of Fame Museum is open year round.  Their hours of operation and admission fees are listed on The Reds Hall of Fame Museum website.
And if you plan to go, be sure to take a look at this deal.  For $75 you can join get an "All Star"  family pass for the year which includes admission to the museum (2 adults, 2 kids) for one year, 4 ticket vouchers to a Reds game, 4 collectible gifts (I was told that 2011's gifts are Johnny Bench bobble heads), 1 ticket to Redsfest, 2 guest passes to the Reds Hall of Fame Museum, 1 Reds yearbook, and 2 Great American Ball Park Tour passes!  I have no idea how long this deal will last so get it while it's hot.  That is an increble package deal!  Here's a link for the deal: Reds Hall of Fame Membership
The Cincinnati Reds Hall of Fame Museum is located at 100 Joe Nuxhall Way, on the west side of Great American Ballpark