It's week seven on our quest to visit and write about a Cincinnati brewery each week in 2019. I'm hoping that we'll be able to cover just about every one by year's end!

Want to really explore more Cincinnati brewery info? Find our Ultimate Cincinnati Breweries List here.
Breweries in Cincinnati Series Week #7: Visit to Christian Moerlein Malt House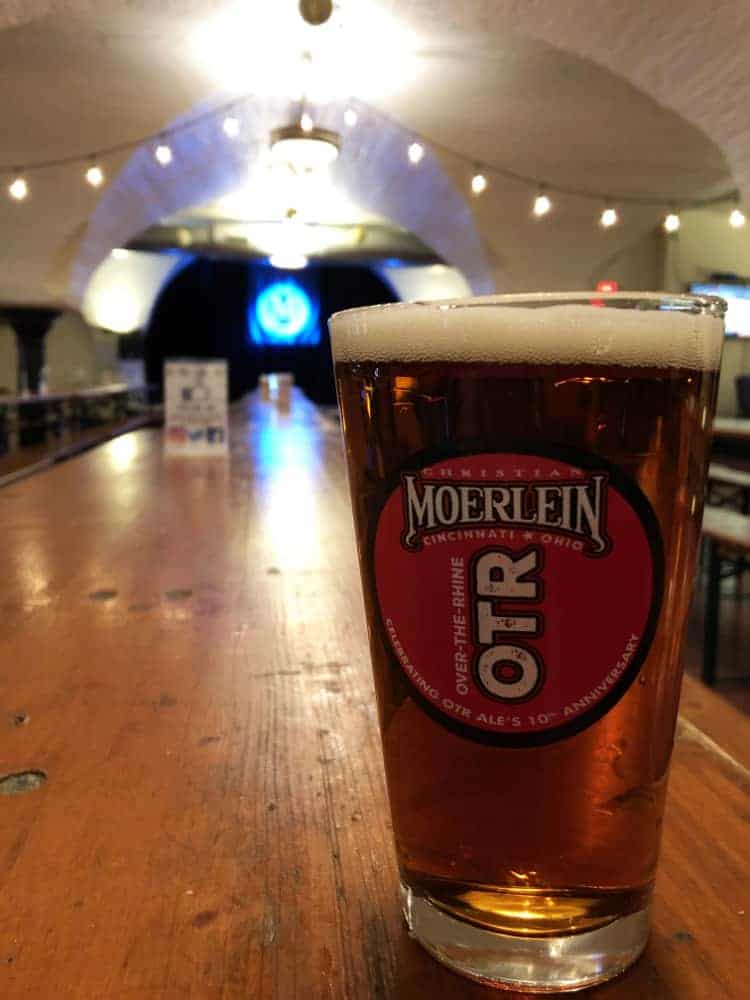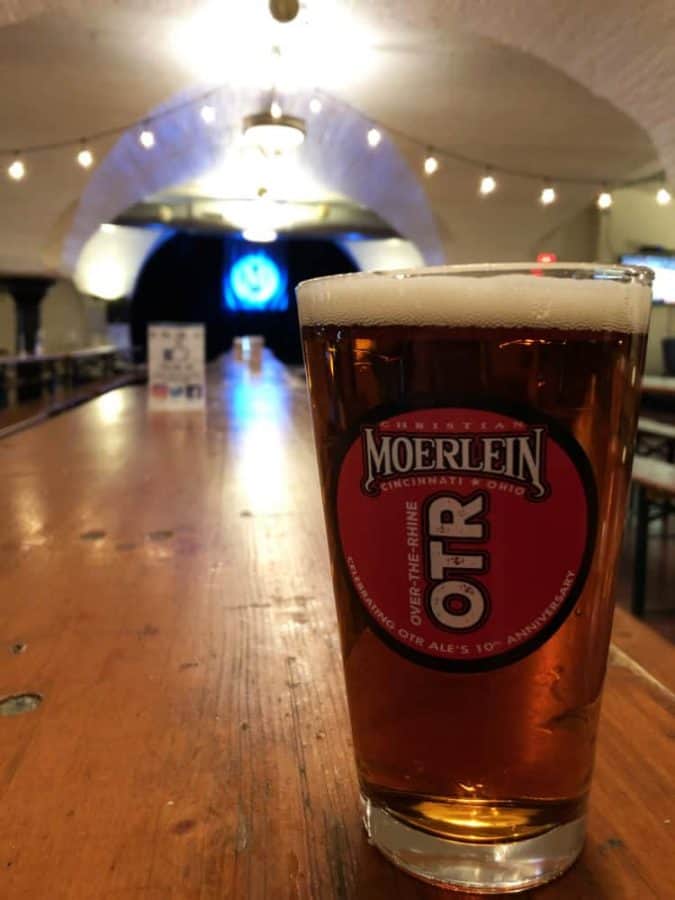 Christian Moerlein Brewery welcomes you to the most authentic 19th century tap room and brewery in the city.
This taproom is housed in the old Kaufmann Brewery on Moore Street in Over The Rhine. The place has a look and feel like no other taproom in town. You can just feel the history under the curved arches. This place is a true testament to the German workers that built it. If there's ever a need for a bunker in town, this is where you want to be!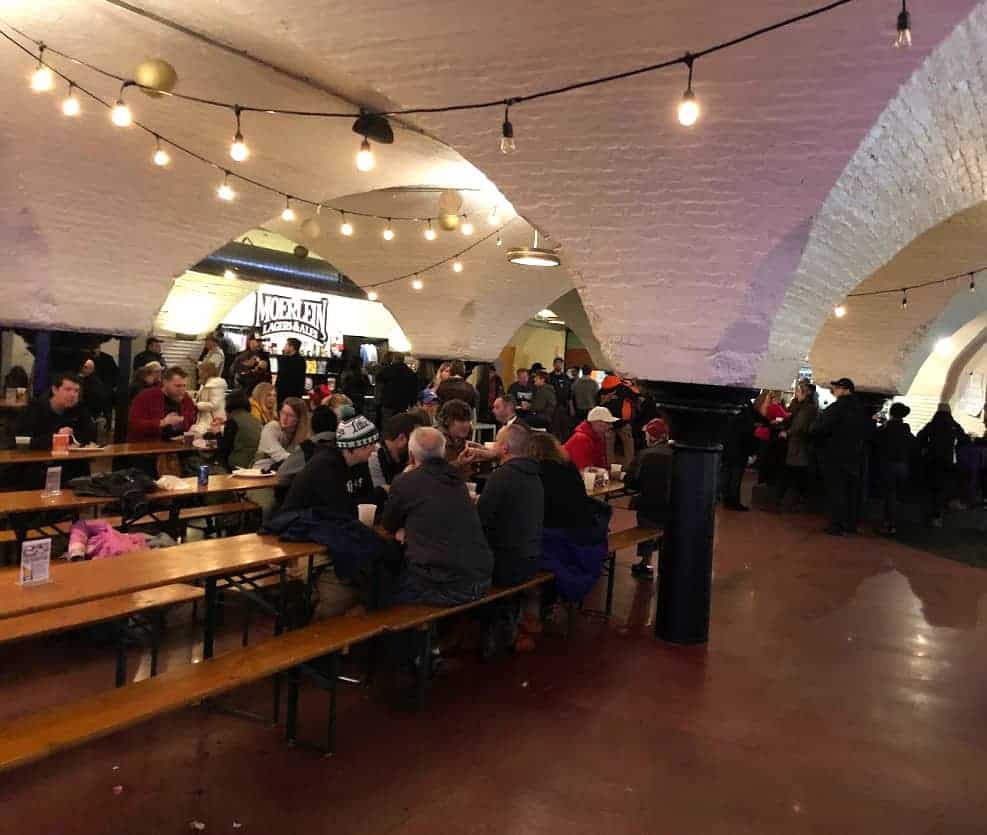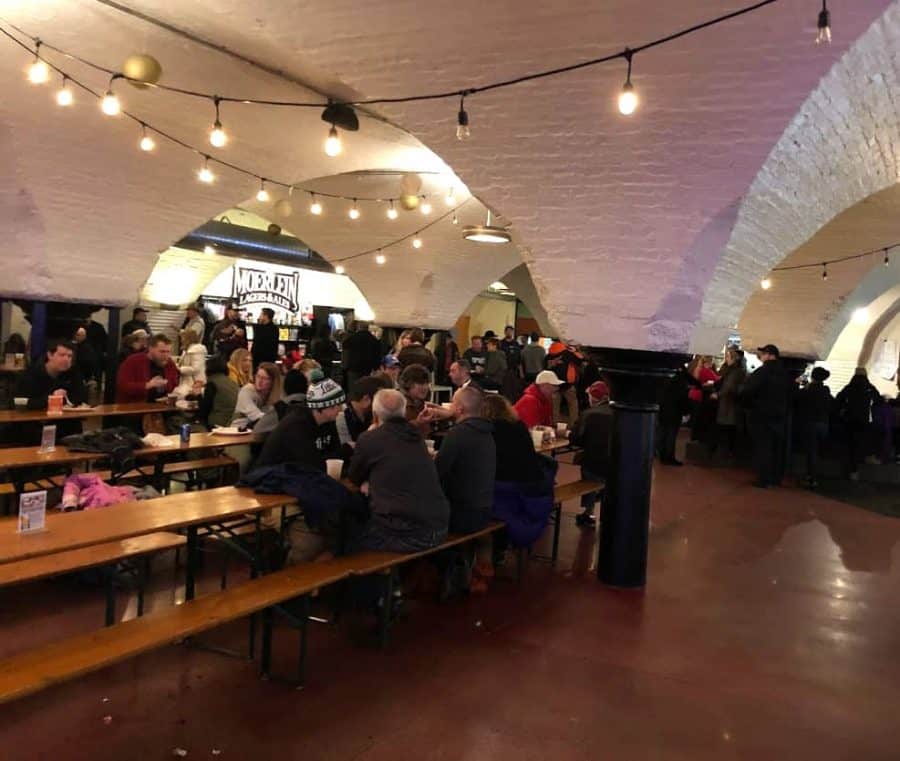 Back in 2010, they broke through an adjoining wall and found underground tunnels that ran under the street. The lagering tunnel was used in the 1800's to transport beer from the manufacturing building to the bottling building. Want to learn more? You can take a guided Brewery Tour to learn all about it AND walk through the tunnels.
Christian Moerlein (the brand) now owns over 65 recipes of pre-prohibition Cincinnati beers such as local favorites Hudy Delight, Hudy 14-K, Burger, and Little Kings.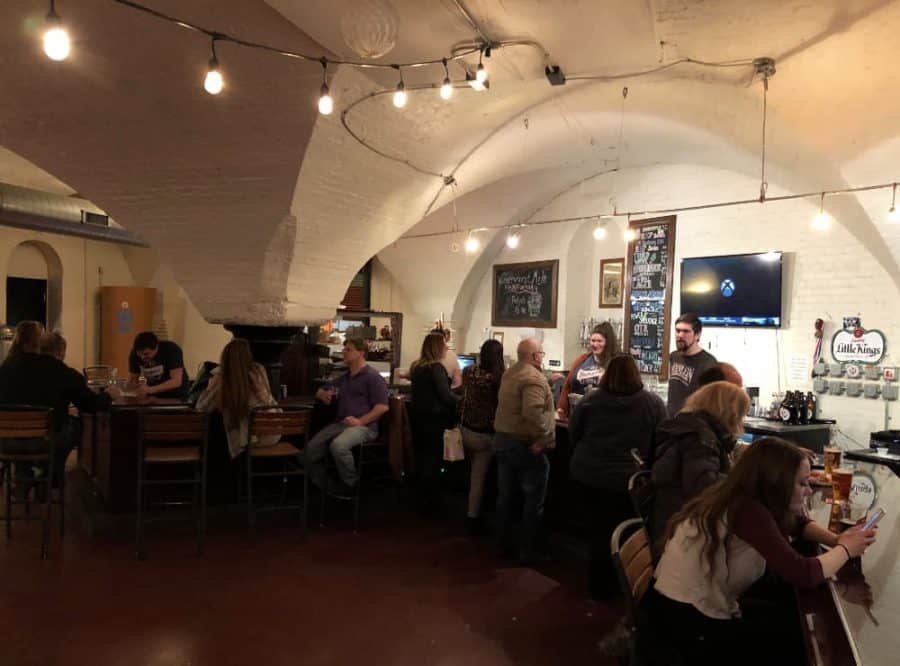 The beer lover in you will enjoy the large selection of draft beers at the bar. And the Cincinnati beer lover in you will enjoy grabbing an old school Cincinnati beer shirt. We picked up a great Little Kings shirt!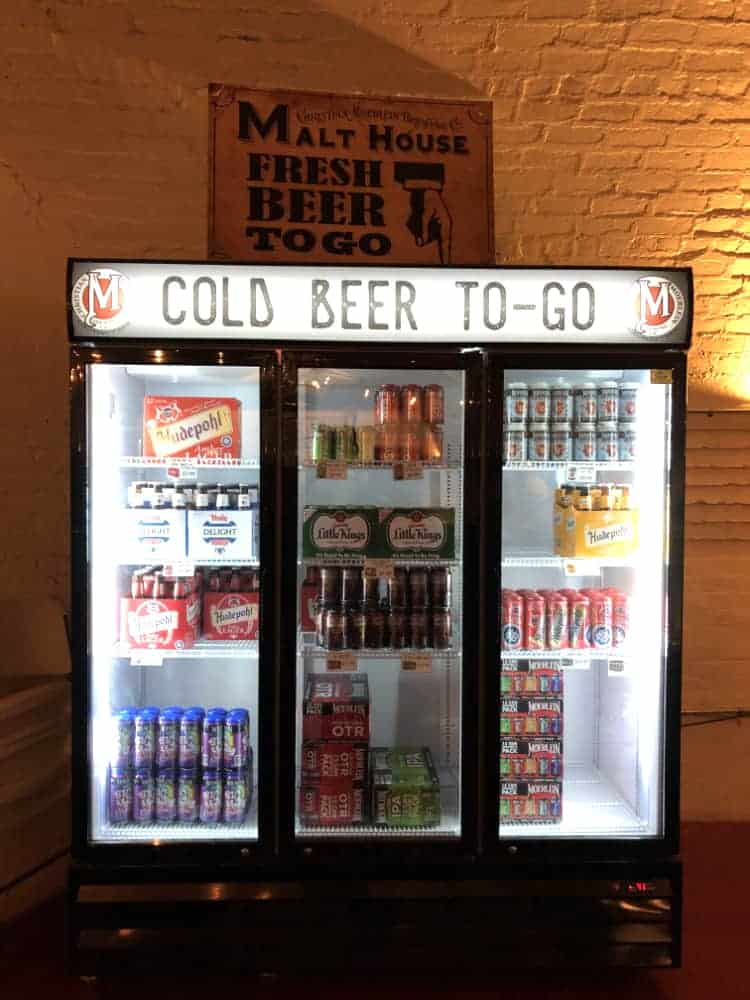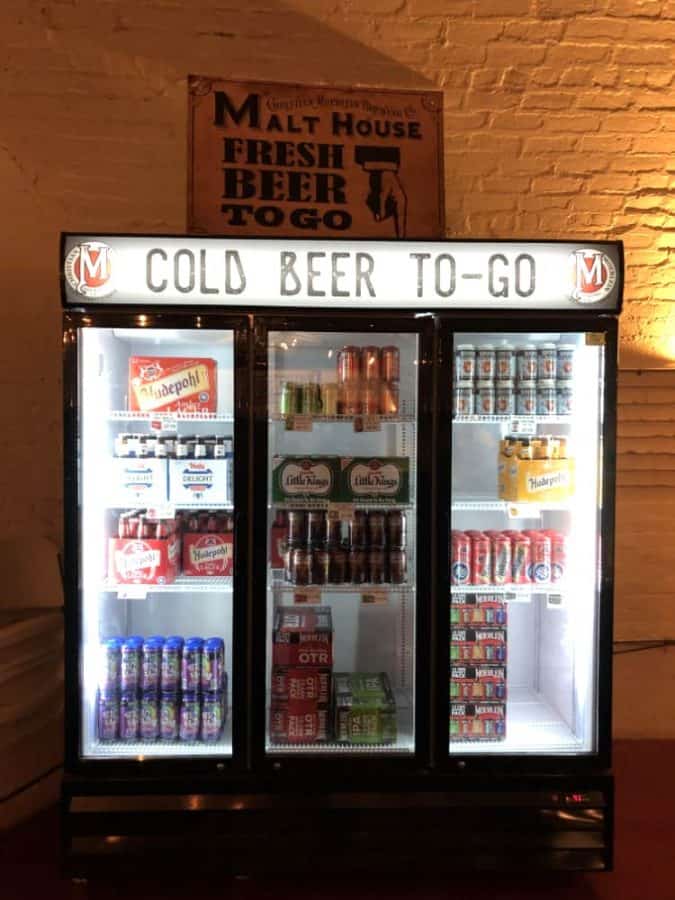 I have to wonder why every taproom doesn't have a dedicated "Cold Beer to Go" cooler?!
Inquiring Cincinnati Craft Beer Lovers Want to Know…
When can I go? Open Wednesday – Sunday.
Do they fill growlers? Yes, they do.
Do they serve any other alcohol? Yes, they serve limited spirits and wine.
Where do I park? There is a small gravel lot across from the entrance. If that is full there are 2 other parking lots just south of the main entrance. There is limited parking on Moore and some parking on adjoining streets as well.
Do they have food? They have in-house German fare from Wienerwurst Mike's Frankfurtary – offering all beef hot dogs, brats, metts, sandwiches, meat and cheese boards, and soft pretzels. Personal note: we've found that the kitchen is not always open so be sure to call ahead if you're planning to eat there.
How big is the taproom? Can we hold an event or a party there? The taproom is large with a bar, lots of tables, and a few TV's. You can call ahead and reserve a table in the taproom.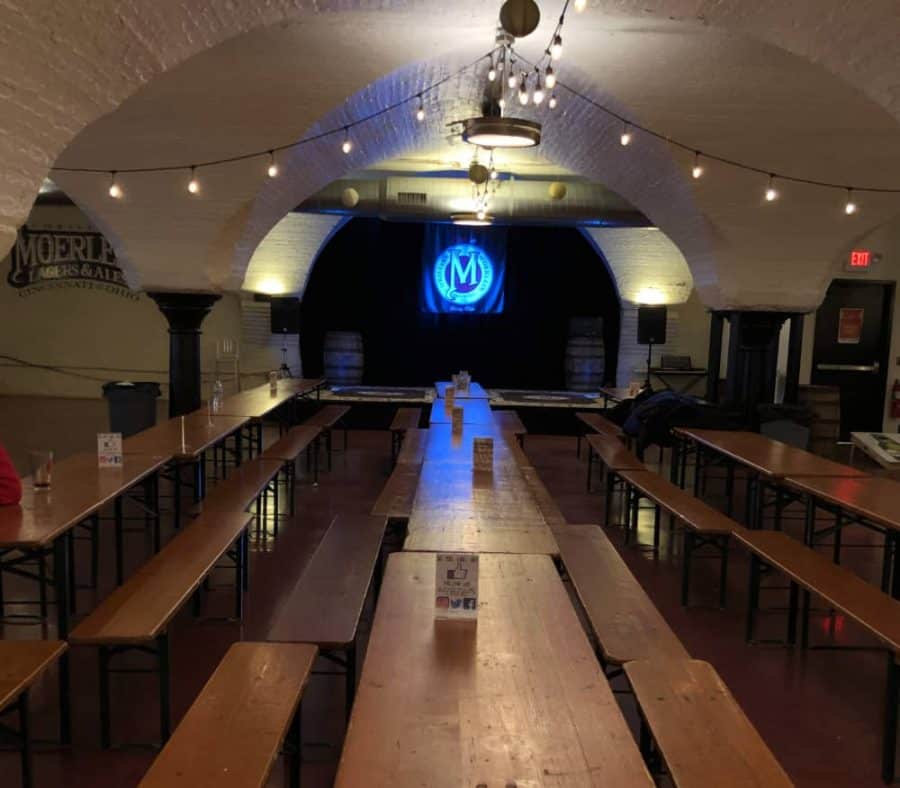 Do they offer brewery tours? The bartender told us that they do NOT offer tours but their Facebook page says to ask a bartender for a tour. So it's worth an ask!
Is there any outdoor seating? No.
Is the taproom kid friendly? Yes, there is ample space for kids to play. Jenga, corn hole, Foosball, and a pool table complete the space.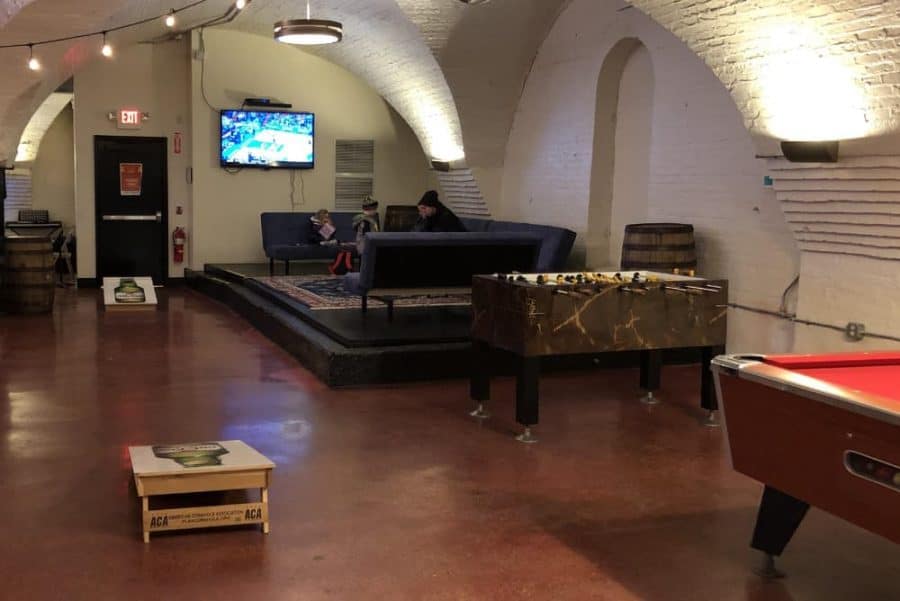 Is The Christian Moerlein Brewery pet friendly? Pets can not come all the way into the taproom but they do allow pets to come in the front door of the building. They must stay in the space between the front door to the restroom area.
Christian Moerlein Brewing Co can be found at:
1621 Moore St, Cincinnati, OH 45202