It's Day 344 of "365 Things to do in Cincinnati" and today I stopped by Cafe de Paris for lunch.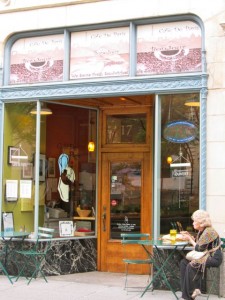 Want to pretend you're in Europe even when you can't leave Cincinnati? Go visit Cafe de Paris. From the colorful cafe decor to the street side tables to the gorgeous architecture… this have you saying "Merci" in no time!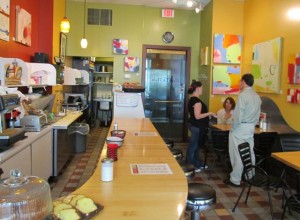 In between downpours I enjoyed my lunch outside. They have two small tables right on the sidewalk. It's a great spot to sit and admire the view. Piatt Park lends to the atmosphere with its gorgeous iron archways, walkways and greenery. It really is one of the best kept secrets downtown.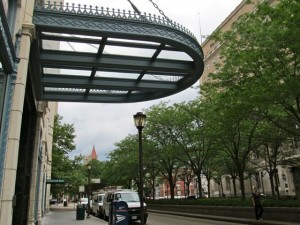 I asked the very friendly Erin what I should have and she recommended a number of things from their menu. I settled on the Chicken Salad with melted brie. And it was a great choice. The baguette (from nearby Servatii's) was toasted to perfection. And it had a great ratio of chicken salad to bread. I don't know how many times I've had a chicken salad sandwich with large scoops of chicken salad falling out the bottom. This one was just right. The sandwich came with sweet pickles and you can order a side salad or pasta salad (at an additional cost). I opted for just the sandwich… and that was plenty.  And the prices were very reasonable (especially for downtown).  My bill was $10 which included my sandwich, a drink and a generous tip.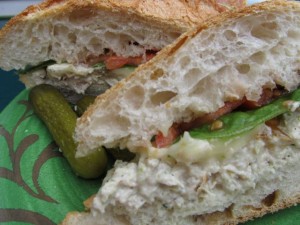 Cafe de Paris offers both breakfast and lunch. The have all kinds of sandwiches, salads, soups, etc.  They offer a variety of coffees, tea, cappuccino and even espresso.  They are open Monday – Friday 7:30am-2:30pm and on Saturdays as well.  Parking is available right out front (meters) or right around the corner in the Garfield garage (this is one of the cheaper parking garages downtown). Cafe de Paris is located at 17 Garfield Place, (513) 651-1919 Connect with Cafe de Paris on Facebook