I'm going to start off by admitting I'm a bit of a Sunday brunch snob. I'm not one to enjoy a breakfast bar or plain old eggs and bacon. I like my Sunday brunch to be special and include things I wouldn't make at home. So when someone suggested we try the brunch at Sprout in Mt. Adams, I was intrigued.
Sprout Market and Eatery, located in Mt. Adams, opened in late 2014. It's a very open floor plan with lots of light. As you walk in, the eatery is on one side and a market is on the other.
The eatery side features lots of communal seating space (which we love), individual tables, and seating at the bar. If you're not a fan of communal seating, I'd encourage you to give it another try. We find that we walk away with new friends every time we sit at a communal table. On that morning, we met David Le (one of owners of Pho Lang Thang and Quan Hapa) who was there with his family. And if that's simply not your thing, there are lots of individual tables too as well as seating at the bar.
Brunch is served from 11am – 3pm on Sundays and the brunch offerings are on a chalkboard at the bar. It was tempting to get quite a few items but we narrowed it down and ordered the Corn Cakes with Local Honey (amazing!), the Ham and Cheese Sammy, and a side of Roasted Potatoes. And it wouldn't be brunch without a Bloody Mary, right?
Corn cakes – this was my first experience and it will definitely not be my last. These were amazing! They're slightly thicker than a pancake with a strong tie-in to a corn bread taste. They drizzle theirs with local honey. I could eat these every day!
And the ham sandwich! It came on locally made 16 Bricks French bread and was full of Black Forest Ham. It was very filling and mighty tasty.
The potatoes were roasted and came with two dipping sauces – a sour creamy type and what I'm assuming was a house made ketchup. Again, I'd have no problem eating these for the rest of my days.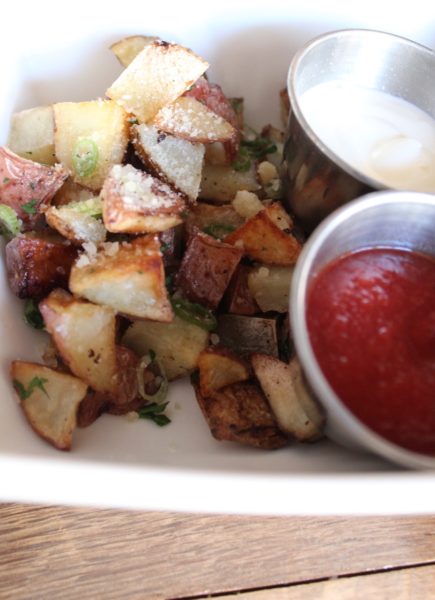 Over on the market side they have a great selection of dry goods, seasonal produce, dairy, meat, eggs, etc. I was surprised to see such a wide variety of goods in such a small spot. I'm sure it's a welcomed addition in Mt. Adams.
Their pantry section has lots of great locally sourced items including a selection of gluten-free mixes.
I can highly recommend Sprout Eatery and Market and hope that you'll venture up to The Hill and try them out. There is a parking lot just a bit up the street that has spaces for patrons of the local businesses or you can, of course, park on the street. And Sprout does serve lunch and dinner too – not just brunch!  Check out their menus here. Sprout Market and Eatery is located at 941 Pavilion Street Connect with Sprout on Facebook