It's Day 334 of "365 Things to do in Cincinnati" and today we're featuring  a buggy invasion – Big Bugs at the Highfield Discovery Garden.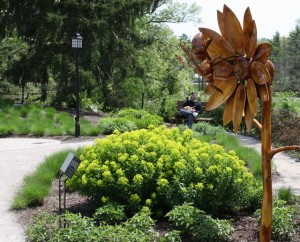 Highfield Discovery Garden can be found on the grounds of Glenwood Gardens, one of the fabulous Hamilton County Park District Parks.  I THOUGHT Highfield was the children's area.  Well, it really is a kids' area BUT don't let that keep you from going in… because you don't want to miss Big Bugs… I don't care how old you are!  And the private grounds are a beautiful place to walk.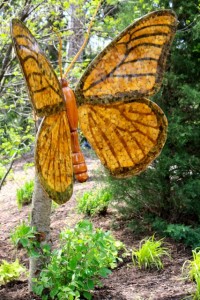 Big Bugs is an outdoor art exhibit for kids and adults alike.  David Rogers (pictured below) is the artist responsible for creating these larger than life bugs.   I was lucky enough to spend some time with David Rogers at the park on Saturday.  He explained that the bugs each weigh about 700 pounds!  They are made almost entirely of wood (different kinds of wood plus some support mechanisms) and come apart for transport.  David has been working with his hands all his life and has been making these Big Bugs for 25 years.  He calls Long Island home (Glen Cove) but when I talked to him he was leaving our beloved rainy Cincinnati to set up a second Big Bugs show in Iowa.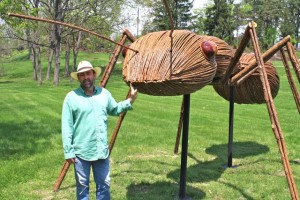 Isn't the size of that ant just crazy?!  The ant is just one of the insects on display throughout Highfield Discovery Garden.  You'll find a total of 13 humongous bugs all around the paths.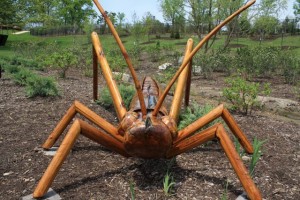 I have lots of pictures BUT I want you to be amazed by these Big Bugs yourself so I am going to limit what I put up here.  Trust me when I say you won't be sorry if you make the trip out to see these things.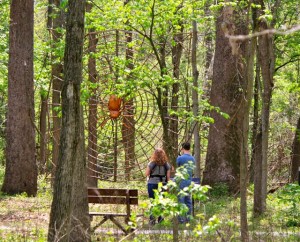 I think the spider web (above) was my personal favorite.  Look at the size of that thing (people in picture show scale)!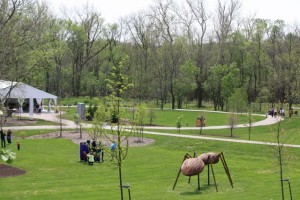 Above you'll see a shot that shows one of the ants going down the hill into the lower part of Highfield Discovery Garden area.  There are two parts to the Highland part of Glenwood Gardens – the upper section (which has been there since 2004) and this lower section that is new this year.  The upper portion is all paved.  The lower portion is paved until you get to the circle (in front of the tent in the picture) and then it's covered in fine gravel.   The walk down to the lower section is down a hill and I would recommend bringing a stroller if you don't want to carry those babies!  And the gravel area can be walked with a stroller.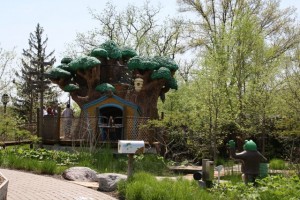 The upper portion of Highfield Discovery Garden is a young child's paradise!  Here you'll find numerous play houses and play equipment, woodland overlooks, children's garden areas, a butterfly garden, and much more.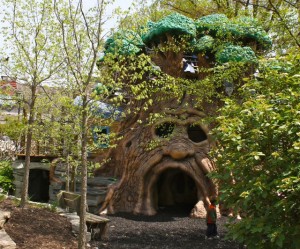 I kept waiting for Sleepy or Sneezy to come out of this house…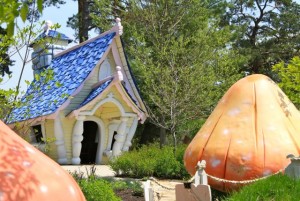 And if all of that doesn't convince you to make a trip to Highfield Discovery Garden, perhaps their event calendar will put it over the top for you.  Each week they have a new  bug related theme. They have numerous classes, workshops and activities for kids and families.  They had numerous kid activities set up all around the park last Saturday.  It's well worth checking out! Highfield Discovery Center does have its own admission fee.  Admission for adults is $5 and children ages 2-12 are $4.  They do offer a membership which will allow your family to return all year for one low cost.  See the visitors' center for more information. Highfield Discovery Center is located in Glenwood Gardens which is a Hamilton County Park District Park.  The Hamilton County Park district requires a vehicle pass for your car and that cost is currently $10 (per car, per year).  That sticker will get you into any and all Hamilton County Park (parks only, not the special areas).  You can also purchase a one day vehicle pass. Glenwood Gardens is located at 10397 Springfield Pike.