Today is Day 203 of "365 Things to do in Cincinnati" and today we are featuring ArtWorks, a local non-profit public art organization that helps connect artists with opportunities.

Founded in 1996, "ArtWorks is an award-winning arts program that gives talented teenagers from the Greater Cincinnati area an opportunity to work, learn, and earn in summer and after school jobs as Apprentice Artists. Working under the guidance of professional artists and art educators, Apprentices create high quality public works of art with civic value." (from the Artworks site – they put it so much better than I ever could!)
Above you'll see the Artworks mural that is right around the corner from the Artworks Gallery.  The Artworks staff, volunteers and teen students have actually done more than 35 murals all over town (click here for a map).  Their latest project is in Westwood on the side of the  Henke Winery building.  Their murals are phenomenal pieces of art… and what they do for the teenagers is even more incredible!  You can actually get a map of all their murals (link above) and make a day out of driving to see them all. We recently attended Artworks "Exposed" Opening Reception last week.  The Exposed show is a collection of paintings and works of art that came from the top 100 artists from last year's "Secret Artworks", one of their biggest fundraisers.  We saw some amazing art that night and, as you can tell, so did lots of other people!  That place was hoppin'!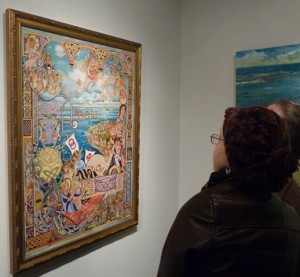 Their fundraiser, Secret Artworks, takes place on November 19, 2010 (at the Westin Hotel Grand Ballroom).  At this fun event you'll have to opportunity to choose from hundreds of pieces of art, from famous (and not-so-famous) artists.  The secret part is the actual artist!  When you're selecting your piece you're doing so out of love for the piece… because the artist is kept as a secret until after you've picked it.  Join 800+ of your closest friends at this fun evening of art, appetizers and drinks.  You can preview the Secret Artworks art in the Westin Atrium Lobby November 14-19. Artworks is located at 20 East Central Parkway, downtown Connect with Artworks on Facebook