It's Day 355 of "365 Things to do in Cincinnati" and today we're featuring the very yummy A Tavola, a new bar and oven fired pizza spot downtown.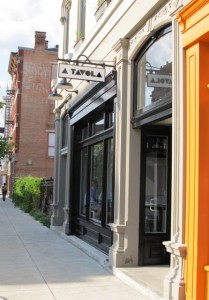 A Tavola is the newest pizza shop in town.  Located in the Gateway Quarter downtown, this gorgeous spot is the perfect place to get a pizza pie.  And not just any pizza… these pies are made in an oven right there in the middle of the joint…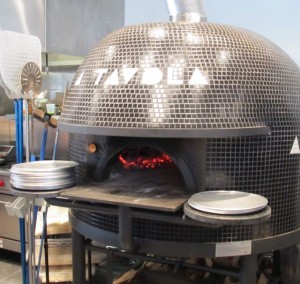 The oven was hand crafted in Italy and shipped here specifically for A Tavola.  The pizzas are cooked in just a few minutes in this super hot, wood fueled pizza oven.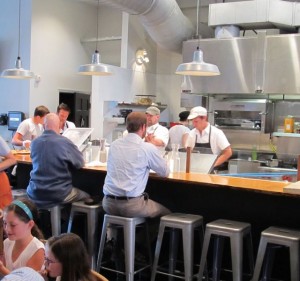 Right next to the pizza oven is the open kitchen.  You can pull up a bar stool or stand there to watch as they craft your pizza.  They start with hand made dough and use only the freshest of toppings (sourced locally whenever possible).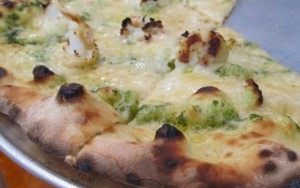 The menu offers a wide range of Italian specialties from pizza to anitpasti to brushetta.  The ingredients they use in all their menu items are insanely fresh – like they just picked them out back.  Our table had three different pizzas – brussel sprouts, bacon, fontina (my favorite) and leek, fontina, house bacon and cauliflower, salsa verde, fontina.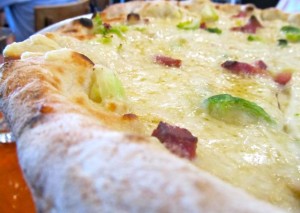 They might sound like incredibly strange pizza toppings but I am here to tell you that they were all incredibly good.  Keep in mind that the pizza oven basically roasts and carmelizes the veggies.  And the sauce – I have no idea what it is actually but it's not a tomato based pizza sauce.  There's actually very little sauce on there… and I would guess it was more of a white sauce.  I'll have to ask next time I'm in there… I was way too busy eating last night!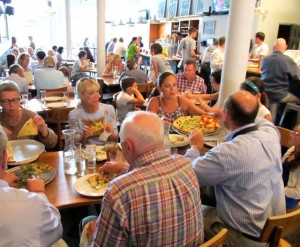 And they combined all the great food with a killer decor.  This place is light and open and super sunny.  Like I said before, the kitchen is open so you can get a good look at the oven and the folks as they make the pizza.  They have a number of tables with chairs and some with bench seating.   From the hardwood floors to the funky tables, the owners definitely pay attention to detail…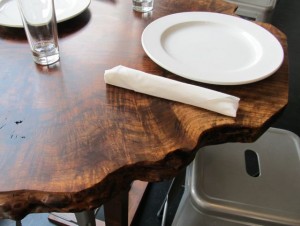 Be sure to check out A Tavola the next time you're looking for the best pizza in town.  And don't skip the anitpasti or the brushetta… it's delish too! A Tavola is located at 1220 Vine Street downtown Connect with A Tavola on Facebook