If you're looking for a great November event in Cincinnati, this list has you covered! With over 50 fun events and activities, this will be a November to remember!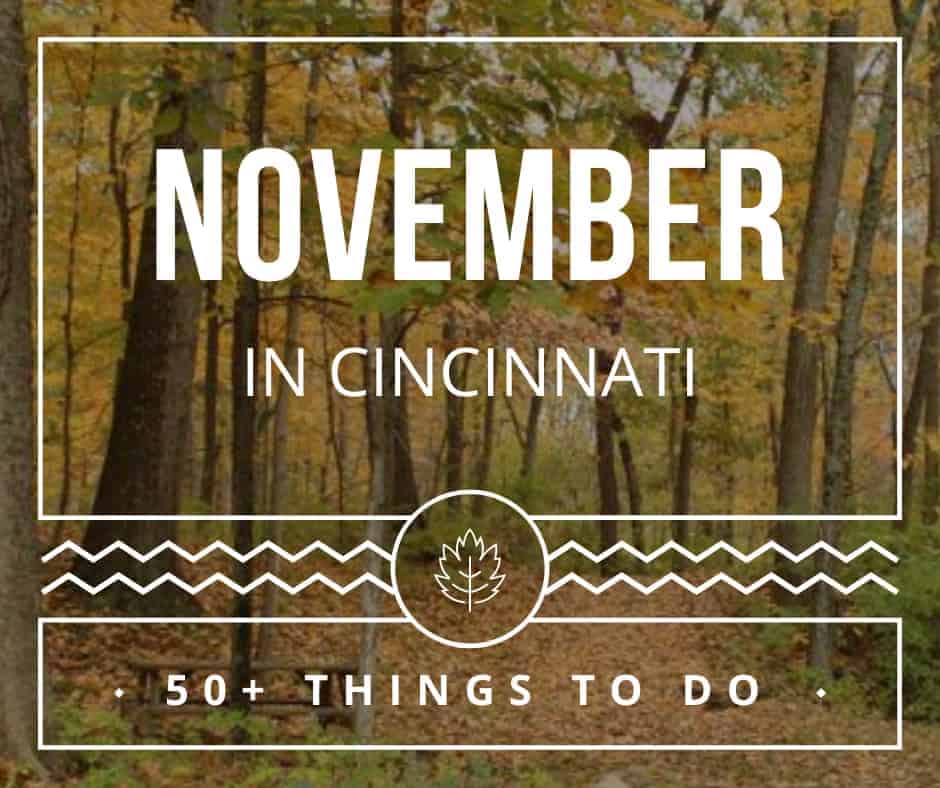 November 2: Mac & Cheese Throwdown at The American Sign Museum
November 2: It's opening day for Taft Museum of Art's Antique Christmas. 
This year's exhibition features elaborate 19th- and early 20th-century German paper nativity scenes; turn-of-the century table settings of fine china adorned with festive holly patterns; woolly sheep and small wooden toys from 19th-century Germany; an antique feather tree hung with fruit ornaments in glass; and yet more trees—trees bedecked, respectively, with fairy figures, with Japanese Santas, early wax ornaments, and angels.
November 2-4: Greater Cincinnati Holiday Market at Duke Energy Center
November 3: The Macy's Tree makes its grand entrance to Fountain Square.
November 3: Harvest Fest 2018 hosted by Kolping Cincinnati, 4:30-10pm. Live music, great German food, and more.
November 3: Save your old pumpkins and head to Stanbery Park for their annual Pumpkin Chuck.
November 3: Family First Saturday, Inside India at Cincinnati Art Museum
November 3: Northside Record Fair, 11am – 4pm at North Church.
1,000's and 1,000's of records! Vendors will be bringing out the good stuff, the rare stuff, the stuff you only dream of finding.
November 4: Flags of Honor at Spring Grove Cemetery & Arboretum
November 7-11: Harper Art Show at Farbach-Werner Nature Preserve.
Pick up prints by Charley, Edie and Brett Harper or Harper merchandise for the perfect holiday gift.
November 8: Taft Museum of Art is hosting a House Party. Try their surrealist title generator before you step back in time and explore antique Paris and 1930s New York in the special FotoFocus exhibition of photographs by Berenice Abbott and Eugène Atget. Chill out while listening to the sounds of Jess Lamb and The Factory. Queen City Vignette will be there with picture-perfect lounge decor. Enjoy some adult coloring with artist-made stamps to create a set of postcards you can color. Buy a drink from the Taft bar, and purchase light bites from members of Findlay Kitchen.
November 9: It's opening night for Christmas Nights of Lights at Coney Island Amusement Park. With two and a half miles to drive through, your family can see displays and light shows made of over a million lights driven by more than forty thousand computer channels. Nov. 9-Jan. 6
November 9-10: Holiday Open House at Rookwood Pottery
November 9-11: Cincinnati Coffee Festival at Cincinnati Music Hall.
Join home brewing enthusiasts, coffee aficionados, tea lovers, and those who just love a good cup of "joe" at the 2018 Cincinnati Coffee Festival. There will be tastings, samplings, live music, demos, and the opportunity to purchase your favorite products. New this year: The Art of Coffee.
November 10: Thanksgiving on the Ohio Frontier at Shawnee Lookout, 2-5pm. Venture back to Ohio's frontier days to experience the beginnings of Thanksgiving.Reenactors from the Society of the Northwest Longhunters will join Great Parks for an afternoon of celebrating the first Thanksgiving in Ohio. Learn about the lives of the settlers and the Shawnee Native Americans who attended, enjoy samples of period fare and revel in the Thanksgiving traditions of then and now.
November 10: It's the first day for the Holiday Toy Trains at Behringer-Crawford Museum
November 10: It's opening day for the Krohn Conservatory Holiday Show, A Crystal Holiday. Enjoy fragrant holiday florals, exciting model trains, and Applied Imagination's miniature Cincinnati buildings constructed of natural materials. Nov.10-Jan.6
November 11-17: It's Union Terminal's Homecoming Week!
November 11: Veterans Day Celebration at Union Terminal, special exhibitions during the day, rotunda tours, and a Veterans Honors Ceremony. Before and during this event, they will be collecting leftover Halloween candy to donate to the USO. Stop by with candy for the troops any time between November 2 and 11.
November 11: Art on Vine will be at Rhinegeist Brewery, 12-6pm.
November 13-18: A group of Tibetan monks from the Drepung Gomang Monastery, a Buddhist monastery in South India founded in 1416, will visit the Cincinnati Art Museum to create a sacred sand mandala in the museum's Great Hall from November 13–18.
November 15: Walk + Wine at Sharon Woods. Get a first look at the enchantment of Sharon Woods before Holiday in Lights opens for the season. Grab a friend (or two!) and stroll through the park while admiring Cincinnati's favorite holiday light display. Then, enjoy hors d'oeuvres and a tasting of local wines.
November 16: It's opening night for Holiday in Lights at Sharon Woods.
Built over a mile of wooded roadway, the holiday themed displays of fantastic seasonal color adorn the woods, depicting everything from Santa Claus and his elves to every animal on the ark. There's no need to bundle up to enjoy Holiday in Lights; simply warm up the car, turn your radio dial to Warm 98, round up your friends, family, or a special date, and head to Sharon Woods. Nov. 16 – Dec. 31
November 16: It's opening night for Holiday Lights on the Hill at Pyramid Hill Sculpture Park. Holiday Lights on the Hill is a 2-mile round trip drive-through annual light display. Brave Berlin, the creative directors behind Luminocity and Blink will be partnering with Pyramid Hill to bring something new and exciting to Holiday Lights on the Hill this year. Nov.16-Jan.1
November 16-18: Christkindlmarkt 2018 at Germania Christkindlmarkt, enjoy an old world Christmas inside the heated pavilion and tents. Shop for unique German gifts, visit with Santa, Mrs. Claus and St. Nicholas
November 16-18: Holiday Expressions Trunk Show at Cincinnati Art Museum. Shop jewelry, accessories, home décor and custom ornaments inspired by the museum's permanent collection and special exhibitions.
November 16: Music on Main Parade at Main Street, Hamilton Ohio. Includes live music, a Santa Light Parade, Santa, and more.
November 17: The new Dinosaur Hall opens at Cincinnati Museum Center.
From massive plant-eating sauropods to fierce two-legged predators, the Dinosaur Hall will feature incredible, awe-inspiring specimens you won't find anywhere else.
November 17: It's opening day for Holiday Junction Featuring the Duke Energy Trains at Cincinnati Museum Center. Nov. 17 – Jan. 27.
November 17: It's opening night for PNC Festival of Lights at the Cincinnati Zoo. The Cincinnati Zoo will once again be transformed into a "Wild Wonderland" for the 36th annual PNC Festival of Lights! Nov. 17 – Jan.1.
November 17: Liberty Center Holiday Parade and Tree Lighting Ceremony at Liberty Center
November 17-18: Train Show, 12-5pm both days. Join the Queen City Hi Railers for the free annual Train Show at Green Township Senior Center. This show is fun for kids of all ages.
November 17-18: The Holiday OFF Market 2018 at MadTree Taproom. Artists, bakers, chefs, scavengers, mobile boutiques, and everything in between will be converging on Madtree Brewing for an exciting indoor market in the Barrel Warehouse. 10am-4pm each day.
November 18: Third Sunday Funday at the Taft Museum of Art, 1-4pm. Bring the whole family to the Taft Museum of Art to experience a free afternoon of great art, hands-on fun, family-friendly performances, and animal encounters. Most activities are ongoing throughout the afternoon, so stop by when you have time and stay as long as you can. FREE. No reservations required.
November 20: Tablespoon Cooking Co. brings you "Holiday Pies and Cocktails with New Riff". Using New Riff's Kentucky Straight Bourbon, they'll show you how to make a delicious Bourbon Caramel Apple Pie that is sure to be the star of your dessert spread this year. You'll get experience making a pie from start to finish. Reservations required.
November 21: Art After Dark at the Cincinnati Art Museum
November 23: Santa arrives at Cincinnati Museum Center! Festivities begin at 11 a.m. Santa will arrive by helicopter, weather permitting, around 11:50 a.m., with a special celebration at noon!
November 23: Macy's Light Up the Square Event at Fountain Square. Festivities will begin at 6pm with live music from 2nd Wind Band and a special appearance by Santa Claus. Watch as they light up the Fountain Square Christmas Tree and stick around for fireworks. 6-11pm
November 23: Kings Island's Winterfest opens for the season.
It's an unforgettable experience with the park transformed into ten enchanting winter wonderlands. There's something for everyone in the family to enjoy together, like ice skating on the Royal Fountain, seeing the Eiffel Tower transformed into a magical 314-foot tall Christmas tree, live shows, rides, delicious holiday treats, millions of lights and holiday characters spreading merriment, like Jack Frost, Candy Cane and the Sugar Plum Fairy. Nov. 23 – Dec. 31
November 23-24: Metamora Holiday Special Excursions at Whitewater Valley Railroad. Special holiday shopping excursions to Metamora are available in conjunction with Metamora Old Fashion Christmas Walk.
November 23-25: Cincideutsch Christkindlmarkt at Fountain Square. The Cincideutsch Christkindlmarkt returns to Fountain Square for the seventh year to kick off the holiday season with German tradition!
November 23-24: Arctic Blast at Carol Ann's Carousel. Enjoy two days of family holiday fun with crafts and giveaways. Learn the basics of ornithology and the different habitats penguins can survive in. Enjoy crafts and special deals on token packages. A LIVE Penguin will be sliding into the Carousel Saturday from 11am-12pm! (FREE)
November 24: Bagels with Santa, happening at Fountain Square (in the warming tent), registration required.
November 24: Westside Holiday Market at Westside Market, 5-9pm. This outdoor Holiday themed event will have carolers, Santa, hot cocoa and bonfires. Enjoy local brews from West Side Brewing, over 80 talented local vendors, food trucks, baked goods, kid friendly activities and so much more!
November 24: Macy's Downtown Dazzle. See Santa and his friends rappel down the side of the Huntington Bank Center to the Fountain Place rooftop, followed by a spectacular fireworks display! Santa will be at the Carew Tower along with Mrs. Claus. Enjoy free rides on the Cincinnati Bell Connector on Friday Nov. 23 and Saturday, Nov. 24 (with carolers on the streetcar).
November 25: Raptor Inc. Open House at Raptor Inc, 1-4pm.
RAPTOR Inc. will open our doors to the public on the last Sunday of each month (March-November) from 1pm to 4pm. During these times our educators will be available to welcome guests, lead tours, conduct educational programs with our avian ambassadors, share biological artifacts, and answer questions. Participate in special activity stations, shop for merchandise, and enjoy some treats! The Open Houses are FUN and FREE!
November 25: Holiday Season Kickoff at the Taft Museum of Art. Enjoy free activities for the whole family. The house will be decorated inside and out with lights, garlands, and displays of antique ornaments on old-fashioned feather trees. 11:15am – 4pm.
November 25: Polar Express and Holiday Storytime at Behringer-Crawford Museum. Local children's librarians will read the children's books "The Polar Express" and "The Holiday Adventures of Wiley Wahoo & Me!" Children can create a Christmas craft and enjoy hot chocolate and cookies. 2-5pm. Reservations are required.
November 27: One of the funniest plays I've ever seen, Broadway's The Play That Goes Wrong, opens at the Aronoff Center and runs through Dec. 2.
November 28: The Anheuser-Busch Clydesdales will be at The Party Source (Newport, KY) to celebrate Budweiser and Jim Beam joining forces for a limited collaboration. Three 50-foot tractor-trailers will make their home at The Party Source toting ten Clydesdales, a 12-ton wagon from St. Louis, and one Dalmatian. 2-5pm.
All events were accurate at the time of this posting but things do happen and events do occasionally get canceled or postponed. You should always double check with the event source before you head out the door. Links for each event are provided so that you can be sure the date is still accurate before you head out.