If you're looking for a great November event in Cincinnati, this list has you covered! With over 50 fun events and activities, this will be a November to remember!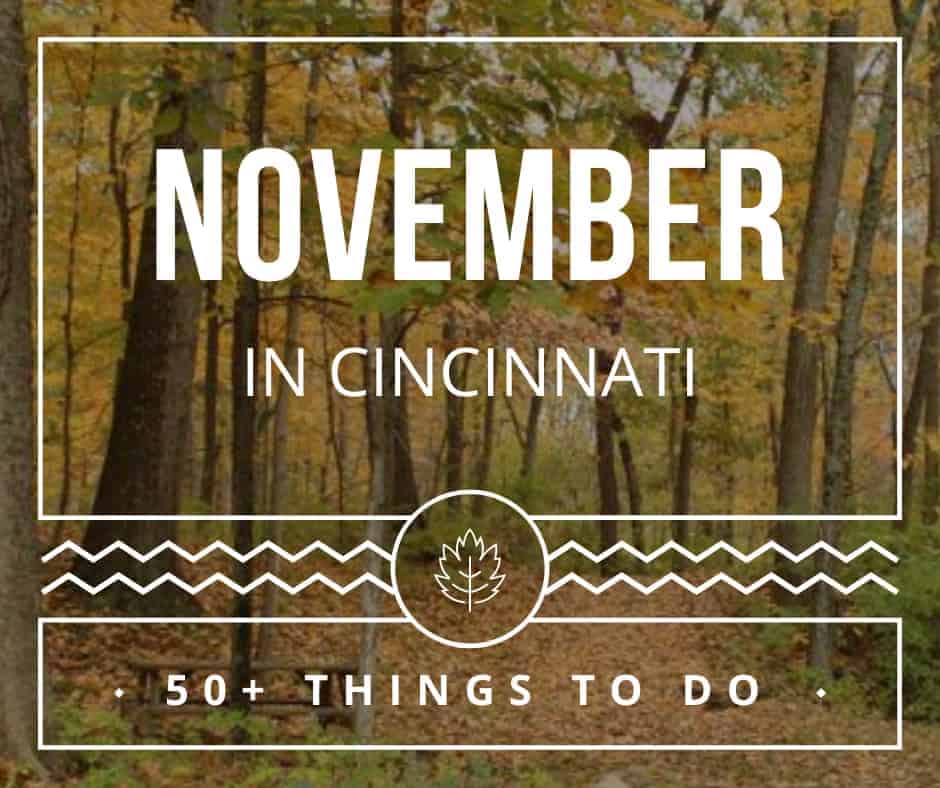 November 2: Fountain Square is hosting a Tree Trimming Party. The Macy's Tree makes its grand entrance November 2 to Fountain Square during the Ice Rink's Opening Weekend Celebrations. Watch The Grinch on the LED board and create your very own craft in the warming tent to decorate the tree for the holidays. Your craft is included free with paid admission to the rink. The Grinch and some Whoville characters will be making an appearance so come in your best Who attire. Admission is $6 and you can enjoy free skate rental on Saturday.
November 2: Harvest Fest 2019, hosted by Kolping Cincinnati, includes live music from the Comet Bluegrass All-Stars, authentic German dinners, a petting zoo, games, and more. 4:30-10pm. Admission is $5/person and $10/family. 12 and under are free.
November 2: It's a Mac and Cheese Throwdown at the Phoenix. The gloves are off as some of the city's most talented chefs go head-to-head in a MELTY-CHEESY-SMACKDOWN of epic proportions! YOU decide who will be named the MAC N' CHEESE CHAMPION of Cincinnati.
November 2: Northside Record Fair is happening at North Church (4222 Hamilton Ave.), 11am – 4pm. 1,000's and 1,000's of records! Vendors will be bringing out the good stuff, the rare stuff, the stuff you only dream of finding. Everything from LP's, 45's, 7″s, cassettes, CD's, posters, T-shirts, and who knows what other kinds of memorabilia, plus DJ's spinning killer tunes all day!
November 2: Save your old pumpkins and head to Stanbery Park for their annual Pumpkin Chuck. noon – 5pm (click the link and scroll all the way to the end of the page to see the listing for this event)
Looking for a great Holiday Craft Show? Don't miss our Christmas Markets and Holiday Craft Shows list!
November 3: Family First Saturday: Girl Power is happening at the Cincinnati Art Museum (11am – 4pm). Spend the day with your family and celebrate their special exhibition, Women Breaking Boundaries, with free and fun activities for the whole family. Enjoy a special scavenger hunt, performances, hands-on art-making and more. Enjoy special preschool activities from 11:00 a.m–1:00 p.m.
November 3: The Krohn Conservatory is hosting an Orchid Potting Bee, 1-4pm. Get free professional tips from local orchid experts and even get your orchid professionally repotted! This event is FREE with the purchase of Admission to Krohn Conservatory.
November 3: Avril-Bleh is offering a sausage making class on Sunday, November 3rd beginning at 10 am. If you'd like to get a few friends or co-workers together for a little team building, they invite you to call Randall at Avril-Bleh to reserve your spot today! 513.241.2433. Class size is limited so reserve your spot before they're all gone! You'll get the chance to grind, mix and stuff sausage, eat some lunch and take home around 15 lbs. of various sausage styles that you made!
November 4: LLBean is celebrating their 3rd birthday in Cincinnati. Join them for treats and coffee! They'll have outdoor themed stations to explore, paracord bracelet making, knot tying races, coloring for the kids, and you can enter to win a $100 gift card! RSVP: ww.llbean.com/kenwoodcollection
November 5-17: Broadway in Cincinnati's MEAN GIRLS will be at the Aronoff Center. Produced by Lorne Michaels, Stuart Thompson, Sonia Friedman, and Paramount Pictures, Mean Girls gets to the hilarious heart of what it means to be a true friend, a worthy nemesis, and above all, a human being.
November 8: It's opening day for Taft Museum of Art's Antique Christmas.
This year's exhibition features many new and exciting displays, including several feather trees with decorations ranging from vintage Disney ornaments to characters from German fairy tales. Figures of the jolly old elf will also be on view under a large tree adorned with antique paper, chenille, and glass ornaments.
November 8: It's opening night for Christmas Nights of Lights at Coney Island Amusement Park. With two and a half miles to drive through, your family can see displays and light shows made of over a million lights driven by more than forty thousand computer channels. Nov. 8-Jan. 5
November 8: It's opening day for Holiday Junction Featuring the Duke Energy Holiday Trains at Cincinnati Museum Center. Get a bird's-eye view of the Duke Energy Holiday Trains, a staple of Cincinnati holidays since 1946. Watch from above or get a track-level view as hundreds of model trains zip along thousands of feet of track in the historic layout. Tower A will also reopen this holiday season, delighting guests a unique view of the active Union Terminal railyard. The original control tower of the station, Tower A will be open from noon to 4 p.m. Friday through Sunday during the holiday season. Nov. 8 – Jan. 5.
November 8-9: The Brick Bar will be set up at The American Sign Museum. This Pop-Up is the first of its kind and will consist of over 1 million blocks, transported and assembled into the ultimate nostalgia trip. The bar will feature sculptures made completely from building blocks as well as an abundance of blocks for people to shape into their own creations. There will also be local DJ's spinning tunes all day. Tickets required.
November 8-10: The Greater Cincinnati Holiday Market is at Duke Energy Center. The Holiday Market features 350+ one-of-a-kind boutiques and specialty stores. Choose from an unparalleled selection of home décor, specialty clothing and one-of-a-kind treasures, plus gourmet food from the Cincy Specialty Food & Treats Show. And when you're ready for a break, relax and compare finds with friends at their wine-and-appetizer lounge.
You might also enjoy our Veterans Day Celebrations in Cincinnati post!
November 9: Thanksgiving on the Ohio Frontier at Shawnee Lookout, 2-5pm. Step back more than 200 years to celebrate Thanksgiving on the Ohio Frontier. Enjoy settler games, crafts and even try samples of period fare. Exchanges between Native Americans and settlers will be portrayed by the Society of Northwest Longhunters throughout the event. Some crafts may cost a small fee. Shawnee Lookout/Historic Cabin Area
November 9: Head to MadTree for Friends Fest 2019 and drink 40+ amazing beers, cocktails, and mead options. Only 300 spots available because they want to make sure it's not too crowded so you can actually hang with all the brewers, distillers, and even a zymurgist (someone who makes mead) from each participating company. No lines, just good hangs and a bottle share type environment. Come thirsty, and hungry. They'll have amazing food and a few of the participating breweries are cooking up for the event. Throw on a couple collaboration beers they are releasing at this like an IPA with neomexicanus hops with Creature Comforts Beer and a Belgian-style ale with Blackberry Farms Brewery and we've got ourselves a party!
November 9: It's opening day for the Krohn Conservatory Holiday Show, A Zinzinnati Holiday. Discover the beauty of our city's German history at The Krohn Conservatory's holiday display. Surround yourself with evergreens and poinsettias as you stroll through the historical representations of Cincinnati's buildings.
November 10: Art on Vine will be at Rhinegeist Brewery, 12-7pm.
November 10: Head to Streetside Brewery for a DIY Doormat class. The owner of Haungs Calligraphy, Jess Haungs, will lead you in making your very own doormat, with a phrase of your choice! Registration required, space is limited.
November 10-16: Flags of Honor will be on display at Spring Grove Cemetery & Arboretum. This tribute will honor all veterans, military personnel and heroes of public service, those who serve to protect our communities every day. The Veterans of Foreign Wars of the United States realizes that duties performed in the fields of law enforcement and emergency services, whether carried out in public view with the ensuing public acclaim, or performed in ways which gain little public recognition, are both exemplary and of great value to the nation. 100 3' x 5' sponsored US flags will be placed along the roadways within the cemetery and will be on display beginning November 10 – 16, 2019.
November 12: Take a Tour of the Universe with the Cincinnati Observatory and the University of Cincinnati. Explore space from the Earth and beyond! Fly past the moon, the planets, the stars, and galaxies to the edge of what is known. Bring your questions about the Cosmos, and our Observatory Scientist will answer as many as he can. View through the oldest operational telescope in the country, weather permitting. Ad Astra!
November 13-17: Celebrate one of the most iconic nature artists, the late Charley Harper, during the annual Harper Art Show, November 13–17, from 11 a.m.–4 p.m. inside Farbach-Werner Nature Preserve's Ellenwood Nature Barn. A free print, titled "Once There Was A Field," will be given with each purchase of a framed or unframed print. Brett Harper, Charley's son, will be signing books on November 16 and 17 from 1–3 p.m. The event is free and open to the public (a valid Motor Vehicle Sticker is required to enter the park, can be purchased at the park if needed).
November 14: Taft Museum of Art is hosting a House Party. Escape the hustle and join in for a relaxing Thursday evening, November 14th as they co-host with the Civic Garden Center's Young Professional Green Team. Cozy up with one of their signature cocktails and enjoy a bite from the Cheesecakery while listening to some soft jam's by DJ Mowgli. Take a break from the busy fall season and enjoy a guided meditation session in the art galleries or listen to a spotlight talk from the Civic Garden Center's Horticulturalist on the Poetry of Nature special exhibition.
November 14: Brazee Street Studios is offering a BYOB: Ohio Cups class. Students will design and create their own set-of-4 recycled drinking glasses featuring a sandblasted "Ohio" design. Great for sipping any type of beverage and a perfect addition to your home. Students will learn to transfer the "Ohio" shape onto their glasses, sandblast their design, and then learn coldworking techniques to cut and finish each glass. No experience necessary.
November 15: Walk + Wine at Sharon Woods. Get a first look at the enchantment of Sharon Woods before Holiday in Lights opens for the season. Grab a friend (or two!) and stroll through the park while admiring Cincinnati's favorite holiday light display. Then, enjoy hors d'oeuvres and a tasting of local wines.
November 15: Holiday Expressions Trunk Show at Cincinnati Art Museum. Shop jewelry, accessories, home décor and custom ornaments inspired by the museum's permanent collection and special exhibitions.
November 15-17: It's a special Holiday Open House at Rookwood Pottery! On Friday and Saturday, enjoy festivities including complimentary sweets, savory bites, and drinks. Discover their handcrafted ceramics through demonstrations, factory tours, artist signings, and shopping their exciting new products and curated gift sets. New this year, they will be open on Sunday for a Holiday Wreath Workshop and light brunch. Explore more when you click the link above.
November 16: It's opening night for PNC Festival of Lights at the Cincinnati Zoo. The Cincinnati Zoo will once again be transformed into a "Wild Wonderland" for the 37th annual PNC Festival of Lights! In addition to admiring the beauty of 3 million LED lights, visitors can watch a Madcap black-light puppet show, ride the Toyland Express train ride, marvel at the spectacular Wild Lights show on Swan Lake, or snack at one of two S'mores-n-More stands. Santa will be available for visits starting at 4 p.m., an hour before the rest of the festivities begin. NEW this year at PNC Festival of Lights! Families will enjoy searching for Fiona fairy statues in Fiona's Fairyland and taking holiday photos in the Hippo Hut, which will be decorated to provide a festive backdrop! More giant lanterns, including some that fit the soon-to-be-open Roo Valley theme, will be placed around the Zoo. Guests will feel like they're blanketed by stars in the new, immersive "Northern Lights" light experience. AND, getting into the Zoo will be much easier this year with the additional entrance on Erkenbrecher Ave. Nov. 16 – Jan.4.
November 16: It's opening night for Holiday in Lights at Sharon Woods.
Built over a mile of wooded roadway, the holiday themed displays of fantastic seasonal color adorn the woods, depicting everything from Santa Claus and his elves to every animal on the ark. There's no need to bundle up to enjoy Holiday in Lights; simply warm up the car, turn your radio dial to Warm 98, round up your friends, family, or a special date, and head to Sharon Woods. Nov. 16 – Dec. 31
November 16: It's the first day for the Holiday Toy Trains at Behringer-Crawford Museum. This is the 28th year for BCM's Holiday Toy Trains display with its 250′ of track and more than 30 guest-activated displays. Guests can also enjoy Wahoo's Winter Wonderland, a kid-size, animated exhibit based on the children's book by Kenton Hills author Diana Grady, "The Holiday Adventures of Wiley Wahoo & Me," plus special Polar Express and Wahoo readings, Santa visits, Charles Dickens Victorian Village display, holiday concerts and more.
November 22: It's opening night for Holiday Lights on the Hill at Pyramid Hill Sculpture Park. Holiday Lights on the Hill is a 2-mile round trip drive-through annual light display. Nov. 22 – Jan.5
November 22: Music on Main Parade at Main Street, Hamilton Ohio. Includes live music, a Santa Light Parade, Santa, and more.
November 22: Kings Island's Winterfest opens for the season.
It's an unforgettable experience with the park transformed into ten enchanting winter wonderlands. There's something for everyone in the family to enjoy together, like ice skating on the Royal Fountain, seeing the Eiffel Tower transformed into a magical 314-foot tall Christmas tree, live shows, rides, delicious holiday treats, millions of lights and holiday characters spreading merriment, like Jack Frost, Candy Cane and the Sugar Plum Fairy. Nov. 22 – Dec. 31
November 23: Head to Northgate Mall for their Santa Parade! Santa will start at Farbach Werner Nature Preserve in a horse drawn carriage, make his way down Colerain Avenue, and be escorted through the mall with the marching band! Warm 98 and the Cincinnati Circus will join us to make it a fun family morning!
November 24: Raptor Inc. Open House at Raptor Inc, 1-4pm.
RAPTOR Inc. will open their doors to the public on the last Sunday of each month (March-November) from 1pm to 4pm. During these times our educators will be available to welcome guests, lead tours, conduct educational programs with our avian ambassadors, share biological artifacts, and answer questions. Participate in special activity stations, shop for merchandise, and enjoy some treats! The Open Houses are FUN and FREE!
November 24: Brink Brewing is hosting Friendsgiving at the brewery. Join them around their community table for an evening of good food, beer, and making friends! THEY WILL PROVIDE THE TURKEY & GRAVY! Free to attend, but please bring a SIDE TO SHARE. Also in the spirit of giving they will be COLLECTING COATS for the homeless to be donated to St. Vincent de Paul – Cincinnati.
November 22-24: The 22nd annual Christkindlmarkt 2019 is happening at Germania. It's the oldest and most authentic German Christmas Market in the Cincinnati region — all under enclosed, heated tents. The event includes holiday entertainment, German music, a children's lantern parade, petting zoo, caroling children's groups, and carriage rides. Feast on traditional German food (including their famous dill pickle soup), German Bier, Glühwein (hot mulled wine), holiday cocktail bar, German pastries, cookies, and candies.
November 23-24: The Holiday OFF Market 2019 will be at MadTree Brewing. It's the best gift shopping around – drink a beer, have a pizza, knock out your list! Artists, bakers, chefs, scavengers, mobile boutiques, and everything in between will be converging on Madtree Brewing for an exciting indoor market in the Barrel Warehouse. 10am – 4pm each day.
November 27: It's a special night for Art After Dark at the Cincinnati Art Museum. Join in the fun on Wednesday, November 27 (the night before Thanksgiving) as they celebrate the special exhibition Women Breaking Boundaries and the #PowerofHer. Enjoy live music from female-fronted punk band Leggy, food for purchase, specialty cocktails and docent-led tours.
November 29: Santa arrives at Cincinnati Museum Center! Festivities begin at 11 a.m. Santa arrives by air, weather permitting.
November 29: Macy's Light Up the Square Event at Fountain Square. Festivities will begin at 6pm with live music and a special appearance by Santa Claus. Make sure you're here so you can help us LIGHT UP this year's Macy's Tree. There will be food trucks, music, ice skating, and a fireworks show that's sure to be a "blast"! 6-11pm
November 29-30: Metamora Holiday Special Excursions at Whitewater Valley Railroad. Special holiday shopping excursions to Metamora are available in conjunction with Metamora's Annual Christmas Walk. Reservations must be made in advance. Early reservations are highly recommended, since these trains usually sell out very early due to the trains limited capacity.
November 29: New to Cincinnati? Igby's is hosting a casual get-together for new arrivals to the 513. Just settled into the 859? This event is for you, too! Forge new friendships. Go home with a gift bag full of exclusive local offers and swag. Sip on locally brewed beer. Snack on our Servatii's Bavarian pretzels with MadTree-infused beer cheese. Their newcomer get-together is the last Friday of the month at Igby's, from 4pm -8pm.
November 30: The Westside Holiday Market is happening at Westside Market, 4-8pm. This outdoor Holiday themed event will have carolers, Santa, hot cocoa and bonfires. Enjoy local brews from West Side Brewing, over 100 talented local vendors, food trucks, baked goods, kid friendly activities and so much more!
November 30: Head to Fountain Square for the season's first Macy's Downtown Dazzle. See Santa repel off of a Cincinnati skyrise and wait with anticipation for the sky to fill with light thanks to a fabulous Rozzi fireworks display.
November 30: It's year #10 for the Crafty Supermarket and they're celebrating with a TWO DAY event this year! Head to Music Hall on Nov. 30 and Dec. 1 (11am-5pm) for this show featuring handmade goods made by local, regional and national artists. They'll have a live DJ, hands-on craft activities, local food and free swag bags for the first 100 shoppers.
November 30: Head to the Contemporary Arts Center for their Makerspace: Let It Glow! Holiday STEAM Fair. It's a free makerspace celebrating the scientist in all of us. This fun for all ages drop-in Makerspace Festival is in their sixth floor Learning Center—The UNMUSEUM will help you celebrate the holidays with science! Create your own winter wonderland slime, a holiday card with working lights, a psychedelic snowflake and more!
All events were accurate at the time of this posting but things do happen and events do occasionally get canceled or postponed. You should always double check with the event source before you head out the door. Links for each event are provided so that you can be sure the date is still accurate before you head out.