Day 24 of our "365 Things to Do in Cincinnati" took us out on our very first "365 Cincinnati" group event!  The team at 365Cincinnati organized the event on our Facebook Fanpage , inviting our "fans" to come along with us on an outing.  A group of us "365′ers" got together for the tour on a rainy Saturday and even had a bite to eat together afterwards.
We had a great time and will definitely do group events again (and often).  If you'd like to stay informed about our group events, be sure to become a fan over on Facebook or sign up for our email updates list (see the sidebar).  Everyone is welcomed and I hope you'll consider joining us.
The tour we decided to go on is the "Architreks Tour – South", a walking tour of downtown Cincinnati.  The Cincinnati Preservation Association leads tours all over town.  The Architreks Walking Tours were named "Best of the City" by Cincinnati Magazine, and for good reason.  The tour is led by a knowledgable tour guide, lasts two hours, and costs just $15.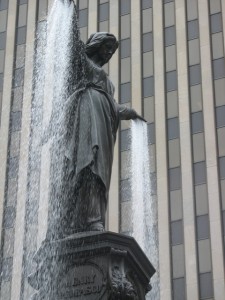 Our tour guide told us all about the history and the meaning of one of our city's most recognized landmarks – Fountain Square.  Did you know that the fountain is called "the Majestic Mother, Genius of Waters", giving the life of water to all of mankind?  It was built in 1867, cost $30,ooo at that time, and has been moved three times.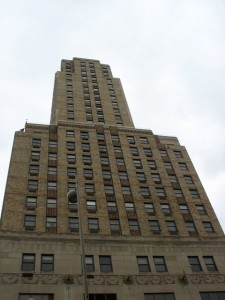 You'll recognize our next stop – the Carew Tower, Cincinnati's tallest building (at least for now!).  Completed in 1930, this building has an observation deck on top that allows for the best views of our city.  Our tour did not take us to the top of the Carew Tower (that's a day we'll do later on) but we did learn a lot about its history and architecture from our guide.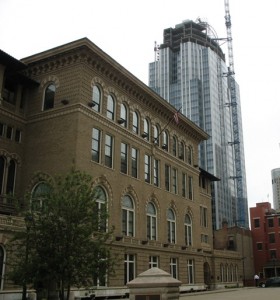 Later in our tour we passed what will become the tallest building in Cincinnati, Queen City Square.  With a projected occupancy date of 2011, this building will be Cincinnati's tallest.  It will be topped with a tiara-like crown and is said to be nicknamed the "Princess Di building".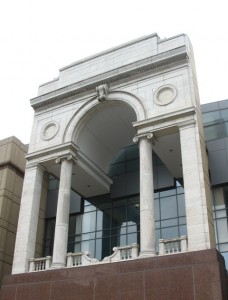 And we probably would all recognize the Albert Sabin Cincinnati Convention Center but did you know that the Albee Arch (pictured above) came from the old Albee Theatre?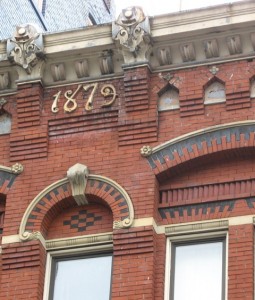 We then progressed into the Fourth Street Historic District to view some of the most amazing architectural features our city has to offer.  See the piano keys designed into the building above?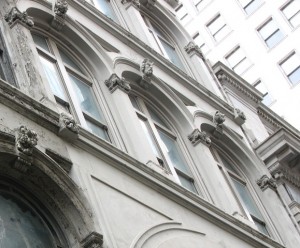 I thought I'd seen a lot of our architecture but there truly is nothing like a walking tour to make you notice all the gorgeous buildings in our downtown area.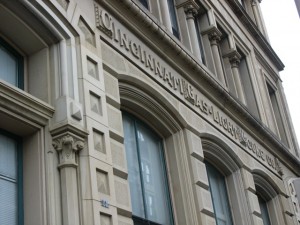 Here are two of my favorite pics, taken back to back.  The first is of the Abe Lincoln statue at Lytle Park.  It was kind of a dreary day but the clouds actually make this one of my favorites…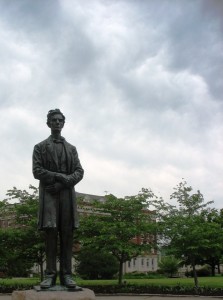 And then we walked up towards the Taft Museum, where you will notice the tree to the left was trimmed just for us

  so we could see Holy Cross/Immaculata up on the Hill.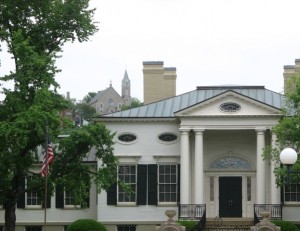 I could go on and on with pictures and tips but for the sake of my dear reader I will stop before this becomes its own little novel

.  I would highly encourage you to take this tour.  Where else can you take a two hour, guide-led walking tour for just $15?!
I will load up all my pictures (and there are lots and lots of them!) to our 365Cincinnati Flickr page so be sure to go check them out.
For more information on the tours, see the Cincinnati Preservation Association site.
Don't forget to sign up for our email updates (or become a fan over at Facebook) to get the news of our next group event!